Games
ChessOps - A Basic Chess Openings Guide. Improve your Brain Health. Home page of The Chess Variant Pages. Games: Play Mahjongg Dimensions. Red Remover. Old PC Games - homepage. Maze Games, Scary Maze, Fun Mazes | Mazefrenzy.com.
Love. Curvy in HTML5. Curvy is a HTML5 puzzle game using the canvas element.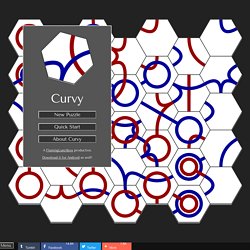 Just rotate the tiles so that like colors connect. Modernizr tells me you don't have canvas support in your browser. Sadly, this game uses technology that's only in browsers with HTML5 support. We've tested Chrome 12, Firefox 4 and Opera 11. Presented to you by FlamingLunchbox is a puzzle, originally for Android phones, using a simple idea. 3D Pong Game a 3D Ping Pong Game Online.
---