Movies
Cine PREMIERE.
Info. Cuevana y eso.. Videos. Sundance Institute. Auctor. TRAILERS - TheMovieBox.Net. The Normal Heart - Full-Length Trailer added Friday, Apr 18, 2014 Maps to the Stars - International Trailer No Tears for the Dead - Trailer In Your Eyes - 3-minute Opening Scene Horses of God - Trailer.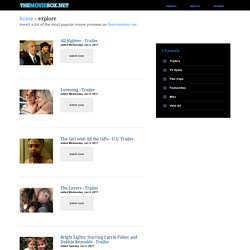 The best films of the '00s | Film. The scene was not unlike 12 Angry Men (or, in this case, 3 Shlubby Men, 1 Exasperated Woman, And A Dude On Speaker Phone From Arkansas): Armed with lists of their favorite movies of the decade, the five core A.V.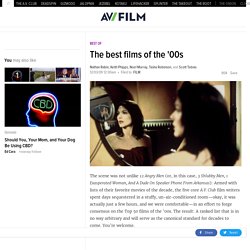 Club film writers spent days sequestered in a stuffy, un-air-conditioned room—okay, it was actually just a few hours, and we were comfortable—in an effort to forge consensus on the Top 50 films of the '00s. The result: A ranked list that is in no way arbitrary and will serve as the canonical standard for decades to come. You're welcome. 50. 10 Certified Fresh Psychological Thrillers. Top 100 Tuesday: 100 Best Movies of the Decade. EmailEmail We are leaving Kubrick behind and fast approaching Hyams.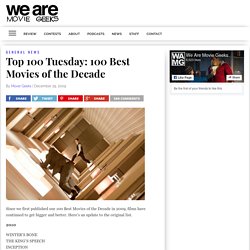 If you get that reference, go grab yourself a cookie. It is time for us to reflect back on the decade that was. More Mind F*ck Films list. Top Ten Films 1930-2011. 2013 1.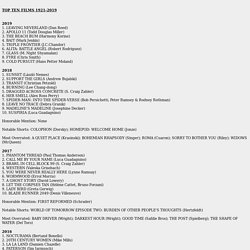 UNDER THE SKIN (Jonathan Glazer) 2. BLUE JASMINE (Woody Allen) 3. INSIDE LLEWYN DAVIS (Joel & Ethan Coen) 4. BEFORE MIDNIGHT (Richard Linklater) 5. Must-See for Amateur Auteurs: Robert Rodriguez's 10-Minute Film School - Culture. Though it's been on YouTube for a while, this "10-Minute Film School," courtesy of acclaimed director Robert Rodriguez, appears to be terribly underappreciated.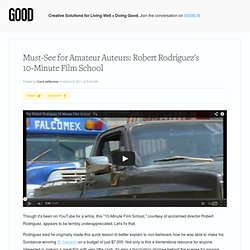 Let's fix that. Rodriguez said he originally made this quick lesson to better explain to non-believers how he was able to make his Sundance-winning El mariachi on a budget of just $7,000. Not only is this a tremendous resource for anyone interested in making a great film with very little cash, it's also a fascinating glimpse behind the scenes for anyone who's ever wondered just how moviemakers do it. For the third installment, in which Rodriguez shares some of the tricks behind his Desperado, go here. Five Great Short Films Inside Longer Ones. They're like Russian dolls, but cinematic. by Rick Paulas There are plenty of perfect sequences in movies: masterfully edited moments that stand out from the rest of the larger work.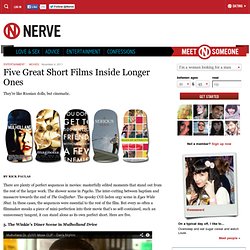 The shower scene in Psycho. The inter-cutting between baptism and massacre towards the end of The Godfather. Movie Entertainment. Horror Movies: 100 Best Horror Films.
---