Politics
After this horrible news from Tucson.... ... let me amplify something I said half-coherently in a live conversation with Guy Raz on All Things Considered a little while ago. My intended point was: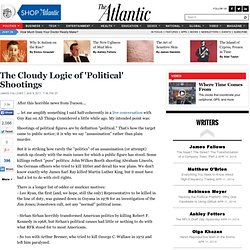 The Cloudy Logic of "Political" Shootings - James Fallows - Politics
ANTANANARIVO, Jul 29 (IPS) - Brigitte Rasamoelina and Yvette Sylla are women with two different approaches to politics in Madagascar. One formed a political party, while the other decided to legalise her organisation as an association. But both women are considering running in Madagascar's November elections. But they know that it will not be an easy road. "We'll have to be assertive and prove ourselves," they each confided separately to IPS.
unnamed pearl
MOMocrats™
Letter to Sarah From the Netherlands « Malia Litman's Blog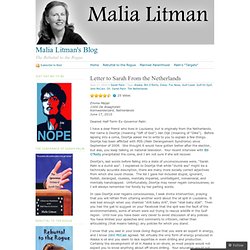 i 25 Votes June 17, 2010 Dearest Half-Term-Ex-Governor Palin:
Bear in Denali National Park - The Silent "I"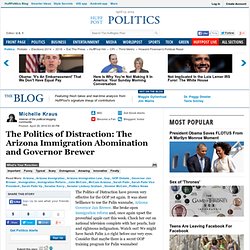 The Politics of Distraction have proven very effective for the GOP yet again. It was sheer brilliance to use the Palin wannabe, Arizona Governor Jan Brewer . She broke open immigration reform and, once again upset the proverbial apple cart this week. Check her out on national television complete with her pearls, hair and righteous indignation. Watch out!
Michelle Kraus: The Politics of Distraction: The Arizona Immigra
Like many, I was shocked and dismayed earlier this week when a video surfaced alleging that sea turtles were being burned alive during BP recovery efforts. In the video, captain Mike Ellis (who's working with BP) talks about how shrimp boats are using booms to consolidate pools of crude and oil-slimed matter and then setting it on fire for an in-situ burn . According to Ellis, the pools of crude were not being checked for wildlife before being lit, meaning sea turtles caught in the slicks were likely being burned alive. It's been difficult to find any hard evidence that turtles were indeed burned alive. There haven't been reports of charred shells or eye-witness accounts of seeing actual turtles on fire. That said, the Los Angeles Times yesterday corroborated part of Ellis's account:
On Burning Sea Turtles Alive