Politics
After this horrible news from Tucson.... ... let me amplify something I said half-coherently in a live conversation with Guy Raz on All Things Considered a little while ago. My intended point was: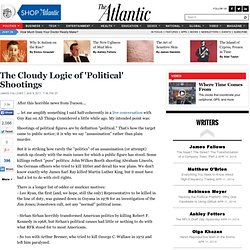 The Cloudy Logic of "Political" Shootings - James Fallows - Politics
The Shorty Awards - Honoring the best of Twitter and social media
ANTANANARIVO, Jul 29 (IPS) - Brigitte Rasamoelina and Yvette Sylla are women with two different approaches to politics in Madagascar. One formed a political party, while the other decided to legalise her organisation as an association. But both women are considering running in Madagascar's November elections. But they know that it will not be an easy road. "We'll have to be assertive and prove ourselves," they each confided separately to IPS.
unnamed pearl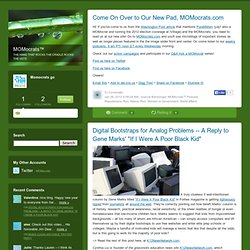 It all started with a smart, heated post cross-posted to the MOMocrats from Advocates for Youth (AFY), lambasting the Obama administration and the Secretary of Health and Human Services' decision to override the FDA's recommendation to offer Plan B as an over-the-counter drug. Plan B, of course, is known as the "day-after" pill, preventing the implantation of a fertilized egg in the womb, much as can happen randomly in any woman's cycle without influence by any medicines. In backchannel emails, we each weighed in.
MOMocrats™
Crooks and Liars
Letter to Sarah From the Netherlands « Malia Litman's Blog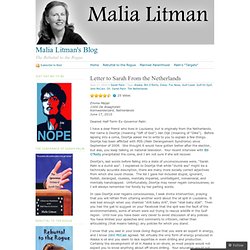 June 17, 2010 Dearest Half-Term-Ex-Governor Palin: I have a dear friend who lives in Louisiana, but is originally from the Netherlands. Her name is Doortje (meaning "Gift of God") Van Dijk (meaning of "Dike").
Bear in Denali National Park - The Silent "I"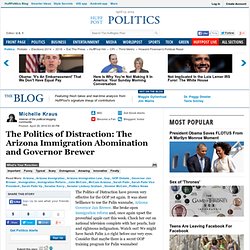 The Politics of Distraction have proven very effective for the GOP yet again. It was sheer brilliance to use the Palin wannabe, Arizona Governor Jan Brewer. She broke open immigration reform and, once again upset the proverbial apple cart this week. Check her out on national television complete with her pearls, hair and righteous indignation. Watch out!
Michelle Kraus: The Politics of Distraction: The Arizona Immigra
It's been difficult to find any hard evidence that turtles were indeed burned alive. There haven't been reports of charred shells or eye-witness accounts of seeing actual turtles on fire. That said, the Los Angeles Times yesterday corroborated part of Ellis's account: "But the burn operations have proved particularly excruciating for the turtle researchers, who have been trolling the same lines of oil and seaweed as the boom boats, hoping to pull turtles out of the sargassum before they are burned alive... Yet in one case, the crew had to fall back and watch as skimmers gathered up a long line of sargassum that hadn't yet been searched--and which they believe was full of turtles that might have been saved." Petty Officer Crystal Kneen from the Deepwater Horizon Joint Information Center in Houma, Louisiana, said that she didn't know of any turtles harmed by the burn.
On Burning Sea Turtles Alive