Bradley Manning
The inhumane conditions of Bradley Manning's detention - Glenn Greenwald. Bradley Manning, the 22-year-old U.S.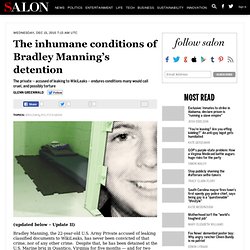 Army Private accused of leaking classified documents to WikiLeaks, has never been convicted of that crime, nor of any other crime. Despite that, he has been detained at the U.S. Marine brig in Quantico, Virginia for five months — and for two months before that in a military jail in Kuwait — under conditions that constitute cruel and inhumane treatment and, by the standards of many nations, even torture. Is long-term solitary confinement torture? Human beings are social creatures.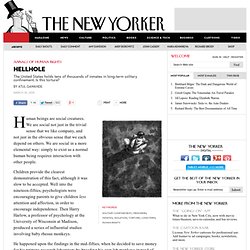 We are social not just in the trivial sense that we like company, and not just in the obvious sense that we each depend on others. We are social in a more elemental way: simply to exist as a normal human being requires interaction with other people. Children provide the clearest demonstration of this fact, although it was slow to be accepted. Panorama - Shooters walk free, whistleblower jailed - DasErste.de.
(pdf)AmnestyInt: Dear Secretary of Defense I am writing to express concern about the conditions under which Private First Class. HelpBradley Manning. Pfc. Bradley Manning (savebradley) Savebradley. WikiLeaks fulfills pledge to support accused whistle-blower Bradley Manning. Analyst Arrested in Wikileaks Video Probe | Th. Federal officials have arrested an Army intelligence analyst who boasted of giving classified U.S. combat video and hundreds of thousands of classified State Department records to whistleblower site Wikileaks, Wired.com has learned.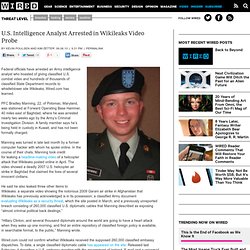 PFC Bradley Manning, 22, of Potomac, Maryland, was stationed at Forward Operating Base Hammer, 40 miles east of Baghdad, where he was arrested nearly two weeks ago by the Army's Criminal Investigation Division. A family member says he's being held in custody in Kuwait, and has not been formally charged. Arrest of Bradley Manning. Assigned in 2009 to an Army unit in Iraq as an intelligence analyst, Manning had access to classified databases.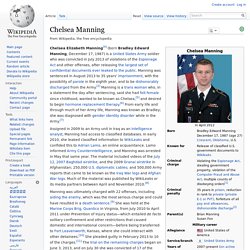 In early 2010 she leaked classified information to WikiLeaks and confided this to Adrian Lamo, an online acquaintance. Lamo informed Army Counterintelligence, and Manning was arrested in May that same year. The material included videos of the July 12, 2007 Baghdad airstrike, and the 2009 Granai airstrike in Afghanistan; 250,000 U.S. diplomatic cables; and 500,000 Army reports that came to be known as the Iraq War logs and Afghan War logs. Charges for Soldier Accused of Leak. US soldier linked to Iraq helicopter video leak charg. 6 July 2010Last updated at 21:07 WikiLeaks posted a video on its website in April which it claimed showed the killing of civilians by the US military in Baghdad in 2007 The US military has pressed criminal charges against a soldier suspected of leaking video of a US helicopter attack in Iraq to the website, WikiLeaks.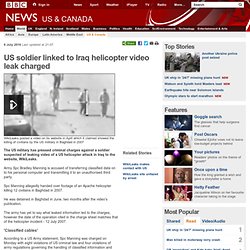 Army Spc Bradley Manning is accused of transferring classified data on to his personal computer and transmitting it to an unauthorised third party. Spc Manning allegedly handed over footage of an Apache helicopter killing 12 civilians in Baghdad in 2007. He was detained in Baghdad in June, two months after the video's publication.
US will press criminal charges against Manning, alleged Wikileak. "Charge sheet" for Pfc.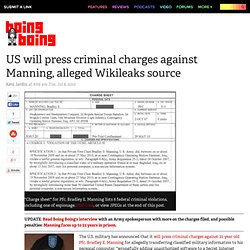 Bradley E. Manning lists 8 federal criminal violations, including one of espionage. PDF Link, or view JPEGs at the end of this post. UPDATE: Read Boing Boing's interview with an Army spokesperson with more on the charges filed, and possible penalties: Manning faces up to 52 years in prison. ArmyIntelligence AnalystCharged With Leaking Classified Inform.
A U.S.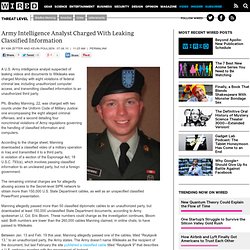 Army intelligence analyst suspected of leaking videos and documents to Wikileaks was charged Monday with eight violations of federal criminal law, including unauthorized computer access, and transmitting classified information to an unauthorized third party. Pfc. Bradley Manning, 22, was charged with two counts under the Uniform Code of Military Justice: one encompassing the eight alleged criminal offenses, and a second detailing four noncriminal violations of Army regulations governing the handling of classified information and computers. US Army: alleged Wikileaks source Manning faces 52 years - Boing.
Illustration: Rob Beschizza Earlier today, Boing Boing reported news that the U.S. has filed formal charges against Pfc.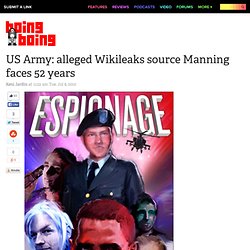 Bradley Manning, the 22-year-old Army Intelligence Specialist who is believed to have leaked damning classified data to Wikileaks. Adrian Lamo. Lamo first gained media attention for breaking into several high-profile computer networks, including those of The New York Times, Yahoo!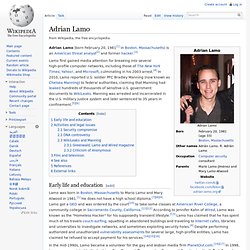 , and Microsoft, culminating in his 2003 arrest.[4] In 2010, Lamo reported U.S. soldier PFC Bradley Manning (now known as Chelsea Manning) to federal authorities, claiming that Manning had leaked hundreds of thousands of sensitive U.S. government documents to WikiLeaks. Manning was arrested and incarcerated in the U.S. military justice system and later sentenced to 35 years in confinement.[5][6] Ex-Hacker Adrian Lamo Institutionalized for Asperger's | Threat. Last month Adrian Lamo, a man once hunted by the FBI, did something contrary to his nature.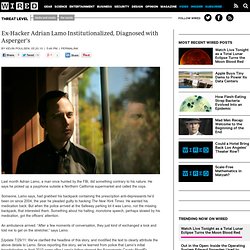 He says he picked up a payphone outside a Northern California supermarket and called the cops. Someone, Lamo says, had grabbed his backpack containing the prescription anti-depressants he'd been on since 2004, the year he pleaded guilty to hacking The New York Times. He wanted his medication back. Lamo challenges Wikileaks' Assange :: Hack In The Box :: Keeping. :: hitb portal :: hitb portal (SSL) :: hitb forum (SSL) :: hitb security conference :: hitb training :: hitb irc :: hitb photos :: hitb videos :: There are 138 unregistered users and 1 registered user on-line. You can log-in or register for a user account here . · Home Sub Menu · Latest Comments · HITB@AvantGo · HITB@Tradepub · HITB E-Zine Archive · HITB Merchandise · HITB Lite · HITB GFX · Members List · Recommend Us · Search · Stats · Contact Us · Top 50.
"I'm sorry that I could not be a friend to Manning": Adrian Lamo. "I will talk to you on camera under one condition: I won't give you an address of where I live, and all driving directions must be over the phone, nothing can be written in a computer. " These were Adrian Lamo's words in response to my request for an interview. The 29-year-old Colombian-American ex-hacker gave alleged Wikileaks source Private Bradley Manning over to authorities. Ever since then he has become one of the most hated figures in cyberspace, receiving all types of threats, with "different degrees of credibility" according to him. I meet him in his small studio apartment. The place was a total mess, and he apologised - there were boxes and books on the floor, clothes, food and bottles of alcohol, a small scale (to weigh his pet leopard-gecko) and a poisonous type of cactus from Africa.
The strange and consequential case of Bradley Manning, Adrian La. On June 6, Kevin Poulsen and Kim Zetter of Wired reported that a 22-year-old U.S. Army Private in Iraq, Bradley Manning, had been detained after he "boasted" in an Internet chat — with convicted computer hacker Adrian Lamo — of leaking to WikiLeaks the now famous Apache Helicopter attack video, a yet-to-be-published video of a civilian-killing air attack in Afghanistan, and "hundreds of thousands of classified State Department records." Lamo, who holds himself out as a "journalist" and told Manning he was one, acted instead as government informant, notifying federal authorities of what Manning allegedly told him, and then proceeded to question Manning for days as he met with federal agents, leading to Manning's detention. Glenn Greenwald. Glenn Greenwald (born March 6, 1967) is an American political journalist, lawyer, columnist, blogger, and author.
He was a columnist for Guardian US from August 2012 to October 2013.[1][2][3] He was a columnist for Salon.com from 2007 to 2012, and an occasional contributor to The Guardian.[4][5][6] Greenwald worked as a constitutional and civil rights litigator. At Salon he contributed as a columnist and blogger, focusing on political and legal topics.[7] He has also contributed to other newspapers and political news magazines, including The New York Times,[8][9][10] the Los Angeles Times,[11] The American Conservative,[12] The National Interest,[13] and In These Times.[14][15]
Mp3 Greenwald explores dissentradio.com/radio/10_07_12_ Bradley Manning Being Tortured? Bradley Manning: WikiLeaks Alleged Source's Life in Prison. The second episode of Season 4 brought us another wedding ceremony for the ages, and ended with a bang. [Warning: SPOILERS] In retrospect, we really should have seen it coming. Article 13 and PFC Bradley Manning. Solitary Confinement and Mental Illness in U.S. Prisons: A Challenge for Medical Ethics. Bradley Manning: the forgotten man - Radio National Breakfast - 7 January 2011. Optional Protocol to the Convention against Torture (OPCAT) Free Bradley Manning - Oakland, CA, Recorded on 9/16/2010 Camera by A. Mark Liiv indybay on USTREAM. World News. U.N. to investigate treatment of Bradley Manning - Glenn Greenwald. Is The Arrest Of Bradley Manning Part Of A Coordinated Effort To. Wikileaks-Informant?kommt vors Kriegsgericht. WikiLeaks: Collateral Murder, with ov... The US Government's pursuit of WikiLeaks could be its undoing.
UN looking into Bradley Manning's treatment. Bradley Manning/Wikileaks Timeline. Army will evaluate mental state of suspect in WikiLeaks. Motion to Dismiss for Lack of Speedy Trial. Protests grow over treatment of Bradley Manning - U.S. news - WikiLeaks in Security. Michael Moore campaigns to free Bradley Manning in war logs case | World news. David Rovics Song for Bradley Manning. Bradley Manning's supporters turned away over minor traffic violation | World news. Mp3. Nadim Kobeissi interviews Kevin Zeese on military's latest outrage toward Manning. Chelsea (nee Bradley) Manning. MANNING. Bradley Manning. Army Social Media Handbook 2011. KGB Tactics Being Used On PFC Bradley Manning Are Obscenely Un-American & Unconstitutional!" Chase Madar: Why Bradley Manning Is a Patriot, Not a Criminal: An Opening Statement for the Defense of Private Manning.
The Forgotten Man: Bradley Manning (2011) 1/3. P.J. Crowley resigns over Manning remark - Mike Allen and Josh Gerstein. The Abuse of Private Manning. Bradley Manning: The troubling punishment of Pfc. Bradley Manning - latimes.com. Guardian: editorial Bradley Manning: Cruel and unusual. Pfc. Bradley Manning doesn't deserve humiliating treatment. Bradley Manning: top US legal scholars voice outrage at 'torture' | World news. v97KJ.png (PNG Image, 600x893 pixels) - Scaled (72. Rep. Dennis Kucinich: My Experience Dealing With the Department of Defense Regarding Pfc. Manning Has Been Kafkaesque. Germany - An Appeal to Obama Over a U.S. Prisoner's Treatment.
---