Prog
Formations vidéos | PolySculpt
WebScheme - Scheme interpreter for web applications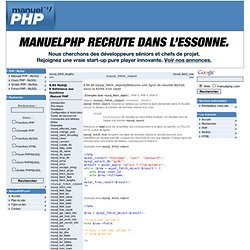 8.80.26 mysql_fetch_object() Retourne une ligne de résultat MySQL sous la forme d'un objet [ Exemples avec mysql_fetch_object ] PHP 3, PHP 4, PHP 5 object mysql_fetch_object ( resource result ) mysql_fetch_object retourne un tableau qui contient la ligne demandée dans le résultat result et déplace le pointeur de données interne d'un cran. Retourne un objet avec les propriétés qui correspondent à la ligne récupérée, ou FALSE s'il n'y a plus de lignes. mysql_fetch_row récupère une ligne de données depuis le résultat associé avec l'identifiant de résultat spécifié.
mysql_fetch_object
Programmation PHP/Exemples/Premier programme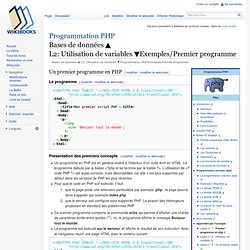 Un livre de Wikibooks. [ modifier ] Le programme <!DOCTYPE html PUBLIC "-//W3C//DTD XHTML 1.0 Transitional//EN" "http://www.w3.org/TR/xhtml1/DTD/xhtml1-transitional.dtd">< html >< head >< title > Mon premier script PHP ! < / title >< / head >< body >< p ><?
By Jacob Gube PHP is one of the most widely used open-source server-side scripting languages that exist today. With over 20 million indexed domains using PHP, including major websites like Facebook, Digg and WordPress, there are good reasons why many Web developers prefer it to other server-side scripting languages, such as Python and Ruby.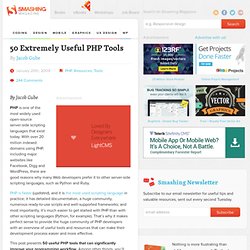 Posted in November 4th, 2010 Today is an awesome day my dear fellow programmers. Today is the day I decide to freely distribute the first couple of pages of the PHPUnit workshop I have been giving for some time now.
» PHPUnit Training Course for free Programming the new world: Programming your life and the net, one day at a time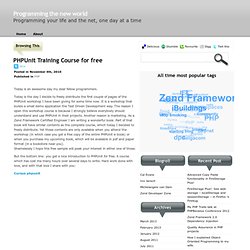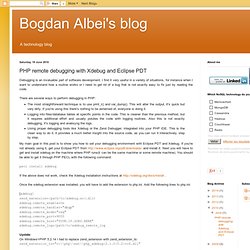 PHP remote debugging with Xdebug and Eclipse PDT
Debugging is an invaluable part of software development. I find it very useful in a variety of situations, for instance when I want to understand how a routine works or I need to get rid of a bug that is not exactly easy to fix just by reading the code. There are several ways to perform debugging in PHP:
Getting started with Instant Google's Instant feature, a new search enhancement that shows results as you type, has been getting a lot of buzz, and it's easy to see why. All you have to do to start getting results is just type.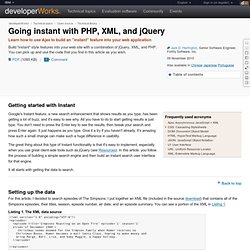 Going instant with PHP, XML, and jQuery
PHP Creating HTML Widgets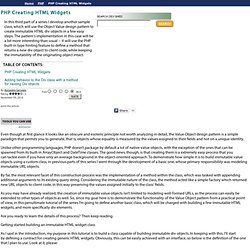 Even though at first glance it looks like an obscure and esoteric principle not worth analyzing in detail, the Value Object design pattern is a simple paradigm that permits you to generate, that is, objects whose equality is measured by the values assigned to their fields and not on a unique identity. Unlike other programming languages, PHP doesn't package by default a lot of native value objects, with the exception of the ones that can be spawned from its built-in ArrayObject and DateTime classes. The good news, though, is that creating them is a extremely easy process that you can tackle even if you have only an average background in the object-oriented approach.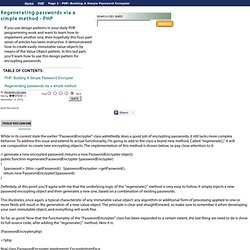 Page 2 - PHP: Building A Simple Password Encrypter
While in its current state the earlier "PasswordEncrypter" class admittedly does a good job of encrypting passwords, it still lacks more complex behavior. To address this issue and extend its actual functionality, I'm going to add to the class a brand new method. Called "regenerate()," it will use composition to create new encrypting objects. The implementation of this method is shown below, so pay close attention to it: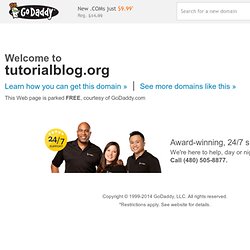 TutorialBlog.org
This tutorial will show you how to create a shiny badge , such as the type for money back guarantees or anything else you'd like to highlight on your website. To start off, create a blank canvass and then select the shape you'd like to use. We are using the classic seal shape for this tutorial but this technique will work on any shape you choose. Next, we give some effects to the shape – right click on the shape's layer and select blending options. We will give the shape some outer glow :
Introduction to Algorithms, Second Edition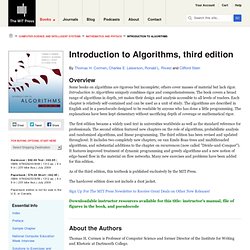 Table of Contents I Foundations Introduction 3 1 The Role of Algorithms in Computing 5 1.1 Algorithms 5
This WWW page is intended to serve as a comprehensive collection of algorithm implementations for over seventy of the most fundamental problems in combinatorial algorithms. The problem taxonomy, implementations, and supporting material are all drawn from my book The Algorithm Design Manual . Since the practical person is more often looking for a program than an algorithm, we provide pointers to solid implementations of useful algorithms, when they are available. Because of the volatility of the WWW, we provide local copies for many of the implementations. We encourage you to get them from the original sites instead of Stony Brook, because the version on the original site is more likely to be maintained. Further, there are often supporting files and documentation which we did not copy, and which may be of interest to you.
Welcome to LiteratePrograms ! LiteratePrograms is a unique wiki where every article is simultaneously a document and a piece of code that you can view, download, compile, and run by simply using the "download code" tab at the top of every article. See Insertion sort (C) for a simple example. To date we have 189 articles. Based on Donald Knuth's concept of literate programming , LiteratePrograms is a collection of code samples displayed in an easy-to-read way, collaboratively edited and debugged, and all released under the liberal MIT/X11 License (see Copyrights ) so that anyone can use our code and text for any purpose.