Open learning
Educational linkedscape by jeroen hamers
COMP8440 - ANU - College of Engineering and Computer Science
DUMAS (Dépôt Universitaire de Mémoires Après Soutenance) est une base d'archives ouvertes de travaux d'étudiants de niveaux bac+4 et bac+5, validés par un jury, dans toutes les disciplines. La base DUMAS est hébergée par HAL. 1. Objectifs et contenu de l'archive DUMAS s'inscrit dans un mouvement international en faveur du libre accès.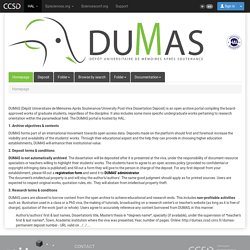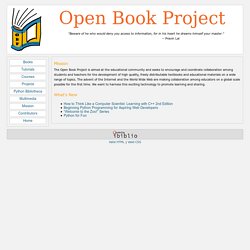 Mission The Open Book Project is aimed at the educational community and seeks to encourage and coordinate collaboration among students and teachers for the development of high quality, freely distributable textbooks and educational materials on a wide range of topics. The advent of the Internet and the World Wide Web are making collaboration among educators on a global scale possible for the first time. We want to harness this exciting technology to promote learning and sharing.
The Cape Town Open Education Declaration arises from a small but lively meeting convened in Cape Town in September 2007. The aim of this meeting was to accelerate efforts to promote open resources, technology and teaching practices in education. Convened by the Open Society Institute and the Shuttleworth Foundation, the meeting gathered participants with many points of view from many nations. This group discussed ways to broaden and deepen their open education efforts by working together. The first concrete outcome of this meeting is the Cape Town Open Education Declaration . It is at once a statement of principle, a statement of strategy and a statement of commitment.
Un article de Wikipédia, l'encyclopédie libre. Pour les articles homonymes, voir REL. Version en français du logo mondial. L'expression ressources éducatives libres (REL, de l'anglais « Open Educational Resources ») désigne un mouvement mondial lancé par des fondations, universités, enseignants et pédagogues visant à créer et distribuer via Internet des ressources éducatives (cours, manuels, logiciels éducatifs, etc.) libres et gratuites. Elles sont notamment mises en oeuvre dans des cours en ligne ouverts et massifs. Origines des Ressources Éducatives Libres (REL)[modifier | modifier le code]
Fournir à l'internaute, à partir de leur cadre d'usage (Unités d'Enseignement), un ensemble des ressources pédagogiques utilisés dans les 11 écoles de ParisTech. Engagement 1 : ParisTech s'engage à ce que les ressources pédagogiques mises à disposition respectent la législation en terme de droits d'auteur des tiers. Si toutefois un problème était détecté par un usager, il pourrait le faire savoir immédiatement en utilisant l'adresse mél mise à disposition ("Vos critiques"). Engagement 2 : ParisTech s'engage, pour chaque ressource pédagogique mise à disposition, après l'avoir défini avec les enseignants auteurs, à définir un droits d'usage de celle-ci. Engagement 3 : ParisTech s'engage à ce que chaque ressource pédagogique mise à disposition ait suivi un processus et des critères de qualification.
ParisTech "Graduate School"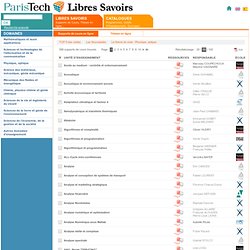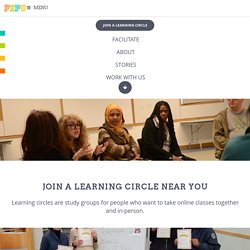 June Ahn Research Partner June is a human computer interaction researcher at University of Maryland. He was brave enough to get involved with this crowd and is helping us make all our data available to everyone. John Britton Edupunk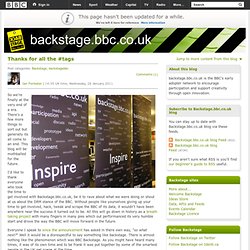 For those who don't know me, I'm a researcher for BBC Research & Development. For the last fifteen months I've been on attachment with BBC Scotland learning about how R&D interfaces with production divisions. Prior to my attachment I worked closely with Ian on Backstage events such as the Edinburgh Un-Festival and Over the Air so now I'm back in the fold I've been asked to work with a small team on the closedown and migration of BBC Backstage.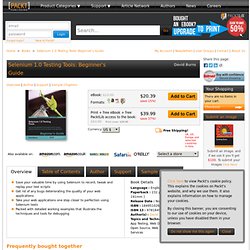 Selenium 1.0 Testing Tools: Beginner's Guide Book & eBook | Packt Publishing Technical & IT Book Store
eBook: $23.99 Formats: $20.39 save 15%! Print + free eBook + free PacktLib access to the book: $63.98 Print cover: $39.99 $39.99 save 37%!
Treeclosure stats Fri 21 Mar 2014 As the manager of the sheriffs I am always interested in how ofter the sheriffs, and anyone else, closes the tree. For those who don't know who the Mozilla Sheriffs are, they are the team that manage the code landing in a number of Mozilla trees.
Home Page - The Automated Tester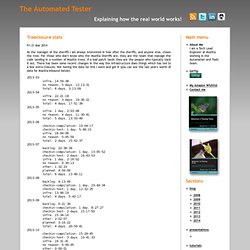 Courses