Architecture
FFFFOUND! Product of the Day. Designboom. MoCo Loco - Modern contemporary design & architecture. Below The Clouds - blog design. Dezeen architecture and design magazine.
Core77 / industrial design magazine + resource / home. Gizmodo. PingMag - The Tokyo-based magazine about "Design and Making Thin. Blog design gadget technologiques. Cuisine luxe. The kitchen is truly the heart (and soul) of any home so we are always on the look out for future-forward brands that fuse a sleek modern aesthetic together with sustainable materials and advanced technology.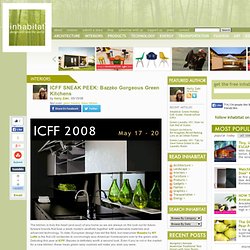 To date, European design has led the field, but newcomer Bazzèo by NY Lofts is the first US contender to convincingly woo American homeowners over to the green side. Debuting this year at ICFF, Bazzèo is definitely worth a second look. Even if you're not in the market for a new kitchen, these mean green sexy cuisines will make you wish you were. Below The Clouds » Merry, Kawamura & Ganjavian >> obje. Cuisine design blog.
Maison container. NOTCOT.ORG.
---