Grafico
Quinta-feira: Art Direction & Graphic Design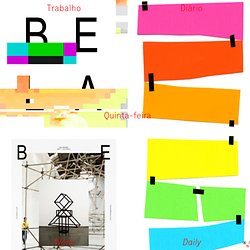 Identidade visual para BELA, uma instituição na Favela da Maré para difundir as artes visuais, e seu primeiro projeto: LABE, uma plataforma para promover obras em formato digital, especialmente arte sonora e videoarte. Visual identity for BELA, an institution in Favela da Maré to disseminate the visual arts, and its first project: LABE, a platform to promote works in digital format, especially sound art and video art. Ilustração para o menu do site da marca de roupas infantil Fábula. Site menu illustration for kidswear brand Fábula.
Unit | Photography, illustration & film direction
Chistes para Diseñadores Gráficos
50 reasons not to date a graphic designer | a bourbon for silvia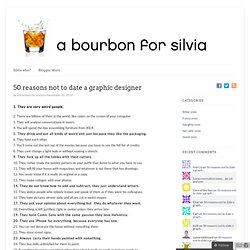 1. They are very weird people. 2.
Web design Torre Agbar web design enero 9, 2014 View more → Illustration Business lobster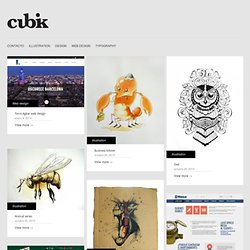 ==cubik==
"Für mich ist DESIGNERDOCK die einzige Recruitment Company Deutschlands, die die Nase richtig in der Szene hat. Sie findet und vermittelt wirkliche Talente und das nicht nur in Deutschland sondern auch im Ausland."Kurt Dieckert, dieckertschmidt "Wer Ahnung hat, weiß Bescheid."Mike Krüger für Henrik Bunzendahl, GF ZgHirschen, Stuttgart "Auch für Agenturen mit einem gut aufgestellten Recruitment-Team ist DESIGNERDOCK unverzichtbar bei der Suche nach den Besten."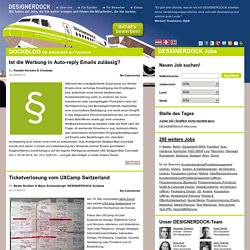 Jobs Werbeagentur Stellenangebote: Werbung, Marketing, Designagentur, Multimedia, Mobile, PR, Corporate Design. Job für Kundenberater, Grafik Designer, Designer, Art Director, Texter, Mediengestalter. Werbebranche …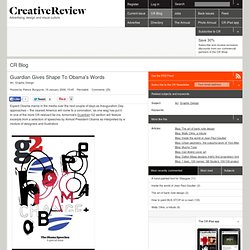 Expect Obama-mania in the media over the next couple of days as Inauguration Day approaches – 'the nearest America will come to a coronation,' as one wag has put it. In one of the more CR-relevant tie-ins, tomorrow's Guardian G2 section will feature excerpts from a selection of speeches by Almost President Obama as interpreted by a mixture of designers and illustrators Introducing it all is this cover by David Carson Contributors inside include Sean Freeman Peter Horridge Jonathan Barnbrook
Guardian Gives Shape To Obama's Words
Hipster Branding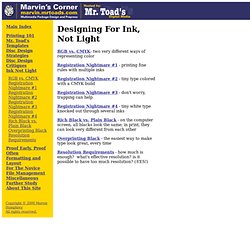 RGB vs. CMYK- two very different ways of representing color Registration Nightmare #1 - printing fine rules with multiple inks Registration Nightmare #2 - tiny type colored with a CMYK build Registration Nightmare #3 - don't worry, trapping can help Registration Nightmare #4 - tiny white type knocked out through several inks
Marvin's Corner: Designing for Ink, Not Light
Graphic Design Inspiration, Design Jobs, Design Business & Design Career Advice
Lost At E Minor: For creative people
SHIFT
Design Ideas and Tech Concepts - Toxel.com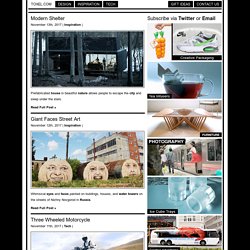 Smiley Face Screws April 19th, 2014 | Tech | Mermaids in Real World April 18th, 2014 | Inspiration | 3D Printed Hermit Crab Shells April 17th, 2014 | Tech |
Home - Uailab.com - Inspiration for designers
FeedMeCoolShit.com
Nekkid Take on Hedonistic Kiev is the title Kievtonite.com is published by UK-based NuEast Media Ltd., which has also been publishing B.East Magazine, a provocative zine about Eastpower for the last six years. B.East Magazine is distributed internationally and partners with established brands like Barcelona's Sonar, London Fashion Week and Berlin's Bread&Butter.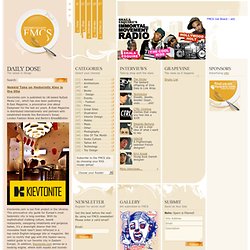 Inspiration and learning for designers | Adobe Design Center
Information Beautification - Kunur Patel - Feature
REPPING THE STREETS SINCE 2000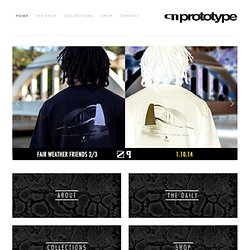 Prototype is a brand that has been in the game since 2000. Based out of Hawaii, Prototype focuses on having the freshest product and limited quantities for their brick and mortar shops in Pearlridge Shopping Center and Ala Moana Shopping Center. In 2000, the five owners who grew up in Hawaii scratched up what little savings they had together and Prototype was born. Inspired by skate and music, they focused on carrying brands that were underground and couldn't be found in Hawaii.
ACM SIGGRAPH News — siggraph.org
Marvin's Corner - Multimedia Package Design and Prepress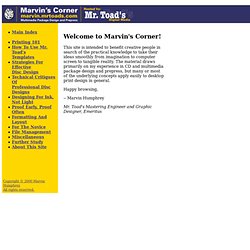 Printing 101 Halftones - how to make gray using tiny dots of black ink CMYK Process Printing - how to approximate full color using tiny dots of Cyan, Magenta, Yellow, and blacK ink Linescreens - the linescreen determines how tiny the tiny dots of ink are
SIGGRAPH
SIGGRAPH (short for Special Interest Group on GRAPHics and Interactive Techniques) is the name of the annual conference on computer graphics (CG) convened by the ACM SIGGRAPH organization. The first SIGGRAPH conference was in 1974. The conference is attended by tens of thousands of computer professionals. Past SIGGRAPH conferences have been held in Los Angeles, Dallas, New Orleans, Boston, Vancouver, and elsewhere across the United States. Overview[edit] Some highlights of the conference are its Animation Theater and Electronic Theater presentations, where recently created CG films are played.
On February 22nd 2014 once again TOCA ME design conference will take place in Munich's Alte Kongresshalle with renown speakers from all over the world. And we join as a partner again. The goal of the event under the claim "Designed to Inspire" is a critical evaluation of design as well as the connection of the Munich design and creative scene with the international design centers. This event will also marks the 10 years anniversary of TOCA ME!
Recruitment for the Creative Industry for designer, account manager, copy-writer, advertising, online, corporate design | DESIGNERDOCK
Cool Hunting
I'm a cadillac charged article. by Michael Slenske Two decades ago, New York-based light sculptor Leo Villareal attended Burning Man (the annual week-long art event in Black Rock City, Nevada, which culminates around a wooden sculpture of a man set on fire) and the experience changed his life. A few years later Villareal returned to the Nevada desert with a 16-strobe light beacon of his own design, which he fixed to the roof of his group's RV so that they could find their way home. "I was tired of getting lost, so I made my first piece which was sort of just a utilitarian thing to help me stay oriented.
Graphic Design Inspiration, Tutorials, Resources, Freebies, and More! | You The Designer
Juxtapoz Magazine
KALIBER10000
Cuban Council Did Backend Concept Design Frontend IA Identity Where to begin ... the first of its kind, destination extraordinaire, overflowing with inspiration, personality and humor. .. the pixel-perfect portal for designers and design-minded developers since nineteen hundred and ninety something or another.
designers,portafolios blog design
unnamed pearl
Worth1000 Home
Adv. Effects Picture of the Day: April 19, 2014 Posted 20 hours ago Captain Penguin by Teo75 from the contest B2B: Wooden Bucket. It finished with a rank of 2 and an average score of 7.39, and has been collected 3 times.
PARTY互动,装置工作室