ART
PHOTOGRAPHY | Carsten Witte. Fine art images for reproduction - Bridgeman - Art, Culture, History. 2011 October 3 - Dark Matter Movie from the Bolshoi Simulation. Discover the cosmos!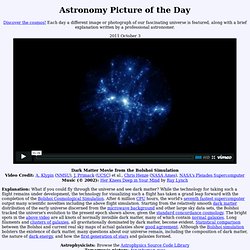 Each day a different image or photograph of our fascinating universe is featured, along with a brief explanation written by a professional astronomer. 2011 October 3. 9 Free Crochet Scarf Patterns. [ Close Privacy Policy ] Privacy Policy / Your California Privacy Rights Revised and posted as of March 4, 2013 Prime Publishing, LLC ("Company," "we" or "us") reserves the right to revise this Privacy Policy at any time simply by posting such revision, so we encourage you to review it periodically.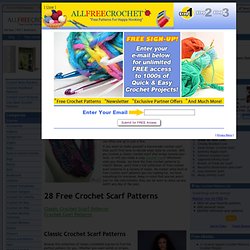 Stunning visual of the day by Anton Jankovoy « humanitari© 2011 July 4 - Southern Ocean Sky. Discover the cosmos!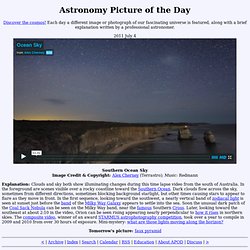 Each day a different image or photograph of our fascinating universe is featured, along with a brief explanation written by a professional astronomer. 2011 July 4 Southern Ocean Sky Image Credit & Copyright: Alex Cherney (Terrastro); Music: Redmann.
---