Pieces
explorations with space : cole rise
Amazing Paintings from Leonid Afremov
Selected Objects from the Exhibition
Sheep Sculptures Made Out of Rotary Phones
Before I Die… in NOLA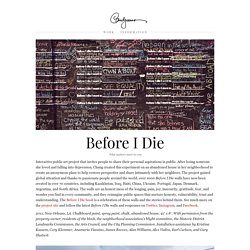 What is important to you 2011-ongoing New Before I Die book out! After Candy lost someone she loved, she went through a long period of grief and depression.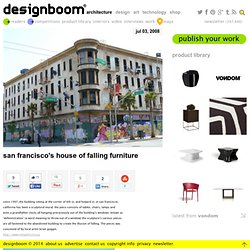 since 1997, the building sitting at the corner of 6th st. and howard st. in san fransiscio, california has been a sculptural mural. the piece consists of tables, chairs, lamps and even a grandfather clock, all hanging precariously out of the building's windows. known as 'defenestration' (a word meaning to throw out of a window) the sculpture's various pieces are all fastened to the abandoned building to create the illusion of falling. The pieces was conceived of by local artist brian goggin. http://www.metaphorm.org via fun forever
san francisco's house of falling furniture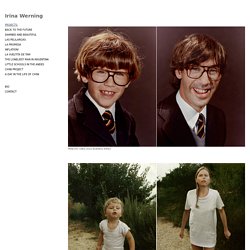 I love old photos. I admit being a nosey photographer.
BACK TO THE FUTURE : Irina Werning - Photographer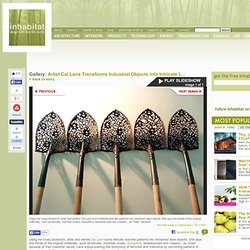 Using her trusty blowtorch, artist and welder Cal Lane burns delicate lace-like patterns into reclaimed steel objects.
Artist Cal Lane Transforms Industrial Objects into Intricate Lace Sculptures Cal Lane Art – Inhabitat - Green Design Will Save the World
Steen.jpg (680×453)
Tall Painting
Watermelon skin carving on Vimeo
Face Distorting Jewelry: Pics, Videos, Links, News
The Kids Are Alright: RISD Students Strut Their Stuff at the ICFF
Students at the Rhode Island School of Design will show off their work at this year's International Contemporary Furniture Fair in New York, which convenes this Friday and runs through Tuesday. The exhibition, titled Immaterialize, stemmed from a a semester-long course in 2008, which tasked students to create furniture from non-traditional materials. Here's a peek at the nine projects.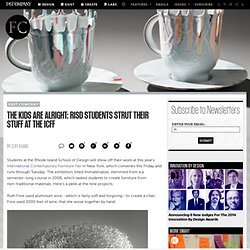 Benny the Stonedancer on Vimeo
Etude 6 on the Behance Network
"Dead Drops" preview at Aram Bartholl – Blog
I am pleased to preview 'Dead Drops' a new project which I started off as part of my ongoing EYEBEAM residency in NYC the last couple weeks.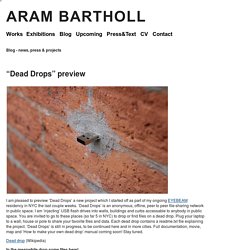 evan roth: 3D graffiti sculptures
julia chiang: ring pop art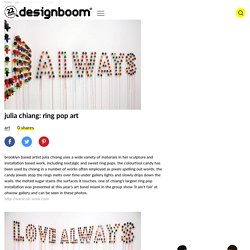 brooklyn based artist julia chiang uses a wide variety of materials in her sculpture and installation based work, including nostalgic and sweet ring pops. the colourfoul candy has been used by chiang in a number of works often employed as pixels spelling out words. the candy jewels atop the rings melts over time under gallery lights and slowly drips down the walls. the melted sugar stains the surfaces it touches. one of chiang's largest ring pop installation was presented at this year's art basel miami in the group show 'it ain't fair' at ohwow gallery and can be seen in these photos. http://www.oh-wow.com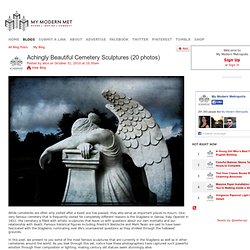 While cemeteries are often only visited after a loved one has passed, they also serve as important places to mourn. One very famous cemetery that is frequently visited for completely different reasons is the Staglieno in Genoa, Italy. Opened in 1851, the cemetery is filled with artistic sculptures that leave us with questions about our own mortality and our relationship with death.
Achingly Beautiful Cemetery Sculptures (20 photos)
Fluid Dress on Vimeo
Last week Banksy declared that all profits from his current print sale would be gifted to Russian art anarchist group Voina.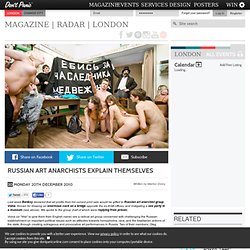 Magazine > Russian art anarchists explain themselves | Banksy's new favourites Voina speak from prison
Land Art | Fubiz ™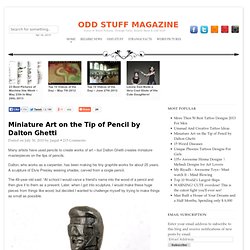 Many artists have used pencils to create works of art – but Dalton Ghetti creates miniature masterpieces on the tips of pencils.
Miniature Art on the Tip of Pencil by Dalton Ghetti
Audrey Kawasaki is a Los Angeles-based painter, known for her characteristic works that are painted directly onto wood panels. Kawasaki studied fine art painting at the Pratt Institute in New York City, but left after two years without completing her degree. The emphasis that New York art standards put on conceptual art was at odds with her painting ideologies and was the reason for her leaving.
With Maidens of Mystery - The artwork of Audrey Kawasaki | culturazzi
01.jpg (1191×842)
Tugboat Printshop: Printshop + Process
friqt.com
Traders ready to changehange your trading. Develop a daily stock trading plan for action on the goal that will help your trading effortsMarket trading swingsWhen a trader undergoes an emotionally harrowing loss, many of the factors associated with that stock trade become associated with the emotional painThe market you are about to tradeYou should know which investment reports affect markets you trade and by how much, and you should know when they are coming outResearch market.
A Print A Day Archives
Look in art: Roberto Ferri
Terry Border Makes Everyday Objects Come Alive (18 pics)