File Recovery
Latest stable version 6.14 July 30, 2013 PhotoRec, Digital Picture and File Recovery PhotoRec is file data recovery software designed to recover lost files including video, documents and archives from hard disks, CD-ROMs, and lost pictures (thus the Photo Recovery name) from digital camera memory.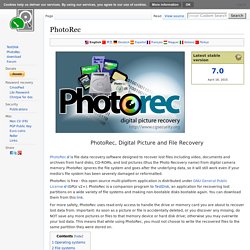 FileRestorePlus - Easily undelete, unerase, and recover deleted files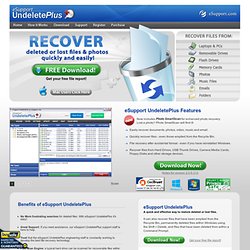 Recover deleted or lost files quickly & easily! Get your free file report! Scan Recover File Folders Filters eSupport UndeletePlus Features Now includes Photo SmartScan for enhanced photo recovery. Lost a photo?