Fun stuff
Magic central tricks and illusions videos. Thanksgiving as a kid VS Thanksgiving as an adult. Game - Family Guy Online. Entering its 11th season, FAMILY GUY continues to entertain fans with its shocking humor, infamous cutaway gags and epic episodes.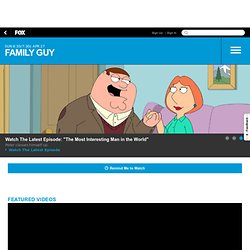 Since its debut, the show has reached cult status among fans, and its breakout star, a talking baby, has become one of the greatest TV villains of all time. FAMILY GUY has racked up numerous awards, including an Emmy Award nomination for Outstanding Comedy Series, only the second animated series in television history to be honored with such a distinction. The show follows the adventures of an endearingly ignorant dad, PETER GRIFFIN (Seth MacFarlane), and his hilariously odd family of middle-class New Englanders in Quahog, RI. LOIS (Alex Borstein) is Peter's wife, a stay-at-home mom with no patience for her family's antics. Realm of the Mad God. Blue "Lightsaber" Laser Can Blind, Burn Flesh, and Costs Only $200. That little hunk of frost-coated hardware in the photo is the Spyder III Pro Arctic blue handheld laser.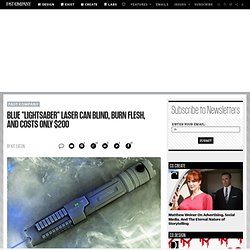 It's being marketed as the closest thing to real-life Star Wars lightsaber ever. Because this $200 piece of Chinese gear can fry your retinas. The product's sales spiel is pretty no-nonsense: "For the first time in history, direct blue laser diodes have now become available in the consumer market. The laser powered home theater projector is the first of a large family of audio and video media technology to feature direct blue diodes. A True Power Ranger. This IS The Most Epic Ad ever Made: A DRAMATIC SURPRISE ON A QUIET SQUARE. Random | Epic Trick Shot Battle.
Arcade Aid. Fun.drno.de/flash/antcity.swf. BrowserQuest.
---