BLOG
Recyclable — Chair Blog. Spook by Iskos-Berlin for Blå Station The Spook armchair by Iskos-Berlin for Blå Station is made exclusively out of heat-formed fibre felt and comes in anthracite, burgundy or navy blue color.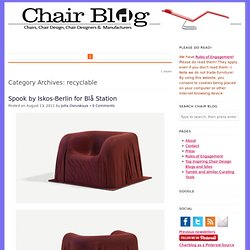 The inspiration for this design comes from the ghostly silhouettes that are created whenever chairs are covered with a sheet, and this idea is applied to the production of Spook. The Groopti Blog - Part 9. NOTCOT.ORG. บรรจุภัณฑ์ขวดอลูมิเนียม | BUNJUPUN.COM. บรรจุภัณฑ์ขวดอลูมิเนียมสุดเจ๋งจากเบียร์ยี่ห้อดังอย่าง Heineken ที่มาพร้อมกับขวดที่ถูกพิมพ์ด้วยหมึกชนิดพิเศษซึ่งเมื่อโดนแสง UV ก็จะเปล่งแสงขึ้นมา ทำให้เห็นลวดลายชัดเจนในที่มืดได้นั่นเองครับ Read more บรรจุภัณฑ์สวยๆจากเครื่องดื่ม Coca Cola London 2012 ที่มาพร้อมกับลายที่ออกแบบมาโดยเฉพาะสำหรับมหกรรมกีฬาระดับโลกอย่างกีฬาโอลิมปิกที่จะจัดขึ้นที่กรุงลอนดอน ประเทศอังกฤษ ในปีนี้ โดยดีไซน์ก็จะเน้นไปที่ความสดใสดูตื่นตาตื่นใจเหมาะมากๆกับช่วงเทศกาลครับ Read more บรรจุภัณฑ์สุดคลาสสิคฉลองครบรอบ 125 ปี ของ Coca-Cola หรือ โค้ก โดยผลงานการออกแบบบรรจุภัณฑ์ของ Bulletproof ซึ่งทำงานร่วมกับ NWEN โดยพวกเขาก็ได้นำเอารูปภาพเก่าๆมาลงบนตัวกระป๋องและขวดดูแล้วให้ความความรู้สึกคลาสสิคและทำให้นึกถึงวันเก่าๆได้ดีทีเดียวครับ Read more บรรจุภัณฑ์ขวดอลูมิเนียมดีไซน์สุดสวยจากเบียร์ Heineken โดยการออกแบบของ ORA-ÏTO จากประเทศฝรั่งเศสครับ Read more.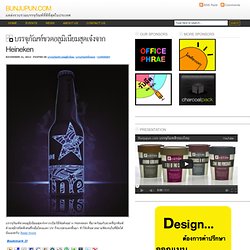 Yatzer™ Icon_ology. Roche Bobois Sofa Frame Construction - Page 22 | polopuentearanda.com. Art Project, powered by Google. Australia Blog. Core77 / industrial design magazine + resource / home.
Mandala arte e tecnolgia. Le blog d'actualité du high tech à la culture. Dress Design Decor. Not sure if I mentioned this before, but underneath the lofts where I live, as well as in the original building beside me, they're opening up a number of new stores i'm pretty excited about.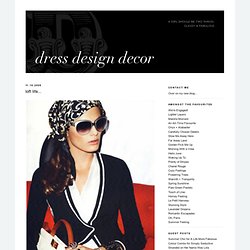 Vincenzo's - an italian grocer/café/flower/butcher shop is finally starting to set up, which will be so handy to pop into right after work. An art gallery, card shop, baby store and spa are going in for sure... and there's still a few unknown spaces in construction. But, one of the best is a brand new restaurant which I caught a sneak peek of today!
Dark woods and leather banquettes are being installed and i'm super excited for it to be up and running. Logo Of The Day - Logo Design Inspiration, Gallery & Award Scheme! Modern Chair Design - Wooden Chair, Rocking Chair, Contemporary Chair Page 2. Question 1 of 4: How often do you use Mozilla Firefox?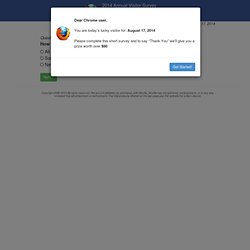 Question 2 of 4: How satisfied were you with the previous versions of Mozilla Firefox? Question 3 of 4: Wallpaper.com | Home | Wallpaper* Magazine. Core77 / industrial design magazine + resource / home. VIENNA DESIGN WEEK 2010 - Bulb Fiction - claassen & partner. VIENNA DESIGN WEEK 2010 - The Technisches Museum Wien - querkraft architekten. Dutch design. The Puzzleboard by OOOMS can be used in more ways than one: each board can be used on its own as a cutting board or serving plate, or put some boards together and you have super-sized your workspace.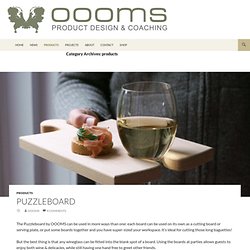 It's ideal for cutting those long baguettes! But the best thing is that any wineglass can be fitted into the blank spot of a board. MoCo Loco - Modern contemporary design & architecture. NOTCOT.ORG. Modern & Contemporary Design Portal / Daily Blog. Design Boom. Material Explorer. Dezeen architecture and design magazine.
---