Philosophy
Get flash to fully experience Pearltrees
Everyone gets drilled with certain lessons in life. Sometimes it takes repeated demonstrations of a given law of life to really get it into your skull, and other times one powerful experience drives the point home once forever. Here are 88 things I've discovered about life, the world, and its inhabitants by this point in my short time on earth. 1. You can't change other people, and it's rude to try. 2.
A Zen student came to Bankei and said: "Master, I have an ungovernable temper. How can I cure it?" "Show me this temper," said Bankei, "it sounds fascinating." "I haven't got it right now," said the student, "so I can't show it to you." "well then," said Bankei, "bring it to me when you have it." "But I can't bring it just when I happen to have it," protested the student.
The Egg By: Andy Weir You were on your way home when you died. It was a car accident.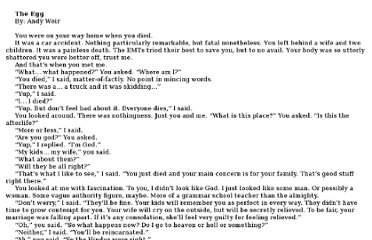 Welcome to Overthinking It , where we subject the popular culture to a level of scrutiny it probably doesn't deserve. If you like our articles , you can subscribe to our RSS feed for free updates. Don't forget to check out the podcast (and get it in iTunes ). Niko Bellic has libertarian free will in different area codes. Matt's recent post on morality in first person shooters provoked my thoughts more than a little bit.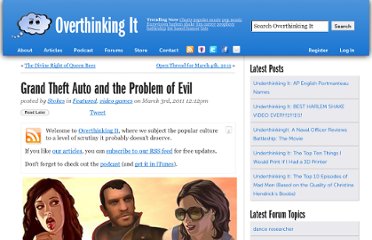 You have reached a web page that was created by Professor Frank Pajares. Portions of his web site have been archived and others are in the process of being moved to homes not affiliated with Emory University. Information on self-efficacy or Albert Bandura is now available from http://p20motivationlab.org . Click here for information on William James . Please check the site frequently for updates. If there is other information you are searching for, please let us know so that we can provide you with the information you are looking for as soon as possible.