In The Effort Of Learning
Coke forge and sword! !!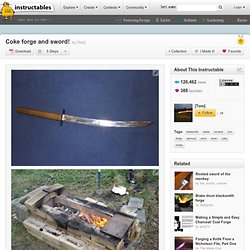 Important lots of heat and fumes given off so out side is a must for this type of forge, when the worked mettle is taken out it will be red-white hot, you will feel the heat from a distance so don't let it get any where near your or any ones skin or body or it will hurt, a lot!! Materials The materials needed for constructing a non-permanent forge depends on the size and shape, this forge was made for the job of forging the blade of my sword, so I will list the materials as if u was replicating this exactly (or kind of). Shit I Want Wednesdays | Roy Reid Comedy – Canada's #1 Source For All Things Comedy. Western Philosophy. 18 ways to educate yourself every day (because nerds are sexy) « Malavika's Blog.
"Anyone who stops learning is old, whether at 20 or 80.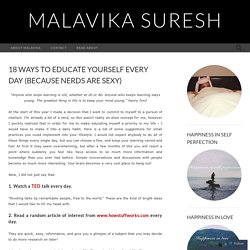 Anyone who keeps learning stays young. The greatest thing in life is to keep your mind young." Henry Ford. Critical thinking web - StumbleUpon. Computer Science 101. Top 10 Tech Concepts You Always Wanted To Learn About (But Never Did) Store your data on someone else's computer, hope they don't do anything bad with it or decide to shut down.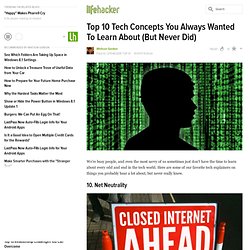 Stallman calls it "Careless Computing". If you put personal data in-the-cloud like future plans., trips, your current GPS location, then you should expect that data to be shared all over the world with nice people, nice companies and criminals (looking for when to rob you). Facebook connections and twitter followers provide information about you and your friends. If they assume you are similar to your friends, then the personal information those other people enter helps them build a profile of your likes/dislikes too. Khan Academy. TED: Ideas worth spreading. Learn how Everything Works!". Youtube Documentaries - Mobile. The really free schools are online - Features, Gadgets & Tech. But can a quality education be delivered online?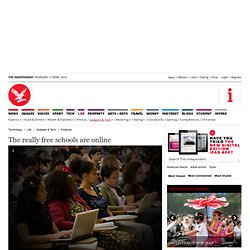 And, more to the point, how much would it cost? In just over a month's time (10 October), Stanford University is launching three free online courses – Introduction to Artificial Intelligence, Introduction to Databases and Machine Learning – that are open to all, taught by eminent scientists, involve study, homework and exams, and are rewarded with a "statement of accomplishment", should you complete them. It's been described as a "bold experiment in distributed education", and so far more than 135,000 people have signed up to take the Artificial Intelligence class alone. Professor Sebastian Thrun, one of its teachers, has expressed delight at the prospect of addressing more students in a few short weeks that in his entire career, but what is Stanford's "statement of accomplishment" worth? OpenLearn - The Open University.
90+ free online courses from Top Universities on Science Subjects. Free Maths Video Lecture courses. Free Engineering Video Lecture courses. Learn.Genetics™
Hacking Knowledge: 77 Ways to Learn Faster, Deeper, and Better. If someone granted you one wish, what do you imagine you would want out of life that you haven't gotten yet?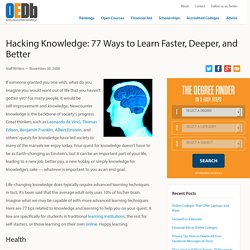 For many people, it would be self-improvement and knowledge. New knowledge is the backbone of society's progress.
---