Cool Pictures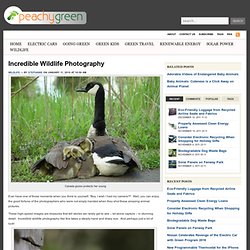 Incredible Wildlife Photography | Peachy Green - StumbleUpon
Wildlife — By Stephanie on January 11, 2010 at 10:58 am Canada goose protects her young Ever have one of those moments when you think to yourself, "Boy, I wish I had my camera?!" Well, you can enjoy the good fortune of the photographers who were not empty handed when they shot these amazing animal pictures. These high-speed images are treasures that tell stories we rarely get to see – let alone capture – in stunning detail. Incredible wildlife photography like this takes a steady hand and sharp eye.
Not a GIF - StumbleUpon
you-park-like-an-asshole-notice.jpg from gawkerassets.com
Gorgeous nature | Cira Car
yaghr: Даже не знаю как назвать безобразие, цар
Very Funny Animal Pics | Bane Planet
Top 30 Awwwwwwsssss
BabaLoud.com may be available for purchase. Inquire today! Inquiry Form Inquire with your Facebook or LinkedIn profile, or complete this form to receive a free quote. Every big dream that became a reality had one thing in common: A solid foundation. First impressions matter.Get an email address as big as your dreams.
Full Of Life Animals 2 | BabAloud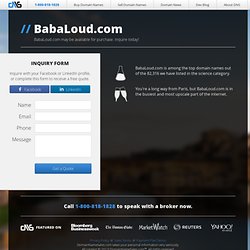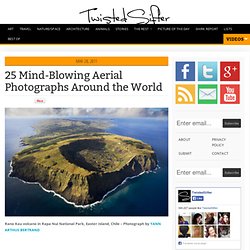 25 Mind-Blowing Aerial Photographs Around the World
Rano Kau volcano in Rapa Nui National Park, Easter Island, Chile – Photograph by YANN ARTHUS BERTRAND For me, the allure of aerial photography is the unique perspective it gives. The world feels so different when viewed from above. It always gives me a newfound appreciation for this pale blue dot we call home. In my opinion, there is no better aerial photographer than Yann Arthus Bertrand.
Body Art - Hand Animals | Optical Illusions
When a photograph is not just a photograph !!
Cuteness is usually characterized by some combination of infant-like physical traits, especially small body size with a disproportionately large head, large eyes, and round and softer body features. Infantile personality traits, such as playfulness, fragility, helplessness, curiosity, innocence, affectionate behavior, and a need to be nurtured are also generally considered cute. To those who are living in the concrete jungle, we have collected the following cute animals, hoping they could bring you a good mood and maybe, remind you of the wild world.
70 Cutie Baby Animals Bring You a Good Mood | The Design Inspiration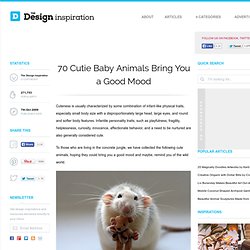 A%20cat%20torn%20between%202%20boxes.jpg from mamieyoung.com
26 LOL Animal Pics (3.5.11) |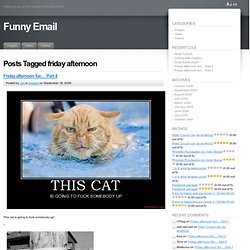 friday afternoon & Funny Emails
Friday afternoon fun… Part 4 Posted by Jon in Images on September 18, 2009 This cat is going to fuck somebody up! Has anyone seen this cat? Because it is AWESOME!
Awesome Photo Manipulation | Best Bookmarks
049.jpg from blublu.org
Have You Ever Been So Tired?
Viewing Entry - SOCIETY
100 Striking Examples Of Conceptual Photography
They look as if they were taken on another planet, or at least on the set of a new and very expensive science fiction movie. Yet these pictures are of the Fly Geyser which is very much of planet earth (Nevada, US to be exact). However – and herein lies the surprise – it is effectively man made.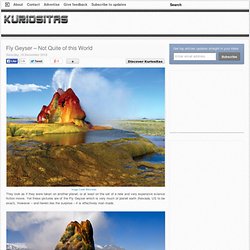 Fly Geyser - Not Quite of this World
30 Lovely and Funny Baby Animal Photos | Photography Center
Amazing paper castle&|&Email Junk
35 Truly Dramatic Examples of Animal Photography - Noupe Design Blog
Jan 20 2010 Sometimes we take wildlife pictures that we see in books and magazines for granted; seldom does it give you the impressions that they were taken easily. The truth is, photographing animals (especially in wildlife) is very involved, such a moment could only be told through some timely amazing shots. For someone who loves animals, photographing them can be both very fulfilling and frustrating at the same time.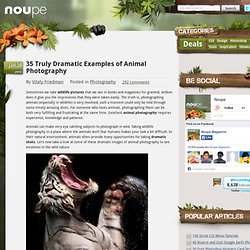 World-Map-By-Stereotypes-full.jpg from nextround.net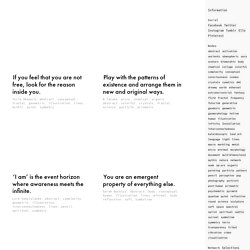 Synaptic Stimuli
The earth is a medium with a message External Stimuli : Desert Breath - El Gouna, Egypt, Danae Stratou (artist), Vital Space : Nature & Humanity Related Stimuli : Jim Denevan Themes : Sculpture Nodes : earth, land art, pattern, spiral
Samantha Meglioli | smashingpicture.com