Photography
Famous People Hanging Out. Lori Nix. All sizes | Two levels. Liam's Pictures from Old Books. Author Picasso Quote Useless. From 1945 to 2010. Cntower_timelapse. Untitled. Birdmouse. Spiral pictures - Spiral photo gallery. April_08_2_29. Untitled. EarthWallpapers.org.
Your Time Is Up ! ! ! - Photo forum. Travel Photography | earth-photography.com. Photography community, including forums, reviews, and galleries from Photo.net. Eiffel Tower pictures - Eiffel Tower photo gallery. Eye pictures - Eye photo gallery. SONJA MUELLER ::: PHOTOGRAPHY. Flickr Light Image Gallery - Interesting photos. This is Now. Untitled. Fine Art Photography & Prints. Panoguide: the guide to panoramas and panoramic photography.
BBC News | Enlarged Image. Behold: San Francisco in the 22nd Century. What will San Francisco be like 100 years from now?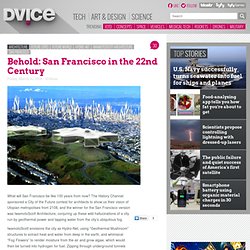 The History Channel sponsored a City of the Future contest for architects to show us their vision of Utopian metropolises from 2108, and the winner for the San Francisco version was IwamotoScott Architecture, conjuring up these wild hallucinations of a city run by geothermal power and tapping water from the city's ubiquitous fog. IwamotoScott envisions the city as Hydro-Net, using "Geothermal Mushroom" structures to extract heat and water from deep in the earth, and whimsical "Fog Flowers" to render moisture from the air and grow algae, which would then be turned into hydrogen for fuel. Zipping through underground tunnels are hydrogen-fueled hover cars, coursing through the multi-use veins of this future city that's learned how to live without fossil fuels.
1233853797A4Zf2dd. All sizes | We Have Signs. Silence. 35 Surreal Examples of Multiplicity Photography - Noupe Design Blog. May 27 2010 Multiplicity is a photography technique in which the same person is photographed from different angles and directions and then the bunch of photographs are digitally re-mastered in Photoshop showing clones of the person doing different things all in one photo.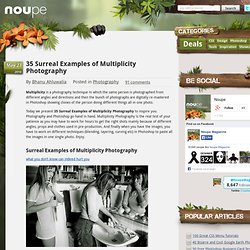 Today we present 35 Surreal Examples of Multiplicity Photography to inspire you. Photography and Photoshop go hand in hand. Multiplicity Photography is the real test of your patience as you may have to work for hours to get the right shots mainly because of different angles, props and clothes used in pre-production. Cool Photos and Artworks for Your Inspiration #10. Nk_dali_philippe_halsman_eye_prism. Gallery - 08012009. 489This is the marvellous Tyla, who took her own picture.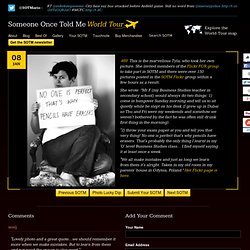 She invited members of the Flickr FGR group to take part in SOTM and there were over 150 pictures posted in the SOTM Flickr group within a few hours as a result. She wrote :"Mr F (my Business Studies teacher in secondary school) would always do two things: 1) come in hungover Sunday morning and tell us to sit quietly while he slept on his desk (I grew up in Dubai so Thu and Fri were my weekends and somehow we weren't bothered by the fact he was often still drunk first thing in the morning). Tuomas Korpi. Moodstream™ by Getty Images. Viewing Entry - 'SOCIETY' G A L L E R Y.
---