Listening - Tracking - Alerts
Get Satisfaction | Customer Community Software - Love your Customers. Amazon Mechanical Turk - Welcome. Home | InnoCentive. GeniusRocket - Crowdsourced creative design. IdeaStorm | Rewire the web. Corporation. Twitter people search and lists directory. Scribd. Technology News. Twitscoop - Stay on top of twitter! - Search twitter, twitter client, hot trends. Social Networking Watch. Competitious.
Online Reputation Management and Social Media Monitoring. TweetGrid - by jazzychad. Social CRM Online Community Solutions. Lithium helps you connect, engage and build trust Your customers are on every social network, right now, sharing their experiences.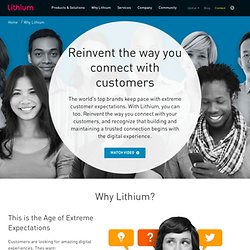 With Lithium, you have the power to create a trusted connection with your most passionate customers. Respond and engage on social networks Steer online conversations to a community that you build and own Activate super fans and drive advocacy Crowdsource ideas and innovation from your best customers. Real Time Search - Social Mention. Viralheat | Social media monitoring and analytics. Addictomatic: Inhale the Web.
---