Cocer
Patron Flor Sencilla. Needle Felting Instruction: Bunny Puff Episode 1, Body Head and Legs by Sarafina Fiber Art. DIY Needle Felting Faces. Dimensions - Felted Characters. Create a Felt Flower. Create a Felt Flower. Felt Making Tutorial. How To Felt. Felt Making Demonstration. Feltmaking for Beginners--Part1.wmv. PERLES EN LAINE FEUTREE. Beginning Basic Weave. Beginning Basic Weave. Weaving on a Cardboard Loom. Soumak Weaving for the Beginner. Let's spend a few moments thinking about Soumak tapestry weaving in a broad sense.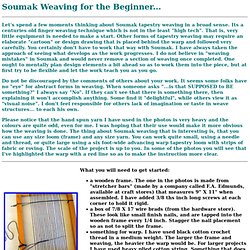 Its a centuries old finger weaving technique which is not in the least "high tech". That is, very little equipment is needed to make a start. Embroidery and Tapestry Weaving by Grace Christie. Embroidery. I've been playing with pretty threads this week.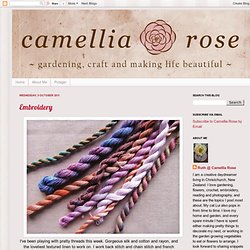 Gorgeous silk and cotton and rayon, and the loveliest textured linen to work on. I work back stitch and chain stitch and french knots and crosses. Tone on tone or bright splashes of colour. This is a tapestry sampler - a little square worked on canvas that can be sewn into a pincushion or sachet. It came from the studio of Jane van Keulen - a textile artist who hand dyes a range of beautiful threads. Pin by ABG (aka Hobdid) on Bayeux Tapestry. BARGAIN BARGELLO | Something FineSomething Fine. Me and my Mum met in Winchester last week – it's sort of the mid way point between my house and my sister's house so we often do day trips there.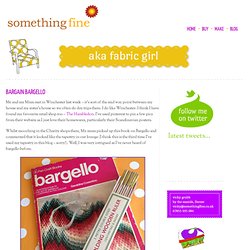 I do like Winchester. I think I have found my favourite retail shop too – The Hambledon. I've used pinterest to pin a few pics from their website as I just love their homewares, particularly their Scandinavian posters. 6 Ways to Macrame. Steps Method 1 of 6: Assembling Your Base Step 1.360p.mp4 00:00 00:05 00:05 spaceplay / pauseescstopffullscreenshift + ←→slower / faster (latest Chrome and Safari)←→seek . seek to previous 12…6 seek to 10%, 20%, …60% 1Find an object to use as an anchor.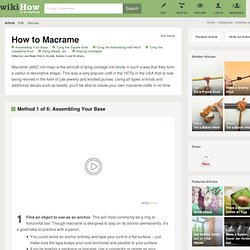 This will most commonly be a ring or horizontal bar. ATRAPASUEÑOS O MOVIL COLGANTE. TAPIZ EN MACRAMÉ. Después de varios dias de estar dedicada a mi "INTERCAMBIO A LA CARTA" organizado por EMILIA del blog PUNTO DE ENCUENTRO,a quien agradezco la posibilidad de participar en él;hoy me dispongo a retomar el blog con un tapiz en macramé ,que aunque no estoy del todo sastifecha con el resultado final ,quería publicarlo porque el paso a paso puede serle útil a alguien los nudos estan en otras entradas de este blog y pueden buscarlos en "etiquetas"/macramé.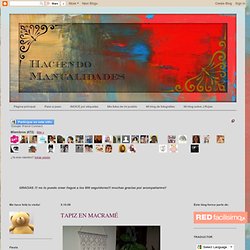 El primer paso es cortar los hilos cuatro veces mas largos que la medida final que tendrá el tapiz. Montarlos en un soporte con el nudo alondra. Agregar un hilo auxiliar y tejer a lo ancho de todo el trabajo el nudo cordón ó festón . Tomamos de a 4 hilos y hacemos nudo plano o chato. Intercalamos otra hilera de nudo plano. Macramé. Historia Macramé La palabra 'macramé' es de procedencia árabe.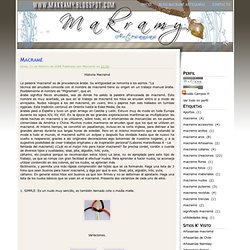 Su antigüedad se remonta a los asirios. "Latécnica del anudado conocida con el nombre de macramé tiene su origen en un trabajo manual árabe. Posiblemente el nombre de "Migramah", que enárabe significa flecos anudados, sea de donde ha salido la palabra afrancesada de macramé. Tapiz - Videos más relevantes. Tapiz de Överhogdal.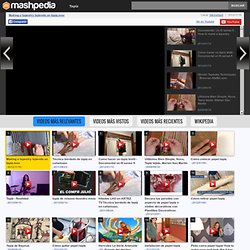 El tapiz (del francés tapis, que a su vez deriva del griego bizantino τάπης)[4] es una obra de tejido tradicionalmente hecha a mano en la que se producen figuras semejantes a las de una pintura utilizando hilos de distintos colores. También se utiliza la expresión "arte de tapicería", que no debe confundirse con la tapicería entendida como artesanía encargada de tapizar muebles.
Utilísima Bien Simple, Nova, Tapiz tejido, Marian San Martín. How To Make A Wire Headband. Gathered Flower Purse by Sew Dang Cute. Hi!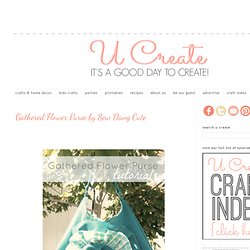 I'm Tam from Sew Dang Cute. I guess as way of introduction, I am a SAHM mom to three beautiful children - 2 girls and 1 boy, ages 4, 3, and 1. I'm lucky enough to be married to my best friend. We love spending time outdoors and take every opportunity we can to do fun, family outings. CABOCHON ROSE HANDBAG. 'Cabochon Rose Handbag' This little evening handbag resembles a corsage and is carried on the wrist.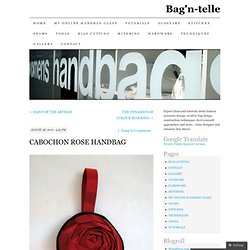 It can be made up in colours and fabrications to compliment the lady's dress. Dimensions: approximately 6 ½" in diameter X 1½" deep [16.5 cm X 4cm ] Construction Method: Turned finish – this method may be recognized by noting the lack of machine-stitching that is visible at points of assembly on the exterior side of the bag.
This is possible by placing the material, or parts, face to face, machining and turning right-side out. Hip pouch sew-along, day 3 of 3. Welcome to Day 3 of the Hip Pouch Sew-Along!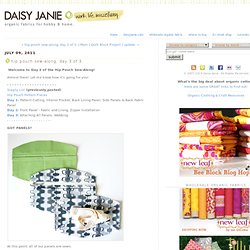 Almost there! Let me know how it's going for you! - - - - - - - - - - - - - - - - - - - -Supply List (previously posted)Hip Pouch Pattern PiecesDay 1: Pattern Cutting, Interior Pocket, Back Lining Panel, Side Panels & Back Fabric PanelDay 2: Front Panel - Fabric and Lining, Zipper InstallationDay 3: Attaching All Panels, Webbing- - - - - - - - - - - - - - - - - - - - Homemade Gift Basket Ideas for Every Occasion. i00.i.aliimg.com/img/pb/980/719/434/434719980_821.jpg. Wholesale 5X Fashion Fuctional Pocket/Card Holder/Wallet/ Money Clip/Passport holder/organizer bag Free Shipping. 5X card holder wallet purse money clip passport holder travel organizer bag passport folder free shipping Features:
Sale-louis-vuitton.com/wp-content/uploads/2011/06/louis-vuitton-waist-bag-1.jpg. Www.bagbliss.com/wp-content/uploads/2011/03/Malene-Birger-Tummy-Waist-Bag.jpg. Fanny pack. Untitled. Free pattern and Directions to Sew Your Own Kid's Hip Pouch or Fanny Pack for Boys or Girls or Adult Wear Around the Waist Camera Case. Manualidades Gratis. ¡ LIBELULA COLORISTA ! Como reciclar un pantalon de cargo. Tienes un pantalon de cargo que està en desuso porque tiene manchas que no salen o porque quedaron chicos o muy grandes? Entonces esta propuesta te puede interesar, la tela de estos pantalones es una tela excelente para realizar bolsos tipo bandolera o morral con un bolsillo en el frente para guardar el celular. Es muy sencillo de realizar en unos pocos pasos tendras un morral comodo y fashion.
Materiales: Pantalon de cargo en desuso tela para forreria (opcional) en composse. Bolsito de cintura. How to Make Fabric Flowers. - StumbleUpon. How To Make A Bridal Bouquet With Feather and Fabric Flowers | Flower Making Tutorials. Making fabric flowers - tutorial addendum: how to make rounded petals. - JEWELRY AND TRINKETS. Tutorial: Flores de Tela. Video Craft: How to Make a Fabric Flower.
---