Cocer
Gathered Flower Purse by Sew Dang Cute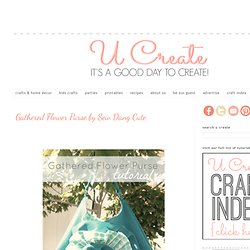 Hi! I'm Tam from Sew Dang Cute . I guess as way of introduction, I am a SAHM mom to three beautiful children - 2 girls and 1 boy, ages 4, 3, and 1. I'm lucky enough to be married to my best friend. We love spending time outdoors and take every opportunity we can to do fun, family outings.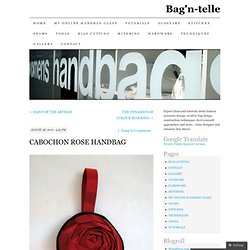 CABOCHON ROSE HANDBAG
'Cabochon Rose Handbag' This little evening handbag resembles a corsage and is carried on the wrist. It can be made up in colours and fabrications to compliment the lady's dress. Dimensions: approximately 6 ½" in diameter X 1½" deep [ 16.5 cm X 4cm ] Construction Method: Turned finish – this method may be recognized by noting the lack of machine-stitching that is visible at points of assembly on the exterior side of the bag. This is possible by placing the material, or parts, face to face, machining and turning right-side out.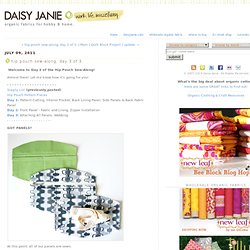 Welcome to Day 3 of the Hip Pouch Sew-Along! Almost there! Let me know how it's going for you! - - - - - - - - - - - - - - - - - - - - Supply List (previously posted) Hip Pouch Pattern Pieces Day 1: Pattern Cutting, Interior Pocket, Back Lining Panel, Side Panels & Back Fabric Panel Day 2: Front Panel - Fabric and Lining, Zipper Installation Day 3: Attaching All Panels, Webbing - - - - - - - - - - - - - - - - - - - -
Daisy Janie: hip pouch sew-along, day 3 of 3.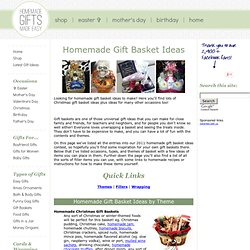 Homemade Gift Basket Ideas for Every Occasion
Looking for homemade gift basket ideas to make? Here you'll find lots of Christmas gift basket ideas plus ideas for many other occasions too! Gift baskets are one of those universal gift ideas that you can make for close family and friends, for teachers and neighbors, and for people you don't know so well either!
tanning leather waist bag made by japanese craftman[nouki
i00.i.aliimg.com/img/pb/980/719/434/434719980_821.jpg
Wholesale 5X Fashion Fuctional Pocket/Card Holder/Wallet/ Money Clip/Passport holder/organizer bag Free Shipping
sale-louis-vuitton.com/wp-content/uploads/2011/06/louis-vuitton-waist-bag-1.jpg
www.bagbliss.com/wp-content/uploads/2011/03/Malene-Birger-Tummy-Waist-Bag.jpg
Kempt - fanny pack
unnamed pearl
Craft How To's & Step-by-Steps | Fashion | Accessories | Bags | Waist Bags | Cut Out
Free pattern and Directions to Sew Your Own Kid's Hip Pouch or Fanny Pack for Boys or Girls or Adult Wear Around the Waist Camera Case
Lazy Girl Designs - Make Your Own Purse, Handbag, Tote Bag and More
Miranda Day Bag (LGD123) Miranda is the perfect girl to tag along for your day on the go. This moderate sized, yet roomy tote doubles as your personal assistant, offering pockets to keep everything organized.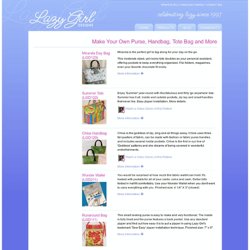 Manualidades Gratis
¡ LIBELULA COLORISTA !
Como reciclar un pantalon de cargo
Tienes un pantalon de cargo que està en desuso porque tiene manchas que no salen o porque quedaron chicos o muy grandes? Entonces esta propuesta te puede interesar, la tela de estos pantalones es una tela excelente para realizar bolsos tipo bandolera o morral con un bolsillo en el frente para guardar el celular. Es muy sencillo de realizar en unos pocos pasos tendras un morral comodo y fashion. Materiales: Pantalon de cargo en desuso tela para forreria (opcional) en composse.
bolsito de cintura
How to Make Fabric Flowers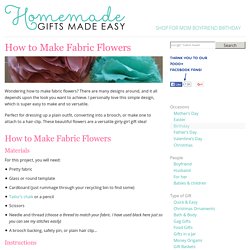 Wondering how to make fabric flowers? There are many designs around, and it all depends upon the look you want to achieve. I personally love this simple design, which is super easy to make and so versatile. Perfect for dressing up a plain outfit, converting into a brooch, or make one to attach to a hair-clip. A very simple girly-girl gift idea! How to Make Fabric Flowers
- StumbleUpon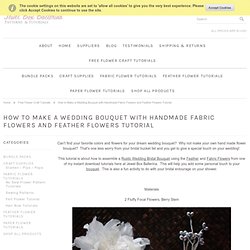 How To Make A Bridal Bouquet With Feather and Fabric Flowers | Flower Making Tutorials
This tutorial is about how to assemble a Wedding Bridal Bouquet using the Feather and Fabric Flowers from one of the Ebooks of Jewel Box Ballerina. This will help you add some personal touch with your bouquet. This is also a fun activity to do with your bridal entourage on your shower. Materials 2 Fluffy Focal Flowers, Berry Stem 40 Filler Flowers (20 for each color)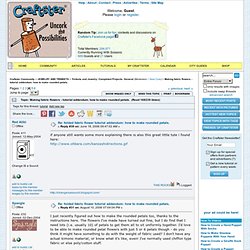 Alright, here's a photo step-by-step of the flowers I made yesterday. Hope they don't take too long to load! 1. Two piles of cut squares. They measure 6x6cm, and the finished flower diameter is about the same:
Making fabric flowers - tutorial addendum: how to make rounded petals. - JEWELRY AND TRINKETS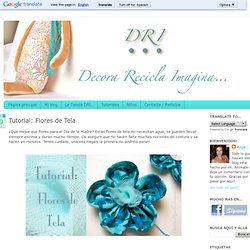 ¿Qué mejor que flores para el Día de la Madre? Estas flores de tela no necesitan agua, se pueden llevar siempre encima y duran mucho tiempo. Os aseguro que no hacen falta muchas nociones de costura y se hacen en minutos.
Tutorial: Flores de Tela
Video Craft: How to Make a Fabric Flower