Recursos web
7 Common Project Management Problems (And How to Solve Them) It doesn't matter how talented you are, if you can't manage your projects, then you will struggle to achieve success.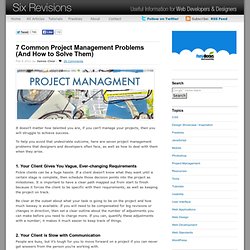 To help you avoid that undesirable outcome, here are seven project management problems that designers and developers often face, as well as how to deal with them when they arise. 1. Your Client Gives You Vague, Ever-changing Requirements Fickle clients can be a huge hassle. Free Vector Art - Download Free Vector Art Graphics at Vecteezy! How to Design App Icons for iPhone and iPad. Mobile iOS devices have seen some tremendous growth over the 2010 period.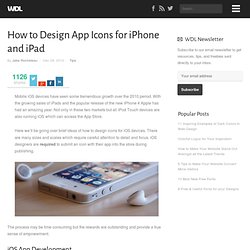 With the growing sales of iPads and the popular release of the new iPhone 4 Apple has had an amazing year. Not only in these two markets but all iPod Touch devices are also running iOS which can access the App Store. Here we'll be going over brief ideas of how to design icons for iOS devices. There are many sizes and scales which require careful attention to detail and focus. iOS designers are required to submit an icon with their app into the store during publishing. The process may be time consuming but the rewards are outstanding and provide a true sense of empowerment. Create your Google Sitemap Online - XML Sitemaps Generator.
Dynamic Drive- FavIcon Generator. Use this online tool to easily create a favicon (favorites icon) for your site.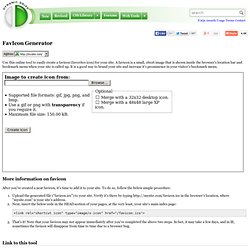 A favicon is a small, 16x16 image that is shown inside the browser's location bar and bookmark menu when your site is called up. It is a good way to brand your site and increase it's prominence in your visitor's bookmark menu. More information on favicon After you've created a neat favicon, it's time to add it to your site. To do so, follow the below simple procedure: The State of Web Design Trends: 2011 Annual Edition. 2010 has been an incredibly verdant year for web designers.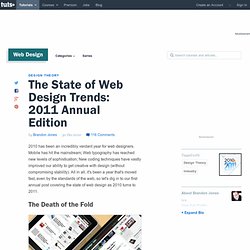 Mobile has hit the mainstream; Web typography has reached new levels of sophistication; New coding techniques have vastly improved our ability to get creative with design (without compromising stability). All in all, it's been a year that's moved fast, even by the standards of the web, so let's dig in to our first annual post covering the state of web design as 2010 turns to 2011. The Death of the Fold The traditional "fold" (the imaginary line on a screen that designates what content is visible before a viewer needs to scroll) became vague, unimportant, and nearly irrelevant in 2010.
Web Design Trends in 2011. There is a thin line between design and development, and as we move into a new decade, this line is becoming extremely blurry.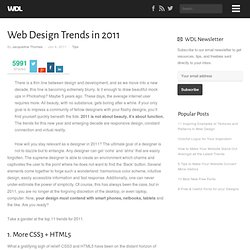 Is it enough to draw beautiful mock ups in Photoshop? Maybe 5 years ago. These days, the average internet user requires more. 960 Grid System. 15 Must Have Google Chrome Extensions for Web Development. In this article you'll find 15 Must Have Google Chrome Extensions for Web Development.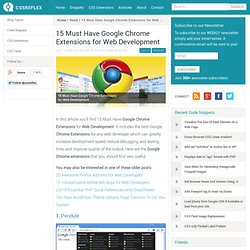 It includes the best Google Chrome Extensions for any web developer which can greatly increase development speed, reduce debugging and testing time, and improve quality of the output. Here are the Google Chrome extensions that you should find very useful. (8) Twitter / Home. Untitled. Ten Commandments of Social Media. Nov 30 2009 By Robb Clarke There are a lot of misconceptions when it comes to social media.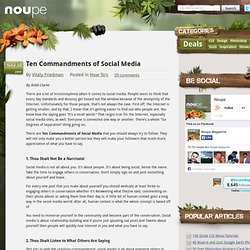 People seem to think that every day standards and decency get tossed out the window because of the anonymity of the Internet. Unfortunately for those people, that's not always the case. First off, the Internet is getting smaller, and by that, I mean that it's getting easier to find out who people are. PopTech: Home. Webmaster Tools - Home. Explaining The Semantic Web. The W3C Markup Validation Service. Google is changing and it will affect your site « Boagworld. Marketing: The estimated time to read this article is 5 minutes Some of the changes at Google are more visible than others, and some more useful than others, but it goes to show that Google aren't quite ready to let things stagnate just yet after the launch of Microsoft's Bing.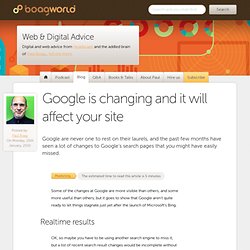 Realtime results. Are You Getting Off Track With Your Readers? Tutorial9 | Photoshop Tutorials, Photography Tuts, and Resources. Social Media News and Web Tips – Mashable – The Social Media Gui. Cashmore: Block Google and consumers will lose. Mashable's Pete Cashmore says news Web sites should not withhold stories from Google.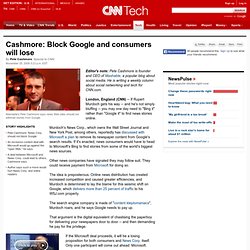 Pete Cashmore: News Corp. should not block Google An exclusive content deal with Microsoft would go against the "open Web," he says A deal between Microsoft and News Corp. could lead to others, Cashmore says Author says such a move would hurt News Corp. and online readers Editor's note: Pete Cashmore is founder and CEO of Mashable, a popular blog about social media. Marketing web.
---