Social Media Marketing
I've metioned it to the staff here that they need an internal translator . Not sure they liked the idea though . They have listened and acted on other things I've sugested before though .
I'm sure someone will have an open source like the translater I discribed . Not sure if there is one out already . The one for the smart phone might be still in beta I'm not sure . by mirlen101 Oct 26
Yes, but it would be great to have a translator here as well. I think it would be really cool if i could find program that would translate in subtitle for our shows that way it could be just as funny for others as the English speakers. Oh, I do mean something very open source as well. by dreagusproductions Oct 26
You can ;-) They just came out with a smart phone device that translates speech to text and mutiple languages. You talk into it, it then translates into another language in text and spoken words . by mirlen101 Oct 26
It does make more sense to use English for the simple fact that all the major websites are in English . And virtually all the largest sites are in English .It is truely the universal online language . No doubt there . And the world is now all about being online . by mirlen101 Oct 26
Better to learn English because that is more and number one important which so may people using to have conversation. by marilene Oct 25
Grrrrrrrr!!!! That's it not so really like Chinese (puke) ;) by marilene Oct 25
When I first heard of organic SEO I thought it must be some exotic ( for instance, I find AJAX and Ruby on Rails exotic ) and cryptic way of optimizing web pages. Then I did some research and was pleasantly surprised to discover that I've been doing organic SEO for a long time without even realizing I've been doing organic SEO ( Search Engine Optimization ). So what exactly is organic SEO?
What is Organic SEO?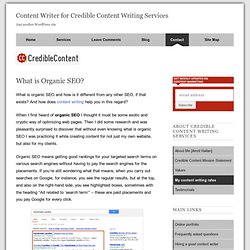 Integrated marketing communication (IMC) is an approach to brand communications where the different modes work together to create a seamless experience for the customer and are presented with a similar tone and style that reinforces the brand's core message. Its goal is to make all aspects of marketing communication such as advertising, sales promotion, public relations , direct marketing , personal selling, online communications and social media work together as a unified force, rather than permitting each to work in isolation, which in turn maximizes their cost effectiveness . [ 1 ] [ edit ] IMC components The Foundation - is based on a strategic understanding of the product and market.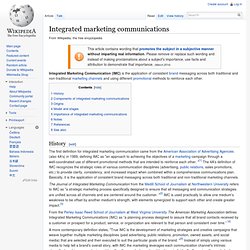 Integrated marketing communications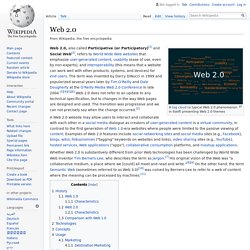 A tag cloud (a typical Web 2.0 phenomenon in itself) presenting Web 2.0 themes. An interactive version is available here . The term Web 2.0 was coined in 1999 to describe web sites that use technology beyond the static pages of earlier web sites. It is closely associated with Tim O'Reilly because of the O'Reilly Media Web 2.0 conference which was held in late 2004. [ 1 ] [ 2 ] Although Web 2.0 suggests a new version of the World Wide Web , it does not refer to an update to any technical specification, but rather to cumulative changes in the ways software developers and end-users use the Web. A Web 2.0 site may allow users to interact and collaborate with each other in a social media dialogue as creators of user-generated content in a virtual community , in contrast to websites where people are limited to the passive viewing of content .
Who has more information about US's Gen Y? Facebook or the United States Government? Each time I ask this question on stage, most hands vote that Facebook has more information, although someone usually suggests the United States Governmant can obtain it if they need to. In fact, the amount of consumer data emerging in the social web only continues to hockey stick (see this graphic from Twitter) The following is a summary of a research project we did to understand how to harness new data types in their online experiences. The 7 Elements of Social Data We segmented data that has been tried and true for years on the top tier: demographics and product.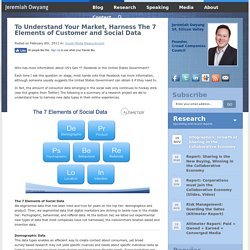 To Understand Your Market, Harness The 7 Elements of Customer and Social Data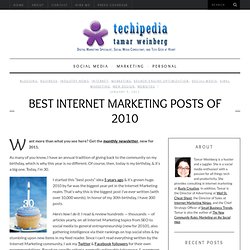 Want more than what you see here? Get the monthly newsletter , new for 2011. As many of you know, I have an annual tradition of giving back to the community on my birthday, which is why this year is no different.
Best Internet Marketing Posts of 2010
Posted on August 10, 2010 Filed Under Facebook , Internet Marketing , Social Media Marketing , Social Networking , Traffic Building , Uncategorized Finding a good place to showcase your products, services and websites for free in the online world is a dream for everyone – Facebook has made this a reality. With half a billion Facebook users and thousands of online communities to choose from, Facebook has brought potential customers much closer to you.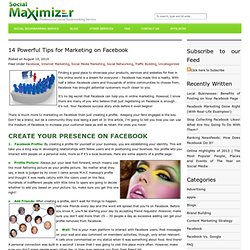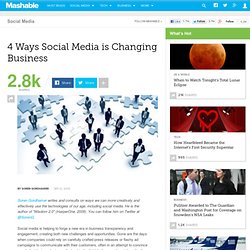 4 Ways Social Media is Changing Business
Soren Gordhamer writes and consults on ways we can more creatively and effectively use the technologies of our age, including social media. He is the author of "Wisdom 2.0" (HarperOne, 2009). You can follow him on Twitter at @SorenG .