Technology
TEDxUIUC - Sherry Turkle - Alone Together. Visualizing WiFi Signals with Light. Placebo Buttons & You Are Not So Smart - StumbleUpon. The Misconception: All buttons placed around you do your bidding.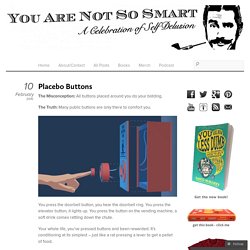 The Truth: Many public buttons are only there to comfort you. You press the doorbell button, you hear the doorbell ring. You press the elevator button, it lights up. You press the button on the vending machine, a soft drink comes rattling down the chute. Samsung gets tired of neighbors watching its Transparent Smart Window, installs blinds. Sammy's transparent OLED displays may not be the freshest piece of tech at CES, but its still pretty dang awesome.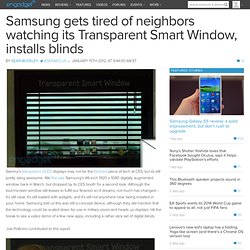 We first saw Samsung's 46-inch 1920 x 1080 digitally augmented window back in March, but dropped by its CES booth for a second look. Although the touchscreen window still teases to fulfill our fevered sci-fi dreams, not much has changed -- it's still clear, it's still loaded with widgets, and it's still not anywhere near being installed in your home. Samsung told us this was still a concept device, although they did mention that the technology could be scaled down for use in military visors and heads up displays. Microsoft has figured out how to turn any surface into a touch screen Video. Log in 110% Awesomeness Cynthia Yildirim Microsoft has figured out how to turn any surface into a touch screen.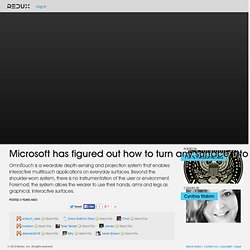 23 incredible new technologies you'll see by 2021. Congo research - High speed video reveals the bizarre physics of an ordinary water droplet - StumbleUpon. Congo research - Scientists love work pranks: The pneumatic cannon Video. Zapatas outrageous, US&36;6,600 Flyboard - Aquaman meets Iron Man -... The Zapata Flyboard: Aquaman meets Iron Man Image Gallery (34 images) We don't think Franky Zapata knows what's about to hit him.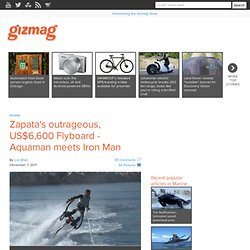 Congo research - Water Printer - CollegeHumor Video - StumbleUpon. Congo research - This Is Why I'm Broke - StumbleUpon. Congo research - The First Zombie-Proof House - All That Is Interesting - StumbleUpon. Somehow, ritual drunk-conversation concerning team captains for the apocalypse has become a major part of the lives of 20-somethings.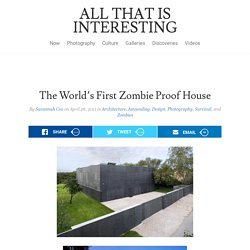 Having been matured in the Grandaddy-crowned masterpiece film (put "A.M. 180" on and forget that you have a job) 28 Days Later and the best-selling Zombie Survival Guide, we're all a little too ready to deal with the 2012 zombie apocalypse of our dreams. "The Safe House," designed by KWK Promes, starts to get eerily close to something I could work with, if say 200 bludgeoned members of the undead army came over to eat their way into borrowing some sugar. "The most essential item for our clients was acquiring the feeling of maximum security," begins the designers' website in the summary of the structure.
Who wouldn't feel safe in a concrete rectangle that folds in upon itself to become completely sealed? Even the windows are covered with a slab of concrete when the structure is on nap time. Scientists close in on Higgs boson 'God particle' | Science. Scientists are expected to announce they may have caught their first glimpse of the Higgs boson, a curious subatomic particle long thought to underpin the microscopic workings of nature.
Hundreds of physicists will crowd into a seminar room at Cern, the European particle physics laboratory near Geneva, on Tuesday, to hear the latest in the hunt for the particle, while thousands more are expected to watch online. The Higgs boson, or so-called God particle, has become the most coveted prize in particle physics since it was postulated in the mid-1960s. Congo research - Simple animation to explain complex principles - Electronics - StumbleUpon. 1, aircraft radial engine 2, oval Regulation 3, sewing machines 4, Malta Cross movement - second hand movement used to control the clock 5, auto change file mechanism.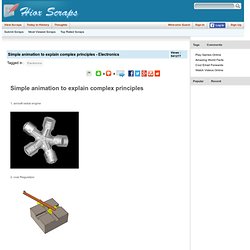 Congo research - Boost Your WiFi Signal Using Only a Beer Can : Discovery Channel. I love a good hack, especially one that requires me to throw back a cold one before hand (or during).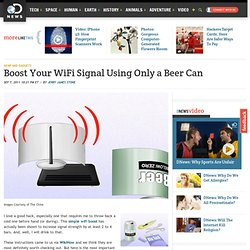 This simple wifi boost has actually been shown to increase signal strength by at least 2 to 4 bars. And, well, I will drink to that. These instructions came to us via WikiHow and we think they are most definitely worth checking out. But here is the most important question: what kind of beer will you use? READ MORE: Intruders Beware: Homemade Robot Can Shoot 1,000 Rounds per Minute (Video) Congo research - Eye Ball. If you toss this foam-covered ball skyward, an accelerometer inside determines when it has reached its maximum height.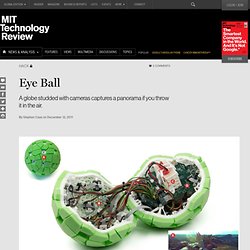 At that moment, 36 cameras are triggered simultaneously, creating a mosaic that can be downloaded and viewed on a computer as one spherical panoramic image. The ball was created by researchers at the Technische Universität Berlin after one of them, Jonas Pfeil, labored to create panoramas while on vacation in Tonga. On that trip, he tried a cumbersome process that required snapping pictures in different directions and stitching them together later in a photo-editing program. Now he hopes to license the camera-ball technology for commercial production.
---