Hack
Get flash to fully experience Pearltrees
Welcome back fellow arduidans! In this article we introduce the millis(); function and put it to use to create various timing examples. Please ensure you are running version 13 or upwards of the Arduino IDE . Millis? Nothing to do with lip-syncers… hopefully you recognised milli as being the numerical prefix for one-thousandths; that is multiplying a unit of measure by 0.001 (or ten to the power of negative 3).
Un signal PWM est défini par son rapport cyclique (le temps au niveau haut par rapport à la période totale) mais aussi par sa fréquence. C'est cette fréquence qui nous intéresse aujourd'hui : il faut l'adapter à l'usage qu'on va faire, de quelques centaines de Hertz à plusieurs kHz. Pour un usage courant en électronique ludique, 500 ou 1000 Hz sont suffisant pour modifier l'intensité d'une led, notamment pour obtenir des couleurs variées sur un éclairage RGB, ou pour commander un dispositif externe en faisant varier une tension.
Learning Examples | Foundations | Hacking | Links Started by Carlyn Maw and Tom Igoe Nov, 06 Shifting Out & the 595 chip At sometime or another you may run out of pins on your Arduino board and need to extend it with shift registers. This example is based on the 74HC595. The datasheet refers to the 74HC595 as an "8-bit serial-in, serial or parallel-out shift register with output latches; 3-state."
Sources Pourquoi ? Si vous achetez un atmel, qui ne coute qu'environ 3€, vous pouvez le programmer aussi bien qu'un arduino, et c'est plus facile a integrer dans un montage Seul problème: le programmeur coute une fortune, pas besoin de depenser d'argent si vous avez déja un arduino! Materiel Necessaire: Arduino 1 Atmel, peu importe lequel (atmega8, atmega 16, atmega 32 ou atmega 168) Des "pins" secables (4) Quelques cables et si possibles une plaquette d'essai
Relative Humidity Measurement using the Humirel HS1101 Sensor Arduino, BasicX BX24 and PICAXE-18X copyright, Peter H. Anderson, Baltimore, MD, Nov, '07
Arduino est distribué avec la logithèque Wire qui permet une communication I2C et Two Wire. Sur la plupart des cartes Arduino: SDA : broche analogique 4 SCL : broche analogique 5 La logithèque Wire utilise un adressage à 7 bits pour l'écriture et la lecture. Pour convertir une adresse I2C à 8 bist en adresse I2C à 7 bits, les bits doivent être décalés vers la droite ( >> 1 ). Par exemple, le capteur TPA81 à l'adresse I2C 8 bits de 0xD0 (B11010000) par défaut.
There are many reasons to want a project with the ability to provide status feedback. One useful method for providing feedback is by posting updates to Twitter . This enables one (or many people) to monitor a system from anywhere.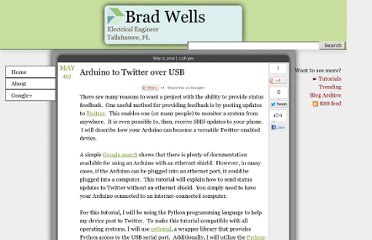 I know a lot of web developers who want to get into Arduino hacking but feel like the learning curve is too steep or that they don't have the time to get their heads around it. I don't necessarily agree with these reservations (these are smart folks after all) but regardless I created RESTduino to remove some of these obstacles. RESTduino is a simple sketch (an Arduino program) that lets you talk to the Arduino using easy REST -like http requests. For example, if you connect an LED between pin #9 and ground on the Arduino, you can turn it on using this request: http://192.168.1.177/9/HIGH ...and off again like so:
Bonjour, Voici mon projet : Je possède un petit arduino ( carte électronique de développement ) qui envoi des données via la liaison série sur un port usb ( des valeurs numériques de tensions ) le seul problème c'est que je ne sais pas comment faire pour que le PC enregistre chaque donné sur le PC dans un fichier texte ou .csv ( pour pouvoir exploiter avec excel ). Je possède windows seven pro. Savez vous si je peux le faire simplement avec python ou je dois me tourner vers d'autres langages ? ( java ?