Ushahidi
Video Ory Okolloh talks about the success of her Ushahidi software which has been used in several disasters across the world. Police hunt driver in daycare accident What is Bitcoin?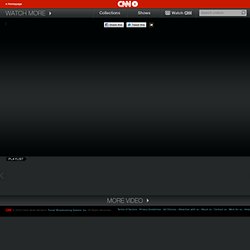 What politicians get wrong about women NY Mets dad blasted for paternity leave This number controls your finances Is Colorado getting too high? Sheryl Sandberg: Not running for office How are underwater pings triangulated? Sources: Malaysia plane dropped altitude Hear police radio call after stabbing Students stabbed at Pennsylvania school Zakaria: Russia's trying to create chaos Piecing together a plane accident puzzle Nancy Grace: Regret doesn't excuse deed Deciphering the MH370 search devices Pilot: Black boxes can handle the worst Crisis consultant advises Malaysia Air 9/11 widow: Nightmares worse than truth.
Ushahidi received support from Hivos and the Omidyar network toward establishing the Innovation Hub (iHub. Lack of seed-stage equity funding and few debt financing avenues have allowed humanitarian organizations to invest in Africa's technology scene, hoping to build on the growing "techpreneurship.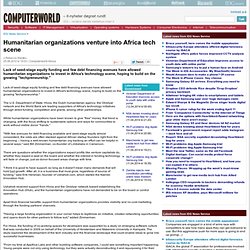 " The U.S. Department of State; Hivos, the Dutch humanitarian agency; the Omidyar network and the World Bank are leading supporters of Africa's technology initiatives through direct funding, competition and grants, among other partnerships. While humanitarian organizations have been known to give "free" money, that trend is changing, with the focus shifting to sustainable options and ways for communities to work without visible donor "hands. " "With few avenues for debt financing available and seed-stage equity almost nonexistent, the odds are often stacked against African startup founders right from the beginning -- having a well-known humanitarian org backing an effort can be helpful in several ways," said Bill Zimmerman, co-founder of Limbelabs in Cameroon.
Hivos Online / Home - Hivos Online, Humanistisch Instituut voor Ontwikkelingssamenwerking. SwiftRiver: Curating in an Age of Information Overload. In an age of information abundance, curating meaning is key. 9 months ago that is just what Jon Gosier set out to do as he took over the reins of the SwiftRiver initiative at Ushahidi.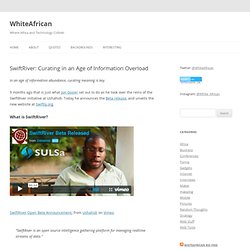 Today he announces the Beta release, and unveils the new website at Swiftly.org. What is SwiftRiver? SwiftRiver Open Beta Announcement. from Ushahidi on Vimeo. Ning_Search: Ushahidi. Ushahidi CrisisMappers. Chaîne de Ushahidi. Beth's Blog: How Nonprofit Organizations Can Use Social Media to. Omidyar Network | ON. ON | Stephen King. Photo: Eric Millette As a partner at Omidyar Network, Stephen brings exceptional experience in applying media and technology to create positive social impact.
Stephen leads the global Government Transparency initiative and a portfolio that includes a broad range of national and global organizations. Many are innovators in the use of technology to help make governments more responsive and aid citizens in holding their governments to account. The portfolio includes: Sunlight Foundation, Global Voices, Fundación Ciudadano Inteligente, mySociety, New Citizen, Janaagraha and Ushahidi, among others.
Ory Okolloh | Profile on TED.com. Integrity Vice Presidency. OPENWORLD - Your Open Source Technology Partner. Free Software and Open Source Foundation for Africa. Ethan Zuckerman. …My heart's in Accra. Global Voices in English. Berkman Center. Patrickmeier. Dale Zak (dalezak) Emeka_okafor (emeka_okafor) Timbuktu Chronicles. Africa Unchained. Katrin Verclas (Katrinskaya) MobileActive.org | A global network of people using mobile techn. Ethan Zuckerman (EthanZ) Geekcorps. …My heart's in Accra. Deborah Estrin, Women of Vision 2007. Deborah Estrin, Acceptance Speech. CENS: Center for Embedded Networked Sensing. Digital Democracy | Programs. Digital Democracy (DigiDem)
Mapping the Future of Cities & Education. The following is a guest post from Mark Belinsky of Digital Democracy.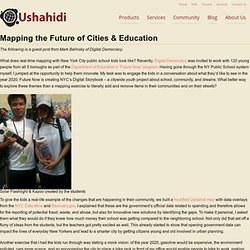 What does real-time mapping with New York City public school kids look like? Recently, Digital Democracy was invited to work with 120 young people from all 5 boroughs as part of the Department of Education's "Future Now" program. Having gone through the NY Public School system myself, I jumped at the opportunity to help them innovate. My task was to engage the kids in a conversation about what they'd like to see in the year 2020. Future Now NYC using Ushahidi map as platform. Patrick Meier Collaborative Crisis Mapping. Social media in conflict situations - Ushahidi, Twitter and More. What do Ushahidi, Worldbank,EVOKE have in c. They are the organizations where this week's set of mentors honed their skills and experience!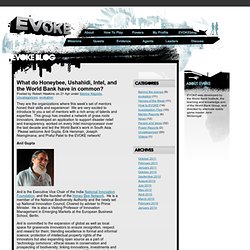 We are very excited to introduce to you a set of mentors with a rich array of talents and expertise. This group has created a network of grass roots innovators, developed an application to support disaster relief and transparency, worked on every Intel microprocessor over the last decade and led the World Bank's work in South Asia. Please welcome Anil Gupta, Erik Hersman, Joseph Nsengimana, and Praful Patel to the EVOKE network!
---