Prototyping
Visio
Mockups To Go - A user-contributed collection of ready-to-use UI. User Interface. Guidelines, Tools and Resources For Web Wireframing. Today "Web" is very different from what it was few years ago.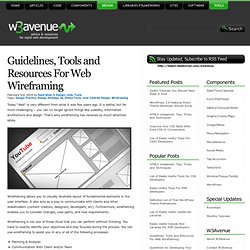 It is better, but far more challenging – you can no longer ignore things like usability, information architecture and design. That's why wireframing has received so much attention lately. Wireframing allows you to visually illustrate layout of fundamental elements in the user interface. It also acts as a way to communicate with clients and other stakeholders (content creators, designers, developers, etc).
Furthermore, wireframing enables you to consider changes, user paths, and new requirements. Cacoo. Lumzy. FluidIA: stage. 10 Completely Free Wireframe and Mockup Applications : Speckyboy. Every web designer and developer should have a good and reliable wireframe (mockup or prototype) tool at there disposal.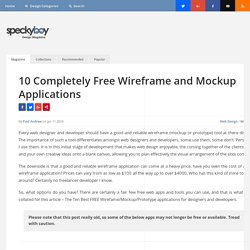 The importance of such a tool differentiates amongst web designers and developers, some use them, some don't. Personally, I use them. Using SketchFlow to Create Better Prototypes. Posted by on Apr 29, 2009 Sections Process & Practices , Architecture & Design ,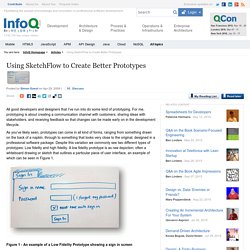 MockFlow: Online Wireframe Tool for Software and Websites. Mockingbird. iPhone Mockup. Mockup Screens - Make Exciting Software Presentations. Pencil. Functional wireframes and high-fidelity simulations made easy. Mockups Home. Take a second.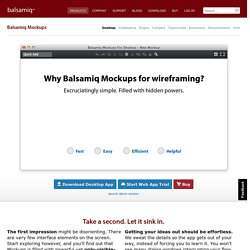 Let it sink in. The first impression might be disorienting. There are very few interface elements on the screen. Start exploring however, and you'll find out that Mockups is filled with powerful yet only-visible-when-you-need-them features. Using Wireframes to Bring Your Site Together. Wireframes are the blue prints that define and allocate a Web sites content and behavior.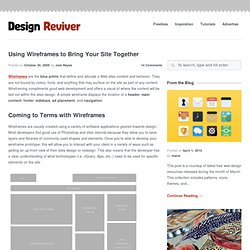 They are not bound by colors, fonts, and anything that may surface on the site as part of any content. Wireframing compliments good web development and offers a visual of where the content will be laid out within the sites design. Mockingbird. ••• hello | HotGloo - The Online Wireframe App ••• Showcase: Video search results for sketchflow. Pencil. Powerful UI Design Tool. What is ForeUI?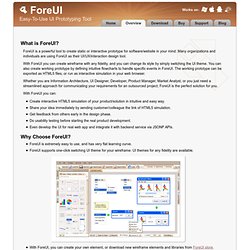 ForeUI is a powerful tool to create static or interactive prototype for software/website in your mind. Many organizations and individuals are using ForeUI as their UI/UX/interaction design tool. Wireframes Magazine. Les outils online de conception de wireframes (3/5) : utiliser B. Ce billet, le 3ème d'une série consacrée aux outils online de conception de wireframes, concerne Balsamiq Mockups.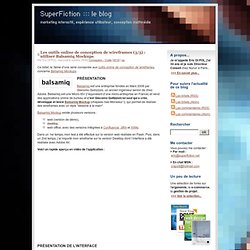 Balsamiq est une entreprise fondée en Mars 2008 par Giacomo Guilizzoni, un ancien ingénieur senior de chez Adobe. Balsamiq est une Micro-ISV (l'équivalent d'une micro-entreprise en France) et vend des applications online de bureau et c'est Giacomo Guilizzoni lui seul qui a crée, développé et lancé Balsamiq Mockup (chapeau bas Monsieur !) , qui permet de réaliser des wireframes avec un style "dessiné à la main". Balsamiq Studios, makers of plugins for Web Office applications. iPlotz: wireframing, mockups and prototyping for websites and ap. ••• hello | HotGloo •••
The Importance Of Wireframes In Web Design And 9 Tools To Create. "Good design must necessarily, in my opinion, have an impact on people's lives, no matter how seemingly small.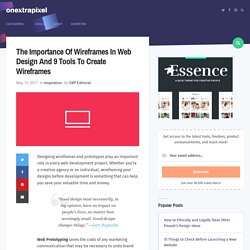 Good design changes things."Garr Reynolds Designing wireframes the right way the first time costs no more than doing it the wrong way. Creating a paper prototype adds no cost either; simply print out the wireframe diagrams for the pages a visitor will use to complete the tasks most closely related to achieving his goals and meeting the site's business objectives. Web Prototyping saves costs of any marketing communication that may be necessary to undo brand damage resulting from a poorly functioning web site and a frustrating user experience. Les outils online de conception de wireframes : introduction - S. Après avoir consacré quelques posts à la création de wireframes / storyboards avec Powerpoint, Visio, Axure RP Pro ou encore Acrobat, je prépare une série de billets qui concerne les outils online de conception de wireframes.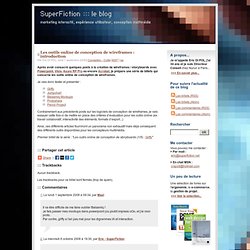 Je vais donc tester et présenter : Contrairement aux précédents posts sur les logiciels de conception de wireframes, je vais essayer cette fois-ci de mettre en place des critères d'évaluation pour les outils online (ex : travail collaboratif, interactivité des éléments, formats d'export...) Ainsi, ces différents articles fourniront un panorama non exhaustif mais déjà conséquent des différents outils disponibles pour les concepteurs multimédia. Premier billet de la série : "Les outils online de conception de storyboards (1/5) : Gliffy" Exemples de prototypes : le zoning - Prototypes - usability.
---