Arte y Fotografia
Photoshop Tutorials :: Best photos of the year 2013 | Analysis & Opinion | Reuters. Rock and Roll Movies - a list by vitoriahardrockers. Fotógrafo retrata realidade secreta de grupo nômade com leis baseadas no amor | Amor Pela Fotografia. Vimeo, el lugar al que pertenecen tus vídeos. Oscar Winning Movies Of All Time... - a list by Hbkids630. Fractal art - Google Search.
101 Cult Movies You Must See Before You Die" by Steven Jay Schneider - a list by satya-ray. Cool Hunting Video Presents: Manuel Ameztoy. We declare the world as our canvas106 of the most beloved Street Art Photos - Year 2012. On Facebook.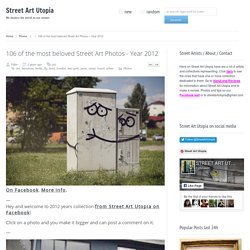 More info. Hey and welcome to 2012 years collection from Street Art Utopia on Facebook! Click on a photo and you make it bigger and can post a comment on it. More info. KenRockwell.com: Photography, Cameras and Taking Better Pictures. Photo Extremist: Creative Photography Tutorials, Photoshop Tutorials, Instructional Videos. Marco Maroccolo. Beautiful/Decay Cult of the Creative Arts | Artist Book Series + Daily Art And Design Blog And Creative Community. I couldn't help but direct everyone to fellow public art loving blog Street Art Utopia as they have compiled a pretty decent list of the best street art of 2011.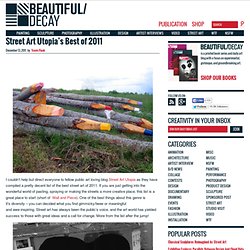 If you are just getting into the wonderful world of pasting, spraying or making the streets a more creative place, this list is a great place to start (short of Wall and Piece). One of the best things about this genre is it's diversity – you can decided what you find gimmicky/twee or meaningful and awe-inspiring. Street art has always been the public's voice, and the art world has yielded success to those with great ideas and a call for change. More from the list after the jump! Photos: The Flying Baby. Henry first flew last summer.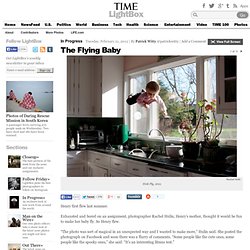 Exhausted and bored on an assignment, photographer Rachel Hulin, Henry's mother, thought it would be fun to make her baby fly. So Henry flew. "The photo was sort of magical in an unexpected way and I wanted to make more," Hulin said. She posted the photograph on Facebook and soon there was a flurry of comments. "Some people like the cute ones, some people like the spooky ones," she said. In Pursuit of the Sublime. Dave Hill Photography. Holiday Design Inspirations. The holidays are a busy time for designers everywhere.
When the Christmas spirit and the expectations for the New Year fill the show windows of the world and everyone starts looking for the perfect card to offer the people they love most, it's time to put all your creativity to work and create some truly amazing holiday-theme logos, websites, fonts, cards and objects . Here are some fabulous fonts, cards and ideas to help set all your creative powers into motion. Creative Things. Haunting underwater photography by Neil Craver. Amnesty International: Mannequins. Artz. Michael Ostermann. Tall Painting. Tara McPherson | SAFEWALLS. Tara McPherson is an artist based out of New York City.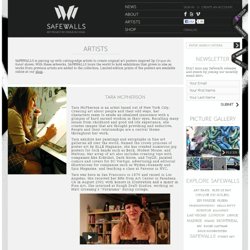 Creating art about people and their odd ways, her characters seem to exude an idealized innocence with a glimpse of hard earned wisdom in their eyes. Recalling many issues from childhood and good old life experience, she creates images that are thought provoking and seductive. People and their relationships are a central theme throughout her work. Erik Michael Photography -- Beautiful Prints For Your Home and Office. Party photos. ABOUT RC. 500px is Photography.
Hong Kong In The Rain By Christophe Jacrot (12 Pictures) > Film-/ Fotokunst > Christophe Jacrot, france, hong kong, New York, paris, skyline. Hong Kong in the rain!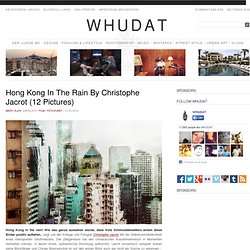 Wie das ganze aussehen würde, dass trotz Schmuddelwetters einem diese Bilder positiv auffallen, zeigt uns der Kollege und Fotograf Christophe Jacrot Mit der Selbstverständlichkeit eines metropoliten Großmeisters. Der Zeitgenosse hat den chinesischen Ausnahmemoloch in Momenten festhalten können, in denen echte, authentische Stimmung aufkommt. Leicht romantisch verspielt wirken seine Blickfänger und Chinas Boomskyline ist auf den ersten Blick auch gar nicht als Solche zu erkennen… Hongkong schlummert legère verschwommen und ein wenig trist vor sich hin. Marco Maroccolo. Travel Guides - World Travel Guide. Visual Thinking. DESKTOPOGRAPHY. 50 Most Beautiful Tree Photos.
Trees are one of the most important life forms on our planet, as they provide oxygen for the rest of the organisms on Earth through a process called photosynthesis.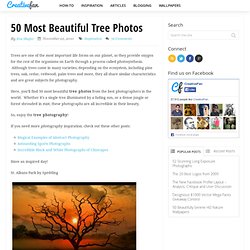 Although trees come in many varieties, depending on the ecosystem, including pine trees, oak, cedar, redwood, palm trees and more, they all share similar characteristics and are great subjects for photography. Here, you'll find 50 most beautiful tree photos from the best photographers in the world. Time is Nothing // Around The World Time Lapse. Vintage Books. The Museum of Modern Art. Van Gogh - Starry Night - Gigapixel Image - photographic mosaic.
Kenneth Parker Photography. Festival Screening - "Imaginary Worlds" Festival Screening - "Imaginary Worlds". Acid/Psychedelic Illustrations.
---