ANIMATIONS
who killed the Internet? by 01010101
Tim Burton's Cadavre Exquis
Project ended Dec 6th, Thank you for playing! 1BurtonStorytweeted on Nov. 19th, 2010 Stainboy, using his obvious expertise, was called in to investigate mysterious glowing goo on the gallery floor #BurtonStory 2Stefan Rongetweeted on Nov. 20th, 2010 He felt his heart pounding hard against his ribs. As he bent down, he saw his own reflection on the surface of the puddle. #BurtonStory 3Laetitiatweeted on Nov. 22nd, 2010 Withholding his breath, he lightly poked the surface of the puddle. The surface shifted strangely, slowly spinning into action. #BurtonStory 4Brian Mc Elroytweeted on Nov. 22nd, 2010 Stainboy took a step back as the goo continued to spin faster and faster.
In his 1997 book of drawings and verse, The Melancholy Death of Oyster Boy & Other Stories, Tim Burton imagines a bizarre menagerie of misfits with names like Toxic Boy, Junk Girl, the Pin Cushion Queen and the Boy with Nails in his Eyes. "Inspired by such childhood heroes as Dr. Seuss and Roald Dahl," writes James Ryan in the New York Times, "Mr. Burton's slim volume exquisitely conveys the pain of an adolescent outsider. Like his movies, the work manages to be both childlike and sophisticated, blending the innocent with the macabre."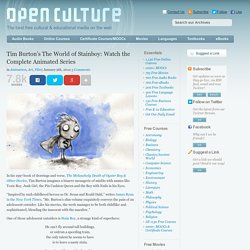 Tim Burton's The World of Stainboy: Watch the Complete Animated Series
Real Life Version of Up | Fubiz?
The magic button — Make Everything OK
The Idea Swap
Everything Is A Remix: THE MATRIX on Vimeo
Occupy the URL
Draw a Stickman
The Single Lane Super Highway