Architecture
TORAFU ARCHITECTS トラフ建築設計事務所. Дизайн интерьера квартир - дизайн интерьеров, квартиры - дизайнер Павел Войтов. i29 interior architects | home 09 (1/10) Sou Fujimoto Architects / 藤本壮介建築設計事務所. AA13 / Blog Design & Architecture / Inspiration / Tendance. Bamboo Wing / Vo Trong Nghia.
Architects: Vo Trong Nghia Location: Flamingo Dai Lai Resort, Vinh Phuc province, Vietnam Completion Year: 2010 Construction Area: 1,600 sqm Photo credit (construction): Vo TrongNghia Co., Ltd.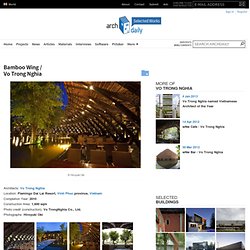 Photographs: Hiroyuki Oki Inspired by nature, "Bamboo wing" takes the form of bird wings and floats over the natural landscape of the site situated near Hanoi, Vietnam. The aim of the project was to study bamboo and the potential space it can create by using bamboo not only as a finishing material but as a structural one. PB Studio. A-cero | Estudio de arquitectura y urbanismo. LEVEL Architects | レベルアーキテクツ | 横浜・大井町にオフィスがある設計事務所です。 Portail bois.com : particuliers, professionnels, collectivités locales ou territoriales, découvrez le bois et ses usages. SERGEY MAKHNO. Interiørarkitekt - AS Scenario Interiørarkitekter MNIL. McBride Charles Ryan / News. Bassam El Okeily - ARCHITECT - Home. Orbit design studio : welcome. 1024 - 1024 architecture / Creative Label /Art Installation / Video Mapping / ex- EXYZT. 3D Bridge / Report #1.
BOOMBOX. ABIES ELECTRONICUS. PERSPECTIVE LYRIQUE. Gilles & Boissier | Concept Architectural and Interior. Studiomhna. Accessibilité bâtiment - Accueil. Re-Cell - Ecological Wall by Stanislaw Mlynski. Pandora-ish Imagine a waste bin (you heard me).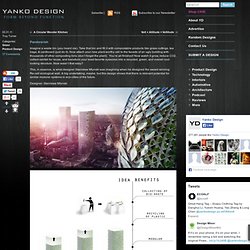 Take that bin and fill it with compostable products like grass cuttings, tea bags, & cardboard (just do it). Now attach your new plant-worthy cell to the facade of an ugly building with thousands of other composting bins (don't forget the plant). You're all finished! BIG | Bjarke Ingels Group. Spécialiste décoration d'interieur, aménagement d'espace, architecture et design. A1 Architects. Architecture, architecte, architecte d'intérieur, urbanisme, appels d'offres, offres d'emploi, stages, logiciels CAO. ArchDaily | Broadcasting Architecture Worldwide. Zaha Hadid Architects. Safdie Architects - Home. Le blog deco, Décoration intérieur, mobilier et objet design. Humbert & Poyet.
Designer Wallpapers™ MAIN. Empowering Architecture: architects, buildings, interior design, materials, jobs, competitions, design schools. Studio Daniel Libeskind: Homepage. Your connection with architecture: stories, projects, products, materials, companies, people, 3D Models. Atmosstudio.
---