Idees gia spiti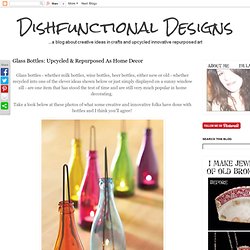 Glass bottles - whether milk bottles, wine bottles, beer bottles, either new or old - whether recycled into one of the clever ideas shown below or just simply displayed on a sunny window sill - are one item that has stood the test of time and are still very much popular in home decorating. Take a look below at these photos of what some creative and innovative folks have done with bottles and I think you'll agree! Milk bottle chandelier (above) by Bonne Plat Beer bottle chandelier What do you think?
Glass Bottles: Upcycled & Repurposed As Home Decor
15 Cool Alcove Beds | Shelterness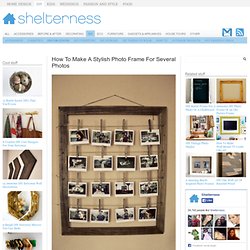 Here is a simple yet stylish photo frame that can accomodate quite many photos at once. The idea is very simple. Fasten twines on the empty frame and hang photos using clothes pins on them. You can use a frame you bought or a frame you made by yourself.
How To Make A Stylish Photo Frame For Several Photos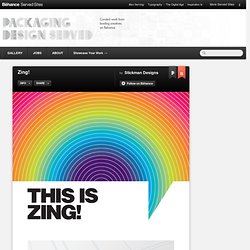 Description Commissioned to create an upmarket brand for application to a range of silicone multi-coloured cookware. The Zing!
Zing! on Packaging Design Served
20 Awesome Do It Yourself Projects
Thursday, June 14, 2012 4:30 am, Posted by Chris Groves | Internet 20 Awesome Do It Yourself Projects Topics: At Home Project Ideas , Creative DIY Home Projects , Do It Yourself Projects for 2012 , Fun How To Projects , What to Do with Extra Stuff
Apartment Therapy
41 Easy Things To Do With Mason Jars
hanging-notepad.jpeg (700×700)
The Designer Pad
Black is often a color not everyone falls for at first sight, especially when it comes to one's home decor. It usually takes some getting used to, but at the end it's a choice that most end up loving. There's something magical about this color that makes everything else around it pop and look super chic.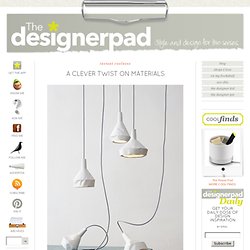 This week was tough, tough in a way that the weekend felt like it would never arrive! But it did and I realized how important it is to spent some quiet time at home. I'm still in the (really slow) process of decorating our apartment and Christmas is just around the corner so I thought it was about time to go out and start writing down my Christmas lists.
Unidentified Lifestyle by Maria Matiopoulou: things that made me smile this week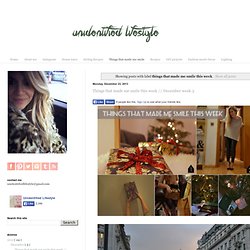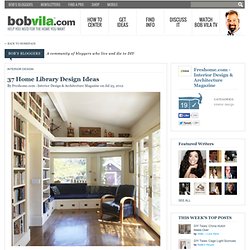 interior design By Freshome.com on Jul 25, 2012 Probably the most "sacred" room of the entire crib, the home library combines relaxation with personal growth and completes the genuine atmosphere of a modern residence or apartment.
37 Home Library Design Ideas by Micle Mihai-Cristian on Bobvila.com
46 Awesome String Light DIYs For Any Occasion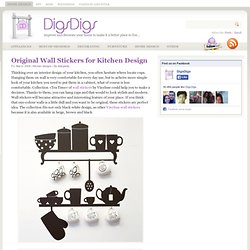 Original Wall Stickers for Kitchen Design
Thinking over an interior design of your kitchen, you often hesitate where locate cups.
orange you lucky!
Funny Picture: In Case of Fire, Break Out the Marshmallows
Don't Throw That Old Pallet Away [35 PICS]
awesome_products_and_designs_14.jpg (JPEG Image, 640 × 525 pixels)
Lonnymag.com
10 | 7 Ingenious DIY Designs You Can Make At Home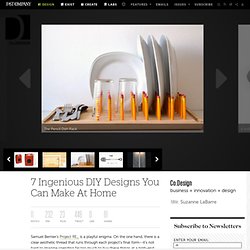 Samuel Bernier's Project RE_ is a playful enigma. On the one hand, there is a clear aesthetic thread that runs through each project's final form--it's not hard to imagine spending far too much to buy these things at a high-end boutique.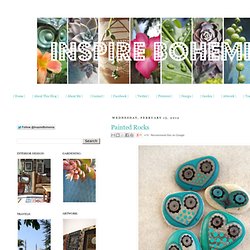 Hi there, how was your Valentine's Day? Mine was delicious! Haha...
Inspire Bohemia
Put your stuff up in the air! Hanging DIY ideas & tutorials
Posted by ScrapHacker.com on onsdag, juni 27, 2012 · 9 Comments To heck with both feet on the ground! Now's the time to put your ideas up in the air! I've gathered a bunch of supafly D.I.Y to give wings to anything you've got around the house (well, almost!). By showing you a bunch of different applications (from chunky sofas to delicate D.I.Y hanging planters) I hope you'll all find a little something to get your DIY juices flowin' in the mix – Enjoy!
The Most Expensive Property In Brooklyn, New York
A stunning triplex penthouse apartment that overlooks the Brooklyn Bridge and New York Harbour has just been listed for $25 million USD, making it the most expensive property in Brooklyn (if it sells mind you). The penthouse sits atop one of the tallest buildings in Dumbo, the cobblestoned neighborhood that sprang to life in the 80s in a former industrial area between the Brooklyn and Manhattan Bridges. Unsurprisingly, the apartment was commissioned by David Walentas, the creator of the Dumbo neighborhood (I hate this name!). The building was originally a cardboard box factory, a relic from New York's industrial past. Walentas renamed the factory the ClockTower Building and converted it first into offices for the New York State Labor Department, and then into 124 condominiums in 1998.
Japanese graphic design from the 1920s-30s
In the 1920s and 1930s, Japan embraced new forms of graphic design as waves of social change swept across the nation. This collection of 50 posters, magazine covers and advertisements offer a glimpse at some of the prevailing tendencies in a society transformed by the growth of modern industry and technology, the popularity of Western art and culture, and the emergence of leftist political thought. "Buy Domestic!" poster, 1930 [+] Cover of "Nippon" magazine issue #1, Oct 1934 [+]
WWII in HD — Inside WWII — History.com Interactive Games, Maps and Timelines
Amazing DIY & Crafts Ideas #2
LYRICS TO LIVE BY
365q
More Design Please - MoreDesignPlease - DIY Doily&Lamp
31 Insanely Easy And Clever DIY Projects
re:modern :: Sustainable Modern Design :: Furniture, Home Accessories and Design Gifts for Green Living :: www.re-modern.com
Make Your Own Gifts LIGHT BULB TERRARIUM