Tools lists and online dictionaries
Hold Large or Small Meetings With meeting sizes of up to 200 participants, you can host a large webinar or a small collaborative online meeting. Share Your Screen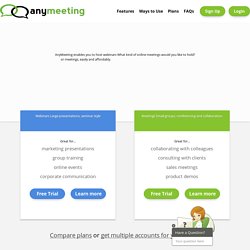 fontpro.com Font Pro - is a free fonts database with awesome typeface testing tool. It provides more than 20,000 free fonts and web fonts.
Robin Good: If you are looking for a free video conferencing solution, here is my selection of the top 15 (and more) solutions available right now online. I have personally checked each one of them, and while you may not like each one, they all guarantee the ability to video conference with more than two people (FlashMeeting is the only exception I have included) without you needing to pay anything for it. Via Robin Good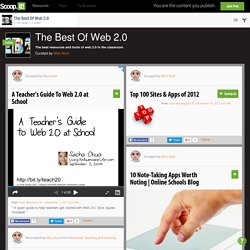 No more sending your stuff back and forth via email, just set up a pad, share the link and start collaborating! Etherpad allows you to edit documents collaboratively in real-time, much like a live multi-player editor that runs in your browser. Write articles, press releases, to-do lists, etc. together with your friends, fellow students or colleagues, all working on the same document at the same time. All instances provide access to all data through a well-documented API and supports import/export to many major data exchange formats. And if the built-in feature set isn't enough for you, there's tons of plugins that allow you to customize your instance to suit your needs. You don't need to set up a server and install Etherpad in order to use it.
CoolToolsfor21stCenturyLearners - Cool Tools
Web 2.0 ERC | Simplifying Web 2.0 Education
Welcome We are the creators of a number of popular websites for teachers, offering thousands of great teaching ideas and activity resources. Explore this page to find out more about us, our sites and how they can help you... Teaching Ideas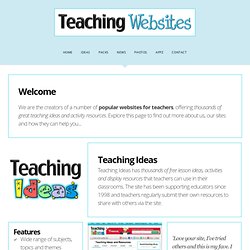 Back to the Basics We all remember creating extensive lesson plans as student teachers. We had to link lessons to standards, detail step-by-step procedures, and add a reflection and follow-up piece; it seemed like it would never end. In addition, it was harder to write these lesson plans knowing that they weren't for use in the real world. However, all of that practice helps you to internalize the steps you need to follow when designing classroom lessons. When you become a credentialed teacher, you aren't required to identify your goals, list the necessary materials, and identify adaptations and differentiation strategies in a written format, but it's still important to address each of these areas.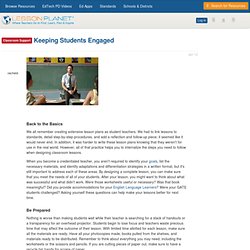 Keeping Students Engaged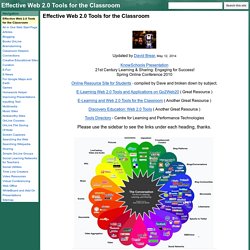 Updated by David Brear, December 5, 2012 KnowSchools Presentation 21st Century Learning & Sharing: Engaging for Success! Spring Online Conference 2010 Online Resource Site for Students - compiled by Dave and broken down by subject. E-Learning Web 2.0 Tools and Applications on Go2Web20 ( Great Resource ) E-Learning and Web 2.0 Tools for the Classroom ( Another Great Resource )
Develop Creative Solutions to Business Problems © iStockphoto This section of Mind Tools teaches more than 20 techniques that you can use to develop creative and imaginative solutions to business problems.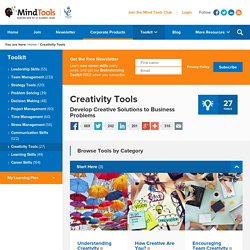 Web Term Search from ProZ.com
bistro > >