SV News sources
Silicon Valley News Watch. IDG.net. TechCrunch. Techmeme. Home. Technology News. Business Technology News - Wall Street Journal. ReadWriteWeb - Web Apps, Web Technology Trends, Social Networking and Social Media. Tech News | Innovation News | Money News. San Francisco Bay Area — News, Sports, Business, Entertainment, Classifieds: SFGate. San Francisco Bay Guardian. Silicon Valley Watcher - at the intersection of technology and media.
Digits. For years, France has backed the creation of a "sovereign cloud" to keep French data on French soil—or at least hovering somewhere above it.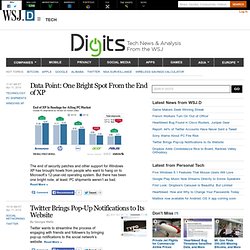 In the wake of last summer's revelations about alleged global spying by the U.S., other European capitals and companies have pushed to keep clouds national. That's all raising worry for companies moving quickly to establish a big global cloud presence. MarketWatch - Stock Market Quotes, Business News, Financial News. SiliconANGLE | Computer Science meets Social Science. Monday Note. Reset San Francisco | Phil Ting for San Francisco Mayor.
---