Travel
Oh, The Places I will Go / Spain. Travel Hacking: Smart Ways to See the World. I've spent a lot of time lately thinking about financial goals.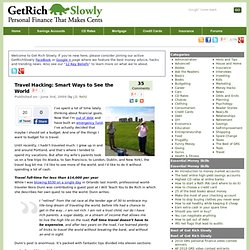 Now that I'm out of debt and have built an emergency fund, I've actually decided that maybe I should set a budget. And one of the things I want to budget for is travel. Until recently, I hadn't traveled much. I grew up in and and around Portland, and that's where I tended to spend my vacations. The 50 Most Important Landmarks of the World.
Originally, a landmark literally meant a geographic feature used by explorers and others to find their way back or through an area.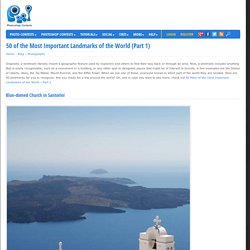 Now, a landmark includes anything that is easily recognizable, such as a monument or a building, or any other spot to designate places that might be of interest to tourists. A few examples are the Statue of Liberty, Uluru, the Taj Mahal, Mount Everest, and the Eiffel Tower. When we see one of those, everyone knows in which part of the world they are located. Here are 50 landmarks for you to recognize. 25 Wonderful Places To Visit In Your Lifetime. If you like this story feel free to share...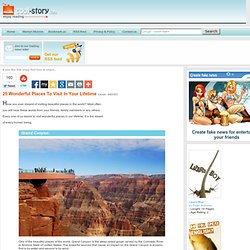 Grand Canyon: One of the beautiful places of the world, Grand Canyon is the steep-sided gorge carved by the Colorado River in Arizona State of United States. The powerful sources that cause an impact on the Grand Canyon is erosion, first is by water and second is by wind. Places to see before you die, Italy. Top selection of places in Italy to see at least once in life Top 10 places to see in Italy before you die!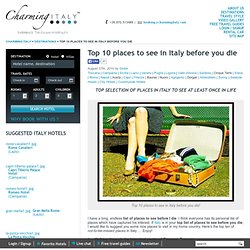 I have a long, endless list of places to see before I die. I think everyone has its personal list of places which have captured his interest. Taking a swim in the Devil's Pool. Holi Day aka Festival Of Colours. Spring is here!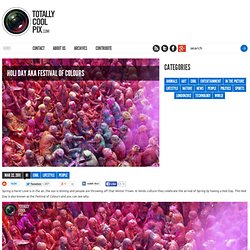 Love is in the air, the sun is shining and people are throwing off that Winter frown. In Hindu culture they celebrate the arrival of Spring by having a Holi Day. This Holi Day is also known as the Festival of Colours and you can see why. The world's most beautiful buildings. Straight away we'll say that this isn't a top 10 list.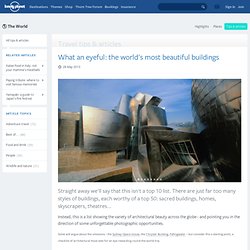 There are just far too many styles of buildings, each worthy of a top 50: sacred buildings, homes, skyscrapers, theatres... Instead, this is a list showing the variety of architectural beauty across the globe - and pointing you in the direction of some unforgettable photographic opportunities. Reethi Rah Resort | Zack Travel. A delightful place where tropical luxury is a natural part of your life every day: this is what the One&Only Reethi Rah resort in the Maldives is all about.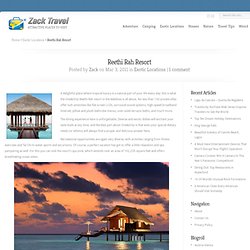 No less than 130 private villas offer lush amenities like flat screen LCDs, surround sound systems, high-speed broadband Internet, pillow and plush bathrobe menus, over-sized terrazzo baths, and much more. The dining experience here is unforgettable. Diverse and exotic dishes will enchant your taste buds at any time, and the best part about One&Only is that even your special dietary needs (or whims) will always find a proper and delicious answer here. Recreational opportunities are again very diverse, with activities ranging from fitness exercises and Tai Chi to water sports and excursions. Ueno Park, Sakura. Picture perfect for this picnic.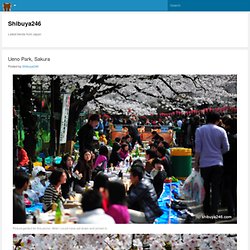 Wish I could have sat down and joined in. Beautiful Sakura. So many people enjoying themselves, whether they were sitting down and drinking or just walking on by. 100 Things to Experience Before You Die. Favorite Photos of 2009. #1 Shibuya Scramble Crossing #2 Shibuya Station #3 Kyoto #4 Kiyomizudera Kyoto. #5 Kiyomizudera Kyoto.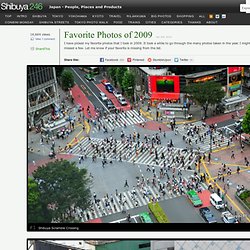 Dc4e54a8d8aec3f61fd5d457b4f03a96.jpg (JPEG Image, 635x462 pixels) Incredible Space Pics from ISS by NASA astronaut Wheelock. Go Discovery!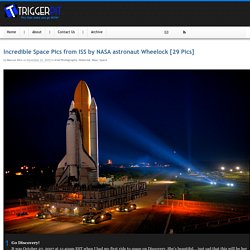 It was October 23, 2007 at 11:40am EST when I had my first ride to space on Discovery. She's beautiful… just sad that this will be her last voyage. Looking forward to climbing aboard the flight deck when Discovery arrives at the Space Station in November. (9-23-2010). Mammoth cave with end out of sight. Designers Spin Spidey-Worthy Webs From Packing Tape. Packing tape has gotten MacGyver out of many a jam, but he never managed to make an entire home out of the stuff. So he could probably learn something from Viennese/Croatian design collective For Use/Numen. The team uses nothing but packing tape to create huge, self-supporting cocoons that visitors could climb inside and explore. Installed three times in the past year, the next deployment will be next week from June 9–13 at DMY Berlin's International Design Fair, which is now in its 8th year.
The installations, which look like the work of horrifyingly large arachnids, grew in scale and scope as the year progressed, first deployed inside a small Croatian gallery, then an abandoned attic during October's Vienna Design Week. At the last installation inside Odeon, a former stock exchange building in Vienna, the group used nearly 117,000 feet and 100 pounds of tape. The Land Of Chocolate... Switzerland. 100+ Things to Know If You're Going to Italy | Italy In SF. My friends often ask me for support in travel preparation when they plan to go to Italy. In fact, I think it's a great idea- go to a country prepared to experience it at the fullest!
I enjoy learning about the little idiosyncrasies that make a visit to a new country so interesting, the small traditions, the interesting customs… so, I thought I'd give you a cheat-sheet for Italy. If you'd like a personalized crash-course on Italian culture before your trip, please contact me at vanessa at Italyinsf dot com. I would be happy to schedule a time to help you out with your trip organization as well as give you some useful tips about culture and traditions!
Adventures by Disney Family Vacation Destinations. Ani – Ghost City of 1001 Churches. Ani – some call it the City of 1001 Churches, others the City of Forty Gates. Yet no one has called it home for more than three centuries. Abandoned by its once prosperous and powerful inhabitants, it is situated on the Turkish side of a militarised zone between the border of Turkey and Armenia. Alila Villas Hadahaa – Maldives. 4057033.jpg (JPEG Image, 800x800 pixels) - Scaled (66%) Great Festivals of the World – Nomadic Matt's Travel Site. 5 Countries to Visit for Under $500. Ten Strange Places. Picture of the Day: The world's largest swimming pool | Pic of the day | In Pictures | The First Post. 9 Places Where You Can Retire and Live Like a King. 10 Best Places to Live for Escaping World Conflict. Journey Digital Media - 45 Awesome Images of Las Vegas - Journey Digital Media. 25 Things You Didn't Know About Iceland | Iceland Travel Guide.
Belogradchik - Misterious Rock Formations Full Of Legends. 20 Must-see US destinations. Captured: New York City from Above | Plog — World news photography, Photos.
Fairytale Destinations. Europe Image - Picturesque Hallstat, 10 best vacation destinations in Europe. Top 10 best value destinations for 2011. Hideaways. Interesting places. Stay Where? Plitvice Lakes National Park, Croatia. Homepage. Cancun-beach.jpg (JPEG Image, 1248x832 pixels) - Scaled (64%) Still Looking For Paradise? Maldives - justpaste.it. Bora Bora - Beautiful Island From a Dreams. Best Spa Treatments—Top Spas on ELLE. All sizes | Climbing wall at Bjoeks, Groningen.
---