Lifehacks
When Kate and I were in Vermont last summer, we stumbled upon a book called Hill's Manual of Social and Business Forms. It was published in 1880. The book is a hodge podge of information that would be useful to a man of business back in the late 19th Century. There are sections dedicated to penmanship, business letter writing, and the dos and don't of social and business etiquette. One section in the book is called "Unclassified Laws of Etiquette." It's a list of different rules of etiquette that didn't quite fit under the other specific headings (funeral etiquette, etiquette in the home, ect).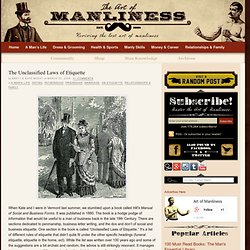 The Unclassified Laws of Etiquette
A Walkthrough and Cost Breakdown of Brewing Your Own Beer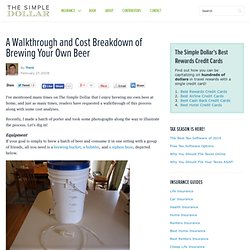 I've mentioned many times on The Simple Dollar that I enjoy brewing my own beer at home, and just as many times, readers have requested a walkthrough of this process along with some cost analyses. Recently, I made a batch of porter and took some photographs along the way to illustrate the process. Let's dig in! Equipment If your goal is simply to brew a batch of beer and consume it in one sitting with a group of friends, all you need is a brewing bucket, a bubbler, and a siphon hose, depicted below. These supplies are available at any home brewing store.
If Ever There Was a Time for Cheap Vodka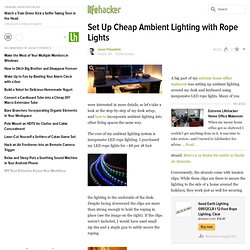 SExpand
Set Up Cheap Ambient Lighting with Rope Lights
DIY: Mod a $5 flashlight into a $95 light - Lifehacker
Excellent mod, especially for mechanics and other people who want a BRIGHT light they won't miss much if it gets lost or destroyed. I can make several and leave them in my trucks, etc. Mod inspired by the above discussion: I own three Surefire 6Ps, but when they get dropped the proprietary bulbs are expensive to replace and are an online-order item.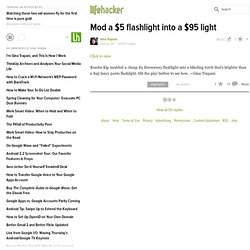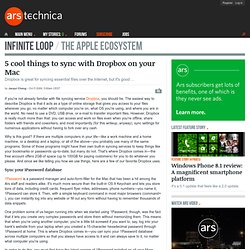 5 cool things to sync with Dropbox on your Mac
If you're not already familiar with file syncing service Dropbox, you should be.
Why I'm Quitting Social Media
Tracking Every Facet of Life, from Sleep to Mood to Pain, 24/7/3
A programmers secret weapon: the humble to-do list
A while ago I wrote a post how to lose traction on a personal software project, based on mistakes I have made myself in the past that have slowed down or even completely stopped progress. Today I want to share a tip that has greatly improved my time management since I've started doing it, and helped combat many "programmer's block" moments I am notorious for. Coming back to work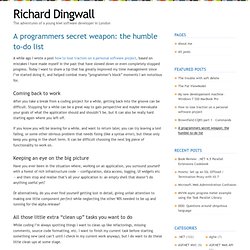 Pocket Programming: Learning New Skills Anywhere
Use Your Old Coffee Grounds to Clean Dishes, Kill Fleas, and Mor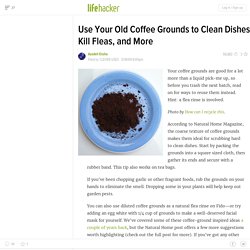 SExpand Your coffee grounds are good for a lot more than a liquid pick-me up, so before you trash the next batch, read on for ways to reuse them instead.
By DAVID GLENN That old study method still works, researchers say. So why don't professors preach it? The scene: A rigorous intro-level survey course in biology, history, or economics. You're the instructor, and students are crowding the lectern, pleading for study advice for the midterm.
Close the Book. Recall. Write It Down.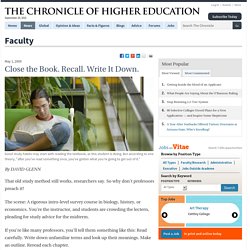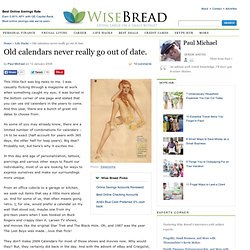 Wise Bread Picks
Old calendars never really go out of date.
My research process
One thing you never read about is how people do research in their mind. People do describe how to write papers, how to get an academic job, but somehow, I cannot recall anyone describing their thought process. Mine is simple enough. It includes both theoretical and experimental work. So here it is…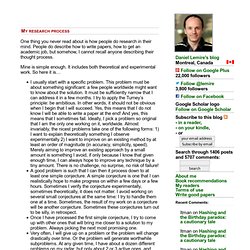 Holly Shelf Unit, Batman!
Having trouble sleeping? Yes, say many of you who responded to writer Lucy Kellaway's analysis of insomnia (see link, right). Here we list 10 of your favoured remedies.
10 tips to help relieve insomnia
This Python script will read in my book collection data on standard input, extract out a list of ISBN's, and for each one will look up the average Amazon customer star rating and the number of reviews. It then sorts the data (by star rating and then by customer reviews) and prints out the results to standard output. The script processed 2604 books.
Rating books with Python
Turn-451-A-Month-Into-A-Million-Bucks
If you're 30 years old, you need to set aside $448 per month for next 35 years to become a millionaire -- if you earn a reasonable 8% annualized return in a retirement account. Don't have $448 to spare -- or even $248? Maybe you do and don't realize it. Let's take a look at how you can come up with the cash. Save $219 Per Month on Taxes Here's How: The average refund for the 2008 filing season so far is about $2,500.
Written by: Jason Lankow, Ross Crooks, Joshua Ritchie, and Brett McKay Photo by the nonist There are the books you read, and then there are the books that change your life. We can all look back on the books that have shaped our perspective on politics, religion, money, and love.
by Erin Doland on Apr 15, 2008
Bringing your bookshelves back to order