Social Media/Business
Lessons from Ancient Social Media: Tom Standage at TEDxOxbridge
FedEx Mocks Social Media Strategists in New Ad
Anyone—especially young, disheveled hipsters—is qualified to run a business's social media operation, right? That's the message FedEx sends in a new commercial released on YouTube .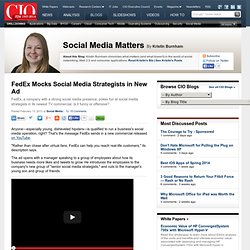 Review of Dashboard Tools That Measure Social Media Engagement
Everyone wants to engage with users on social media, but with 350 million updates on Twitter alone how can anyone keep track of what's happening?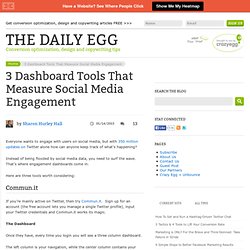 Over the last couple of weeks there have been a number of rather interesting and insightful blog posts that have been covering IBM's journey to become a social business.
IBM's Trip to Become A Socially Integrated Enterprise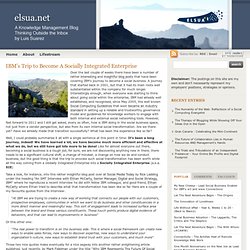 Why You Should Use Social Marketing In China
Our clients are asking us more questions than ever about marketing in China.
"Chasing the past, I stumbled into the future". - T A Sachs I've always been a firm believer that in order to look to the future, we must look back to and fully grasp the past (and the present). Having had several recent engaging conversations with smart people who I respect, I've picked up a hint of exhaustion around usage of the word "social". Could it be that some who saw the "change" coming years ago are weary of having carried that torch for so many years as we move into the heavy lifting? It's natural to want to move to the next thing—but I'm convinced that today we are largely still talking about the "social media" era.
Social Business: Where It's Been & Where It's Going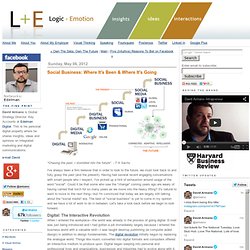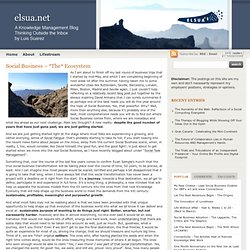 As I am about to finish off my last round of business trips that I started by mid-May, and which I am completing beginning of next week till after the summer, having taken me to some wonderful cities like Rotterdam, Seville, Barcelona, London, Milan, Boston, Madrid and Seville again, I just couldn't help reflecting on a relatively recent blog post put together by the always inspiring David Armano that I can surely summarise it as perhaps one of the best reads you will do this year around the topic of Social Business. Yes, that powerful.
Social Business – *The* Ecosystem
VIDEO: Today's Dáil discussion on the controversial 'Irish SOPA'
- StumbleUpon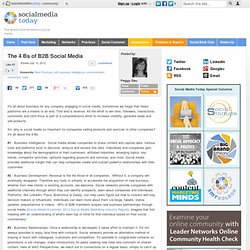 The 4 Bs of B2B Social Media
It's all about business for any company engaging in social media. Sometimes we forget that these platforms are a means to an end. That end is revenue.
Use Social Media to Partner with Customers and Improve Service - Frances Frei and Anne Morriss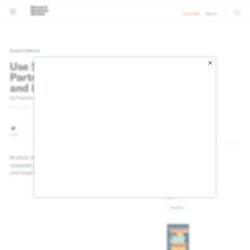 by Frances Frei and Anne Morriss | 11:00 AM July 20, 2012 Be afraid , the headlines scream. Social media has shifted power from companies to customers , which means that one small misstep can bring your brand to its knees.
Online censorship: Monitoring the monitors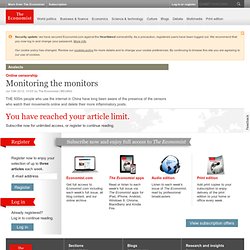 THE 500m people who use the internet in China have long been aware of the presence of the censors who watch their movements online and delete their more inflammatory posts. Now those monitors may have to get used to someone watching over their shoulders.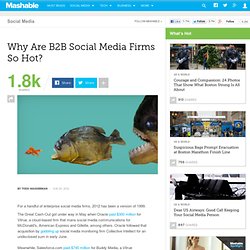 For a handful of enterprise social media firms, 2012 has been a version of 1999.
Why Are B2B Social Media Firms So Hot?
Why You Should Use Social Marketing In China
An Ant's Eye Point-of-View: The Intersection of Social Business and Customer Experience
close Sean founded Ant's Eye View's Austin practice, where he launched special practices, developed business and oversaw project delivery.
Even though some of us live and breathe "social business," we find that many of the employees and senior leaders we work with are not familiar with the term. In a recent post , we defined "social business" as the point where how we work, what society expects and emerging technologies come together. That intersection is where many of us in employee communications are now focused, partnering with digital and emerging technology teams to enhance employee work tools.
7 Differences Between Social Media and Social Business | B2E Comm | Fleishman-Hillard Internal Communications
Why Enterprise Social Media Firms Are Being Gobbled Up