ĒDIENS
Get flash to fully experience Pearltrees
I'm never going to make garlic potato fries any other way. These garlic fries, win hands down as the best garlic french fries I've ever made. Plus they are baked – so I won't feel too guilty if I make it every time I'm craving for some potato comfort. When I read that there is garlic infused oil involved, my heart skipped a beat (in a good way, not the way oil would otherwise treat your heart).
Bacon & Eggs in Toast Cups Yesterday we got probably about 10 inches of white fully snow, which meant that church was canceled this morning and so was Hubby's softball game. I usually make breakfast on Saturday mornings, but this Saturday I had to go into work for a few hours.
Ok, what is up with eggs?!!? They seem to be in everything lately! From topping pizzas, to burgers (shout out to Blanc , for KC locals!), to garnishing soups…apparently the incredible, edible egg is now tres chic.
If you're new here, subscribe to the RSS feed for regular updates direct to your Feedreader. Thanks for visiting!
Now, I have a chocolate chip cookie recipe that I swear by.
Frančiem un viņu konditorejas izstrādājumiem ir viens fenomens – tie garšo ideāli neatkarīgi no tā, vai recepte ir tik viegla, ka pat ar aizvērtām acīm var uztaisīt, vai arī prasa divu dienu darbu. Šī ir viegla un dievīga, tiešām dievīga. Sastāvdaļas * 300 g brūnā cukura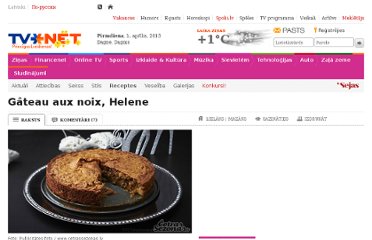 Being a Californian means you get really spoiled when it comes to the abundance of amazing fruits offered here year round. When I'm hankering for something citrus-y I love to make meyer lemon bars . Lucky for me both of my brothers and my parents have meyer lemon trees on their property that are never in want of fruit. Buttery, crisp shortbread topped with refreshing and subtly-sweet curd filling....absolutely delicious! You don't have to use meyer lemons for this recipe but if you can find them you won't regret it.