Resources
Son of Citation Machine. Flashcards. Wordsearch Generator. Print Word Searches from your wordlists - choose from hundreds of word lists, edit them or create your own.
Word Searches are randomly regenerated each time a setting is changed - a new Word Search with the same settings can be created by clicking the Refresh Grid button. Click the Resize button to change the overall size of the Word Search Grid - sizes from 7 to 30 square are possible. Choose various word layout options and from a range of font styles including cued handwriting fonts and bubble fonts for tracing. If the Print Answer Sheet option is checked - two pages will be printed including a completed Word Search for marking or reference. Note: All new word list submissions have to be moderated before they appear on the site - make sure you print or download word searches made with new lists before leaving. Comparatives. I.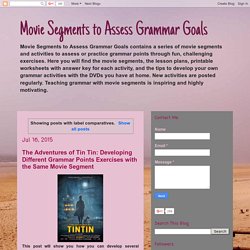 Watch the segment from the movie The Great Gatsby. II. Multimedia Educational Resource for Learning and Online Teaching. Return to MERLOT II Home Page Search all MERLOT Click here to go to your profile Click to expand login or register menu.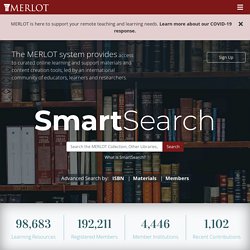 100+ Google Tricks That Will Save You Time in School – Eternal Code. [via onlinecolleges.net] With classes, homework, and projects–not to mention your social life–time is truly at a premium for you, so why not latch onto the wide world that Google has to offer?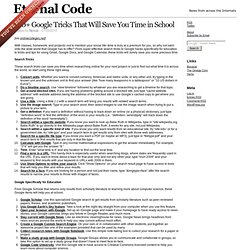 From super-effective search tricks to Google hacks specifically for education to tricks and tips for using Gmail, Google Docs, and Google Calendar, these tricks will surely save you some precious time. Super Teacher Tools. Quick and Dirty Tips ™ The Ultimate Word Search Maker. Curriki. Teacher Home Page. Question Matrix | Graphic Organisers | Teaching Support.
From 2013, the AusVELS website will provide the curriculum for Victorian government and Catholic schools.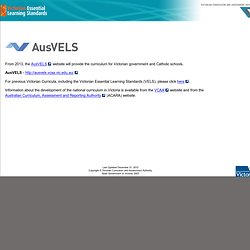 AusVELS - For previous Victorian Curricula, including the Victorian Essential Learning Standards (VELS), please click here. 7-12 Student Interactives - Language Arts. iPad Curriculum. Worksheet Genius - free printable worksheets that can be differentiated and randomized at the touch of a button. Dabbleboard - Online whiteboard for drawing & team collaboration - Interactive whiteboard software. Over 20 Free Digital Classroom Tools… Customize… Plus No Log In.
This is a site that you are bound to find useful in your classroom.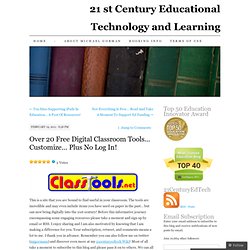 The tools are incredible and may even include items you have used on paper in the past… but can now bring digitally into the 21st century! Before this informative journey encompassing some engaging resources please take a moment and sign up by email or RSS. Online Whiteboards.
Top 100 Tools for Learning 2010: Final list, presentation and more. Yesterday I finalised the Top 100 Tools for Learning 2010 list.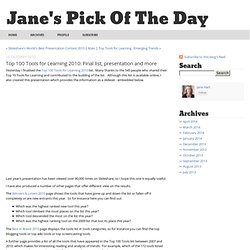 Many thanks to the 545 people who shared their Top 10 Tools for Learning and contributed to the building of the list. Although this list is available online, I also created this presentation which provides the information as a slideset - embedded below. Last year's presentation has been viewed over 90,000 times on Slideshare, so I hope this one is equally useful. I have also produced a number of other pages that offer different view on the results. The Winners & Losers 2010 page shows the tools that have gone up and down the list or fallen off it completely or are new entrants this year. Sites for Teachers. BusyTeacher: Free Printable Worksheets For Busy Teachers Like YOU!
---