The Brain
Mind & Brain :: Consciousness Redux :: December 14, 2011 :: :: Email :: Print See Inside Cognitive psychology is mapping the capabilities we are unaware we possess By Christof Koch Image: Yulia.
Probing the Unconscious Mind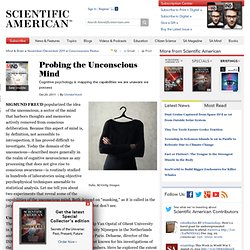 Your Brain Knows a Lot More Than You Realize | Memory, Emotions, & Decisions
Meanwhile, a similar story was unfolding oceans away. During World War II, under constant threat of bombings, the British had a great need to distinguish incoming aircraft quickly and accurately. Which aircraft were British planes coming home and which were German planes coming to bomb?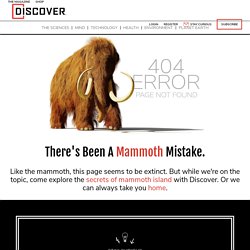 Thou Can't Not Covet
Wanting what others have may be hardwired in the brain By Laura Sanders Web edition: May 22, 2012 Print edition: June 30, 2012; Vol.181 #13 (p. 12) As every kid knows, the very best toy is the one that someone else is playing with.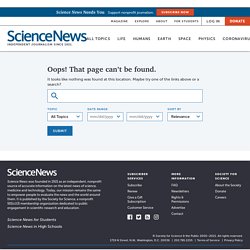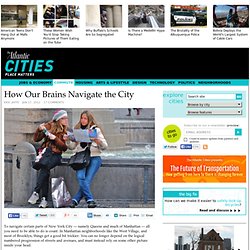 To navigate certain parts of New York City — namely Queens and much of Manhattan — all you need to be able to do is count. In Manhattan neighborhoods like the West Village, and most of Brooklyn, things get a good bit trickier. You can no longer depend on the logical numbered progression of streets and avenues, and must instead rely on some other picture inside your head. For a while now psychologists have debated just what that picture looks like. Some believe we need to orient ourselves by local reference points. Under this theory, we're lost until we see that certain street or certain landmark, at which point the rest of the grid emerges in our minds.
How Our Brains Navigate the City - Commute
The split brain: A tale of two halves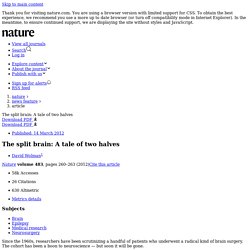 In the first months after her surgery, shopping for groceries was infuriating. Standing in the supermarket aisle, Vicki would look at an item on the shelf and know that she wanted to place it in her trolley — but she couldn't. "I'd reach with my right for the thing I wanted, but the left would come in and they'd kind of fight," she says.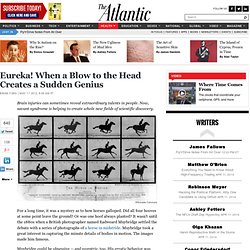 Eureka! When a Blow to the Head Creates a Sudden Genius - Brian Fung - Health
Brain injuries can sometimes reveal extraordinary talents in people. Now, savant syndrome is helping to create whole new fields of scientific discovery. Wikimedia Commons For a long time, it was a mystery as to how horses galloped.
Mind & Brain :: Head Lines :: February 29, 2012 :: :: Email :: Print See Inside Physical activity boosts cognition by improving neurons' power supply By Stephani Sutherland Image: Jonathan Fife/Getty Images
How Exercise Jogs the Brain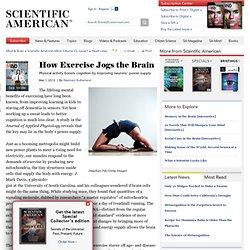 How Emotions Jump from Face to Face
Mind & Brain :: Mind Matters :: February 7, 2012 :: :: Email :: Print A man's face can "grab" anger from someone standing nearby. But a woman's face tends to grab happiness. By Sarah Estes Graham and Jesse Graham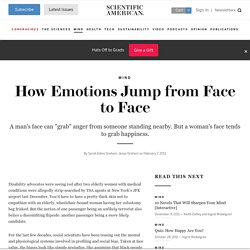 Mind & Brain :: Features :: February 27, 2012 :: :: Email :: Print See Inside Good social skills depend on picking up on other people's moods—a feat the brain performs by combining numerous sensory clues By Janina Seubert and Christina Regenbogen
Subtle Multisensory Clues Reveal Other People's Emotions
Mind & Brain :: Features :: January 26, 2012 :: :: Email :: Print See Inside Drugs and other therapies may soon be able to alter or even delete recollections selectively By Adam Piore Image: Photoillustration by Aaron Goodman In Brief
Scientists Manipulate and Erase Memories
Kaavya Viswanathan has an excuse. In this morning's New York Times , the author of How Opal Mehta Got Kissed, Got Wild, and Got a Life explained how she "unintentionally and unconsciously" plagiarized upward of 29 passages from the books of another young-adult novelist, Megan McCafferty. Viswanathan said she has a photographic memory. "I never take notes."
No one has a photographic memory
Brain activity shows how one voice pattern stands out from the crowd By Laura Sanders Web edition: April 18, 2012 The brain's power to focus can make a single voice seem like the only sound in a room full of chatter, a new study shows. The results help explain how people can pick out a speaker from a jumbled stream of incoming sounds. A deeper understanding of this feat could help scientists better treat people who can't sort out sound signals effectively, an ability that can decline with age.
Attention Tunes The Mind's Ear
The Secrets of Your Brain's Zoom Lens
Mind & Brain :: Mind Matters :: April 17, 2012 :: :: Email :: Print When you fix your eyes on something, your mind distorts By Julian De Freitas and Brandon Liverence Attention warps reality Image: iStock/luismmolina Notice that, even as you fixate on the screen in front of you, you can still shift your attention to different regions in your peripheries .
Woman With Perfect Memory Baffles Scientists
March 20, 2006 -- James McGaugh is one of the world's leading experts on how the human memory system works. But these days, he admits he's stumped.
Why Is Memory So Good and So Bad?
Do you remember what you ate a week ago? Image: iStock/Barbara Dudzińska What did you eat for dinner one week ago today? Chances are, you can't quite recall. But for at least a short while after your meal, you knew exactly what you ate, and could easily remember what was on your plate in great detail. What happened to your memory between then and now?
Audio Excerpt: The Secret Lives of the Brain | Wired Science
The Singularity is Far: A Neuroscientist's View
The Brain: A Body Fit for a Freaky-Big Brain | Mind & Brain
The Mind's Hidden Switches: Scientific American Podcast
The 'rich club' that rules your brain - life - 02 November 2011
The Learning Brain Gets Bigger--Then Smaller
What's Wrong With the Teenage Mind?
The Two Year Window
Peace of Mind: Near-Death Experiences Now Found to Have Scientific Explanations
Tracking the tell-tale signs of pure genius
Age-Related Memory Loss Reversed in Monkeys
Exceptional Memory Explained: How Some People Remember What They Had for Lunch 20 Years Ago
Your Brain on Facebook : Bigger Social Networks Expand the Size of Neural Networks
The Science of Sarcasm? Yeah, Right
Social Networks Matter: Friends Increase the Size of Your Brain | The Primate Diaries
Quantum minds - life - 05 September 2011
Brain Time
Banishing consciousness: the mystery of anaesthesia - health - 29 November 2011
The Burden of Lying
Why our brains make us laugh - Ideas
How People are Fooled by Evidence
Psychologist: Why we screw up when the heat is on - life - 11 July 2011
Lies We Tell Ourselves
Why we have brain farts, and what scientists are doing to stop them
Are Prodigies Autistic?
Ego Depletion
The Improvisational Brain
Why Does Beauty Exist? | Wired Science 
Please pay attention to the notes. | Science with Moxie
The Benefits of Daydreaming
The "multiple reflection error" - yet another way that we misunderstand mirrors
The New Science Behind Your Spending Addiction
Why 'Uncanny Valley' Human Look-Alikes Put Us on Edge
Why the Left-Brain Right-Brain Myth Will Probably Never Die
Do thoughts have a language of their own? - opinion - 08 December 2011
Grief without Tears
Is There a Difference between the Brain of an Atheist and the Brain of a Religious Person?
The Ductile Helix: "Jumping Genes" May Influence Brain Activity
Jumping Genes in the Brain Ensure That Even Identical Twins Are Different
Could Conjoined Twins Share a Mind?
Hunters of Myths: Why Our Brains Love Origins | Literally Psyched
The Hidden Potential of Autistic Kids
Stuttering Reflects Irregularities in Brain Setup
Put Your Creative Brain to Work
Is Sensitivity a Curse or a Blessing? My Latest on The Orchid-Dandelion Hypothesis | Wired Science
A brief history of the brain - life - 26 September 2011
Top Multitaskers Help Explain How Brain Juggles Thoughts
Making Sense of the World, Several Senses at a Time
You Have a Hive Mind
Emotion Selectively Distorts Our Recollections
The Hidden Logic of Deception
What You Don't Know Can Kill You | Memory, Emotions, & Decisions
Why you probably won't experience your own traumatic death
Old Memories Interfere With Remembering New Ones
CultureLab: Bias rules the way we judge the world
The Overjustification Effect
Revisiting why incompetents think they're awesome
The ghostly gaze and the disappearing bust of Voltaire | Mo Costandi | Neurophilosophy blog | Science
The Cognitive Science of Rationality
Why Daydreaming Makes You Smarter and More Creative
How Should We Make Hard Decisions? | Wired Science 
Why Does Time Fly?
What is the Sex of 17?
A Quest to Understand How Memory Works
Imagining the Future Invokes Your Memory
Why Interacting with a Woman Can Leave Men "Cognitively Impaired"
Does your brain produce new cells? | Science
Is the Purpose of Sleep to Let Our Brains "Defragment," Like a Hard Drive? | The Crux
Lucid dreaming: Rise of a nocturnal hobby
The Brain May Disassemble Itself in Sleep