Beauty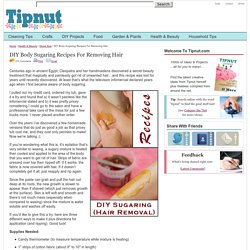 Centuries ago in ancient Egypt, Cleopatra and her handmaidens discovered a secret beauty treatment that magically and painlessly got rid of unwanted hair…and this recipe was lost for years until recently discovered. At least that's what the television infomercial declared years ago when I first became aware of body sugaring. I pulled out my credit card, ordered my tub, gave it a try and found that a) it wasn't painless like the infomercial stated and b) it was pretty pricey considering I could go to the salon and have a professional take care of the mess for just a few bucks more.
Braids, pleats, or plaits—whatever you call them, we're absolutely loving all things twisted in hair this season. Beautylish brings you the three hottest braid trends this season and three easy braid DIY tutorials to replicate the look yourself. Who needs a headband when you can make one from your hair!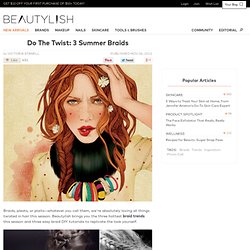 Hair Romance is a wonderful blog dedicated to all things hair related, where Christina, a super lovely australian blogger, offers a lot of valuable hair advice. A few words from Christina : "I believe your hair is your best accessory.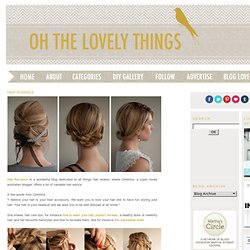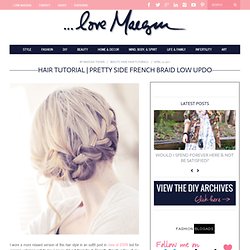 I wore a more relaxed version of this hair style in an outfit post in June of 2009 but for reasons unbeknownst to me, I never did a tutorial for it.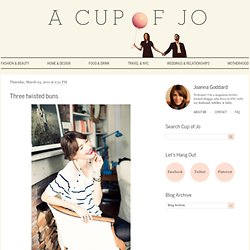 I'm excited to share another hair tutorial !
Three twisted buns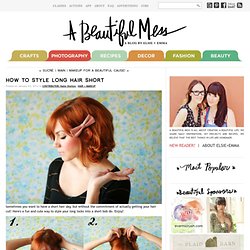 Sometimes you want to have a short hair day, but without the commitment of actually getting your hair cut! Here's a fun and cute way to style your long locks into a short bob do.
total-beauty TODAY Style TODAY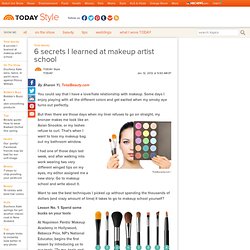 If there is anything that gets abandoned in the morning it would have be my hair, and more often than not a hat or ponytail has become the solution to this problem.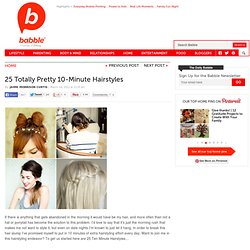 twisted pony. » Dear Emmie
TBDthepieceypony.jpg (512×1569)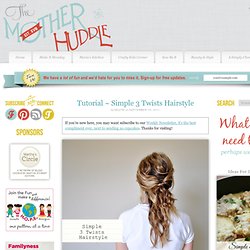 First, a little back story: I was on Pinterest (I know, big surprise) awhile back and Ms.
Happy Friday friends! I am so excited to introduce our new segment Beauty & Style . We had such an overwhelming response from our 3 Twists Hair Style post, we decided beauty and style is something all of us want to see more of.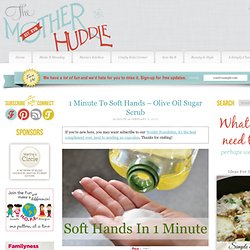 1 Minute To Soft Hands – Olive Oil Sugar Scrub
photos by: Kathleen Bly post designed by kristin ess Mad love for our first guest post winner, Taylor Nick !!! I am fully obsessed with this bohemian-inspired-braided-goodness!
photos: justin coit + thebeautydepartment.com post designed by kristin ess
Hope everyone had a great Halloween! We're looking at all of the photos you posted on twitter and we are impressed! Today's video was created for those of you who haven't mastered the good ol' french braid yet.
BACK TO BASICS
NAILED IT!
Photos + post design by Kristin Ess
SHORT STUFF
Hair Raising
Snake Braid Tutorial
Lovely Locks
Hairstyles I Love