Stuff about Film
Old Movies Online, Free Movies, Black and White Movies.
Lists
Shortfilms. Filmmaking. Film History. Film. Reservior Dogs - Let´s Go To Work T-Shirt. Martin Scorsese's Film School: The 85 Films You Need To See To Know Anything About Film. Interviewing Martin Scorsese is like taking a master class in film.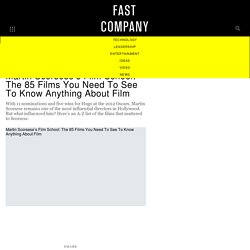 Fast Company's four-hour interview with the director for the December-January cover story was ostensibly about his career, and how he had been able to stay so creative through years of battling studios. But the Hugo director punctuated everything he said with references to movies: 85 of them, in fact, all listed below. Some of the movies he discussed (note: the descriptions for these are below in quotes, denoting his own words). Reservoir Dogs, On Set | Reservoir Dogs Turns 20: A Look Back at the Films of Quentin Tarantino. Short Film Of The Day: The Thrilling, Must-See, Zombie-Fighting Action of 'Project S.E.R.A.' Why Watch?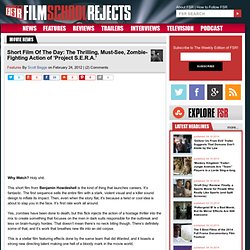 Holy shit. This short film from Benjamin Howdeshell is the kind of thing that launches careers. It's fantastic. The first sequence sells the entire film with a stark, violent visual and a killer sound design to inflate its impact. Then, even when the story flat, it's because a twist or cool idea is about to slap you in the face. Short Film Of The Day: The Movie Nerd Parody of '1 Scene, 9 Directors' TCM Turner Classic Movies. Main Page - The Spaghetti Western Database. The Quentin Tarantino Archives. Film School Rejects | A Website About Movies. Film Student Central. Top Documentary Films - Watch Free Documentaries Online. Video Essay: 135 Shots That Will Restore Your Faith in Cinema.
A couple of weeks back, we posed a rather massive question: "What are the most beautiful movies ever made?"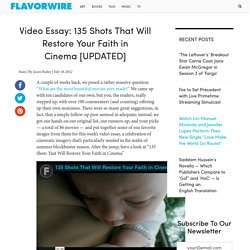 We came up with ten candidates of our own, but you, the readers, really stepped up, with over 100 commenters (and counting) offering up their own nominees. There were so many great suggestions, in fact, that a simple follow-up post seemed in adequate; instead, we got our hands on our original list, our runners-up, and your picks — a total of 86 movies — and put together some of our favorite images from them for this week's video essay, a celebration of cinematic imagery that's particularly needed in the midst of summer blockbuster season.
After the jump, have a look at "135 Shots That Will Restore Your Faith in Cinema." Personliga filmtips p? film, tv, dvd, bio, recensioner, trailers - Filmtipset.
---