Sites
The New York City Department of Records and Information Services announced the addition of 30,000 photographs to its on-line gallery. Some of the more unusual images from this series depict political groups monitored by the New York City Police Department's "Alien Squad." These photos range from Communist Party rallies in Madison Square Garden to the Nazi summer retreat in Yaphank, Long Island run by the German American Bund. See all the Alien Squad photos.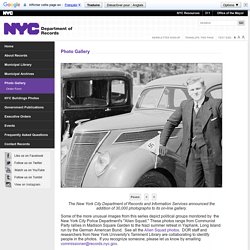 VintageShop - jedyny taki butik on-line. Odzież, biżuteria, torebki i buty w stylu vintage.
Bio Kyle McDonald is an artist who works in the open with code. He is a contributor to arts-engineering toolkits like openFrameworks, and spends a significant amount of time building tools that allow artists to use new algorithms in creative ways.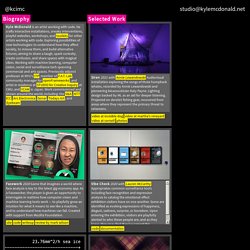 Our book "Retronaut - The Photographic Time Machine" (National Geographic): Available to pre-order now Chris Book Add to favourites Latest capsules June 9th 1959: Previously unseen pictures of Carole King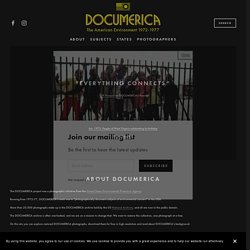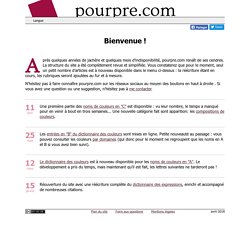 Ce site propose des articles consacrés à la couleur: le phénomène physique, la perception des couleurs, la langue française et la couleur, des questions-réponses, un glossaire, une présentation des principaux modèles et nuanciers de couleurs, quelques jeux, une sélection de liens... Sont également disponibles: : un dictionnaire de 522 noms de couleurs, accompagné d'un dictionnaire imaginaire alimenté par les internautes (inventez votre propre nom de couleur), Le chromograf: un ensemble d'outils en ligne pour manipuler la couleur et créer des dégradés, N Chromafiltre: un bel outil en Flash pour aider à l'accord des couleurs: visualisez votre couleur sur une roue chromatique, trouvez des teintes qui s'accordent, La Boite à couleurs: un logiciel gratuit pour récupérer une couleur sur l'écran, et modifier ou convertir facilement celle-ci. Pour vous tenir informé des mises à jour mineures sur le site, un fil RSS est à votre disposition :
Un article de Wikipédia, l'encyclopédie libre. Une croix de cérémonie de John Frum sur l'île de Tanna, Nouvelles Hébrides (maintenant Vanuatu), 1967. Naissance dans les îles d'Océanie[modifier | modifier le code] Débarquement de provisions et de matériel sur l'île de Guadalcanal, 7 août 1942. Peter Lawrence a écrit, en 1974, dans son livre intitulé Le Culte du cargo (p. 297-298, éditions Fayard) : « Les indigènes ne pouvaient pas imaginer le système économique qui se cachait derrière la routine bureaucratique et les étalages des magasins, rien ne laissait croire que les Blancs fabriquaient eux-mêmes leurs marchandises.
Culte du cargo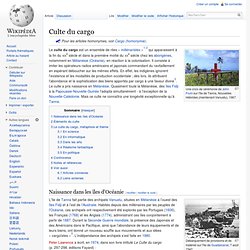 Sean Connery eating spaghetti in Rome, 1963. Diego Maradona in a Union Jack t-shirt with Brian May, Freddie Mercury, Roger Taylor and John Deacon from Queen, 1981. Connie Foster and Jodie Foster on the set of Taxi Driver. Since Jodie was only 12 during filming, her 20-year-old sister, Connie, doubled her in scenes with adult dialogue or sexually suggestive scenes. Harvey Keitel, Tim Roth, Quentin Tarantino, Steve Buscemi, Edward Bunker, Lawrence Tierney, Michael Madsen and Chris Penn on the set of Reservoir Dogs.
original soundtrack from animes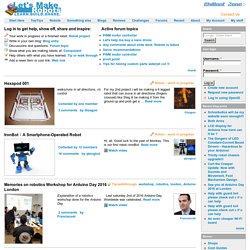 Cheap and useful, to put on your wall or on your table.. You can buy from any of the listed webshops, and to save on shipping, chose the one closest to you [Details here]: For every wall chart sold, $5 USD is donated to the Let's Make Robots community. A big thanks to everyone working on this, to all the shops selling this, and a special thanks to Frank Neon (Reuseum / DJUltis) and Russell Cameron (DAGU / OddBot) for very generous donations, the sole initiative, and a lot of work to make this happen.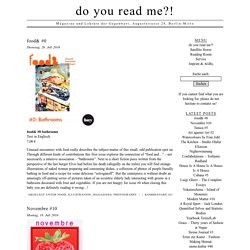 Wir wünschen Allen die wir noch nicht gesehen haben ein frohes neues Jahr! Der Januar steht wie üblich im Zeichen der Mode, dazu passend hier unsere Lesetipps… Und, für alle die gerade in Berlin sind – unser Laden in der Auguststraße ist am Sonntag den 19. Januar von 12.00 Uhr bis 17.00 Uhr geöffnet. We wish all those we have not seen yet a happy new year!
do you read me?! › Über do you read me?!
Dance Studio -- Open For Submissions