Sites
Department of Records - Luna. The New York City Department of Records and Information Services announced the addition of 30,000 photographs to its on-line gallery.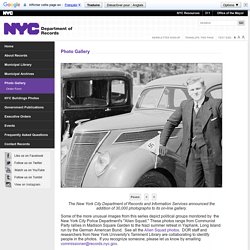 Some of the more unusual images from this series depict political groups monitored by the New York City Police Department's "Alien Squad. " These photos range from Communist Party rallies in Madison Square Garden to the Nazi summer retreat in Yaphank, Long Island run by the German American Bund. See all the Alien Squad photos. VintageShop - jedyny taki butik on-line. Odzież, biżuteria, torebki i buty w stylu vintage. Informations pour Expatriés, Guides de l'Expat - Portail de la Mobilité Internationale: travailler et vivre à l'étranger - Easy Expat. Kyle McDonald. Learn to read Korean in 15 minutes. Topito : top listes et classements - humour, insolite, utile, et découverte ! Retronaut. Les mondes de la couleur, les couleurs du monde.
Culte du cargo. Un article de Wikipédia, l'encyclopédie libre.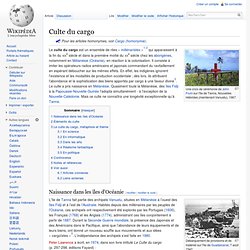 Une croix de cérémonie de John Frum sur l'île de Tanna, Nouvelles Hébrides (maintenant Vanuatu), 1967. Naissance dans les îles d'Océanie[modifier | modifier le code] Débarquement de provisions et de matériel sur l'île de Guadalcanal, 7 août 1942. Peter Lawrence a écrit, en 1974, dans son livre intitulé Le Culte du cargo (p. 297-298, éditions Fayard) : « Les indigènes ne pouvaient pas imaginer le système économique qui se cachait derrière la routine bureaucratique et les étalages des magasins, rien ne laissait croire que les Blancs fabriquaient eux-mêmes leurs marchandises.
This is not porn - Rare and beautiful celebrity photos. Pixiome : visual trends inspiration magazine. La PhotoCabine. This is GOOP. Original soundtrack from animes. Let's Make Robots! Do you read me?! › Über do you read me?! Dance Studio -- Open For Submissions.
---