Sites
By Constantine Peresypkin, on October 2nd, 2012 In face of the current reality of ten thousand node data-centers and all the BigData jazz it seems like the network guys were slightly forgotten. We have enough hardware virtualization solutions but until now the network was left on the outskirts of the cloud hype. Let's see what we can use right now and . . . → Read More: Network virtualization for the Cloud: Open vSwitch study
Big Data Craft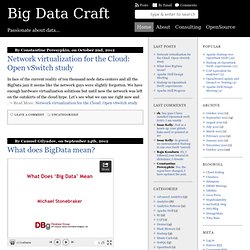 A paper authored by a Microsoft Research team: In the last decade we have seen a huge deployment of cheap clusters to run data analytics workloads. The conventional wisdom in industry and academia is that scaling out using a cluster of commodity machines is better for these workloads than scaling up by adding more resources to a single server.
myNoSQL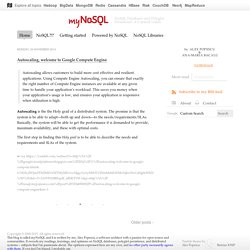 Wired
Engadget
The 1 percent have long had smartphones from Porsche and Vertu to quench their high-end thirst, but when it comes to dual-SIM handsets, the elite have had to settle for something a little more ordinary. For those in need, Gresso created Azimuth, the first dual-SIM luxury handset. Starting at $2,000, the phone is made of titanium, with both the keys and logo crafted out of 18K or white gold. Since appearances are all that matter, you're getting some pretty low-end specs under the hood, including 2GB of "internal memory," a 1.3-megapixel camera, Bluetooth 2.0 and a tiny 1,100mAh battery. To put things in perspective, Samsung's Galaxy S5 starts with 16GB of built-in storage, a 16-megapixel camera and a 2,800mAh battery. The difference being, anyone can buy an S5.
TechRadar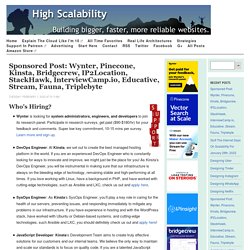 High Scalability
Facebook has been teasing us. While many of their recent acquisitions have been surprising, shocking is the only word adequately describing Facebook's 5 day whirlwind acquisition of Oculus, immersive virtual reality visionaries, for a now paltry sounding $2 billion. The backlash is a pandemic, jumping across social networks with the speed only a meme powered by the directly unaffected can generate.
TechCrunch
Lifehacker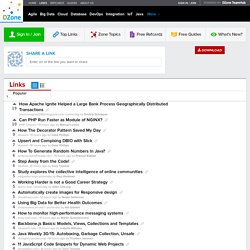 Dzone
Add a link | Popular links | New links | Saved | Shared | Top | Online Popular links: All Latest | Active | Top in 24 hours | 7 Days | 30 Days | 365 Days | All Time XP Practices - Why Did We Lose Them?
Mashable
ReadWriteWeb