Systematics
Useful Reading Campbell, Biology 6th Ed - Chapters 32 & 33, pgs 633-655, 661-662 Campbell, Biology 7th Ed - Chapter 32 & 33, pgs 626-650, 655-626 Vocabulary Symmetry – general, structured body plan. See radial and bilateral symmetry below.
Untitled 1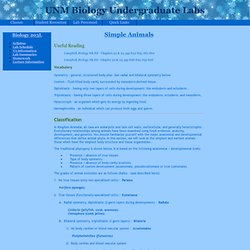 Taxonomy Phylogeny
The Animal Kingdom is at once the Kingdom most and least familiar to us. Almost all of the animals we commonly think of -- mammals, fish, and birds -- belong to a single subgroup within one of the 33 Phyla comprising the Animal Kingdom. On the other hand, over 100,000 species in some 25 animal phyla -- mostly small worms -- are so unfamiliar that they are virtually unknown to non-scientists. The same goes for several hundred thousand tiny insect-like species populating the Arthropoda phylum.
Natural Perspective: Animal Kingdom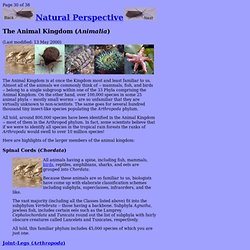 To cite this page: Myers, P., R. Espinosa, C. S. Parr, T.
ADW: Animalia: Classification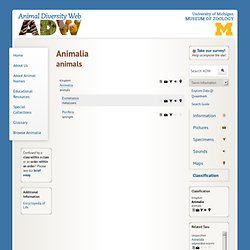 In dieser Systematik der Tiere soll eine Klassifikation aller Vielzelligen Tiere (Metazoa) bis auf alle rezenten Stämme vorgenommen werden. Außerdem werden die wichtigsten Klassen erwähnt. Weitergehende Untersystematiken finden sich dann bei den betreffenden Untergruppen.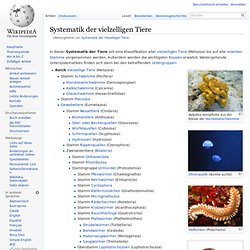 Systematik der Vielzelligen Tiere
SysTax - database query