Discover Music
Polaroid Gallery v.1.01. About Polaroid Gallery is a free, opensource flash gallery developed by myself, Christopher Einarsrud, in the year of 2006.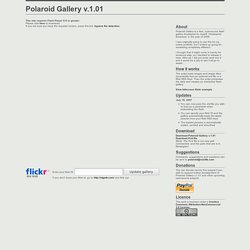 I was originally going to use this for my online portfolio, but I ended up going for something completely different. I thought that it might come in handy for someone else, so I decided to release it here. Pandora Radio - Listen to Free Internet Radio, Find New Music. PureVolume™ | We're Listening To You.
Music-Map - The tourist map of music. Discover New Music - Commercial Free Internet Radio - Rock, Pop and Alternative - Deeper Into Music. Visualizing Music. Gnoosic - Discover new Music.
Music on demand, free and unlimited music without download. Last.fm - Listen to free music with internet radio and the largest music catalogue online. Unhear it - get that damn song out of your head! Grooveshark Mobile Music.
Virtual Interactive Music Museum. A world of music. Instant, simple and free. Listen to Online Radio for free. MeeMix, Free Internet Radio that gets you. 8tracks | Handcrafted internet radio. uWall.tv | Listen to a Wall of Music. Musicovery. New music - Listen & Judge Country, Christian, Rap, Rock & More. Shuffler.
Songr. Download free music directly from your desktop - no p2p, no ads, mp3s from 16 music search engines.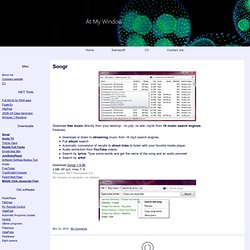 Features:Download or listen to streaming music from 16 mp3 search engines Full album search Automatic conversion of results to direct links to listen with your favorite media player Audio extraction from YouTube videos Search by lyrics: Type some words and get the name of the song and an audio preview! Search by artist Download Songr 1.9.96 4 MB, XP sp3, Vista, 7, 8. Music Roamer - Discover New Music. Songza - Social Radio: Listen To Your Music With Your Friends. 100% Free Web Radio. Find Songs You Heard in Movies @ what-song. StumbleAudio (2 million+ music tracks to discover) Stereomood – emotional internet radio - music for my mood and activities.
---