UR BAIN
By Zachary M. Seward Tuesday marks the 200th anniversary of Manhattan's street grid, which was adopted in 1811 "to unite regularity and order with the public convenience and benefit and in particular to promote the health of the City." To celebrate, here's a collection of historic, artistic and imagined maps of Manhattan: If you know of others worth noting, email me or leave a comment below. Manhattan Posters Two of the best representations of contemporary Manhattan are Howard Horowitz's "wordmap", a spectacular poem that ran in the New York Times in 1997 (left), and Jenny Beorkrem's graphical representation of the island's neighborhoods (right).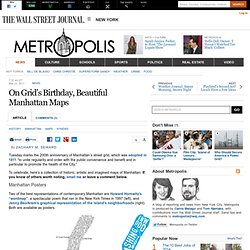 On Grid's Birthday, Beautiful Manhattan Maps - Metropolis
Prinzessinnengarten Berlin | Architekturclips
Prinzessinnengarten Berlin Urban farming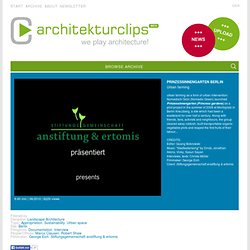 khjndtsj Shared by CITEQUANON
iSkyTViSkyTV is a networked art project that detects the user's location and animates the Google Street View sky above their heads. The project is a reimagining of SkyTV, Yoko Ono's famed video work from 1966.… The World's Largest Potluck EverThe World's Largest Potluck Ever would stage a mile-long potluck dinner on the Cambridge Street Corridor in Cambridge, MA, in an attempt to break the Guinness record, showcase the diversity of the businesses and residents, build community, publish a recipe … The City Formerly Known As CambridgeWhat would the city look like if we could rename all of our public spaces, right now?
kanarinka projects » Public space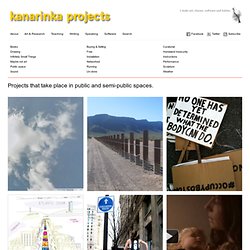 REP - Réussir l'Espace Public