UR BAIN
By Zachary M. Seward Tuesday marks the 200th anniversary of Manhattan's street grid, which was adopted in 1811 "to unite regularity and order with the public convenience and benefit and in particular to promote the health of the City." To celebrate, here's a collection of historic, artistic and imagined maps of Manhattan: If you know of others worth noting, email me or leave a comment below. Manhattan Posters Two of the best representations of contemporary Manhattan are Howard Horowitz's "wordmap" , a spectacular poem that ran in the New York Times in 1997 (left), and Jenny Beorkrem's graphical representation of the island's neighborhoods (right).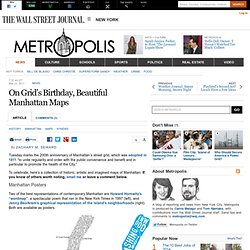 On Grid's Birthday, Beautiful Manhattan Maps - Metropolis
Prinzessinnengarten Berlin | Architekturclips
"Wir sind keine Gärtner" umschreiben Robert Shaw und Marco Clausen ihren selbstgewählten Dilettantismus. Die beiden Gründer des Berliner Prinzessinnengartens haben mit ihrer Nomadisch Grün (g) GmbH auf 6000 Quadratmetern Brache eine blühende Oase geschaffen. Dort bauen sie Gemüse in Reissäcken, Bäckerkisten und Milchtüten an und bringen Menschen verschiedenster Milieus zusammen. Der Prinzessinnengarten ist eine Plattform für Leute, die etwas tun wollen: Hier ist Platz für den naturnah wirtschaftenden Imker, den Künstler, der mit Kindern aus dem Kiez kocht, die osteuropäische Nachbarin, die ihre Bio-Chilis aus der Heimat anbaut. Und das Ganze direkt am Moritzplatz, dem neuen Zentrum für Kreativwirtschaft in Berlin, mit der Aqua-Butzke Fabrik und dem fast fertigen Modulorhaus - mal sehen, wie lange die Brache dann noch Brache bleibt.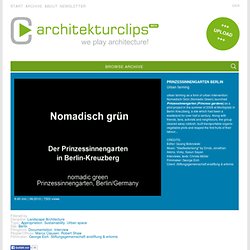 khjndtsj Shared by CITEQUANON
The Border Crossed Us The Border Crossed Us is a temporary public art installation by the Institute for Infinitely Small Things that transplants the US-Mexico border fence in southern Arizona to the UMass Amherst campus. It takes 154,000 breaths to evacuate Boston kanarinka ran the entire evacuation route system in Boston and attempted to measure the distance in human breath. The project also involves a podcast and a sculptural installation of the archive of tens of thousands of breaths . Unmarked Package The Institute for Infinitely Small Things toted hundreds of "Unmarked Packages" around Chicago to poll residents about terrorism and fear in public space. The results were published as a video research report.
kanarinka projects » Public space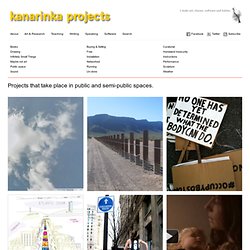 REP - Réussir l'Espace Public