UR BAIN
On Grid's Birthday, Beautiful Manhattan Maps - Metropolis
Prinzessinnengarten Berlin | Architekturclips
Prinzessinnengarten Berlin Urban farming urban farming as a form of urban intervention: Nomadisch Grün (Nomadic Green) launched Prinzessinnengarten (Princess gardens) as a pilot project in the summer of 2009 at Moritzplatz in Berlin Kreuzberg, a site which had been a wasteland for over half a century. Along with friends, fans, activists and neighbours, the group cleared away rubbish, built transportable organic vegetable plots and reaped the first fruits of their labour... Credits: Editor: Quang Bobrowski Music: "Stadtsafarisong" by Drrob, Jonathan Aikins, Vicky, Sasun Sayan Interviews, texts: Christa Müller Filmmaker: George Eich Client: Stiftungsgemeinschaft anstiftung & ertomis Loaded: 0%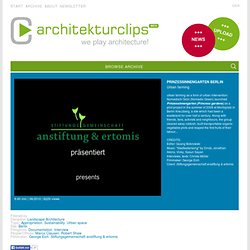 khjndtsj Shared by CITEQUANON
iSkyTViSkyTV is a networked art project that detects the user's location and animates the Google Street View sky above their heads. The project is a reimagining of SkyTV, Yoko Ono's famed video work from 1966.… The World's Largest Potluck EverThe World's Largest Potluck Ever would stage a mile-long potluck dinner on the Cambridge Street Corridor in Cambridge, MA, in an attempt to break the Guinness record, showcase the diversity of the businesses and residents, build community, publish a recipe … The City Formerly Known As CambridgeWhat would the city look like if we could rename all of our public spaces, right now?
kanarinka projects » Public space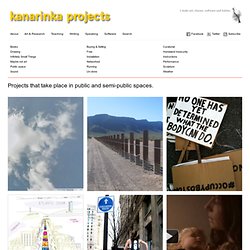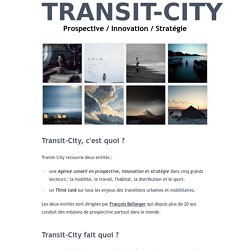 Transit-City est un programme de réflexions prospectives sur la ville et les modes de vie. Le programme Transit-City a pour ambition de jeter des passerelles entre des domaines aussi divers que l'urbanisme et le marketing, la grande distribution et la sociologie, la promotion immobilière et le transport. Ce programme est né de la volonté de décloisonner la réflexion prospective en réunissant régulièrement des acteurs de la ville venant d'horizons très différents (immobilier, transport, commerce, architecture, design, histoire de l'art...) qui n'ont bien souvent pas l'occasion de se rencontrer pour échanger. Le programme Transit-City est animé par François Bellanger qui, à la tête de TRANSIT Consulting, conduit depuis plusieurs années déjà, des chantiers de réflexion prospective pour de grandes entreprises, et dont une partie des travaux a été publiée chez différents éditeurs.
REP - Réussir l'Espace Public