UR BAIN
Urbanisme & Architecture. On Grid's Birthday, Beautiful Manhattan Maps - Metropolis. Prinzessinnengarten Berlin | Architekturclips. Prinzessinnengarten Berlin Urban farming urban farming as a form of urban intervention: Nomadisch Grün (Nomadic Green) launched Prinzessinnengarten (Princess gardens) as a pilot project in the summer of 2009 at Moritzplatz in Berlin Kreuzberg, a site which had been a wasteland for over half a century.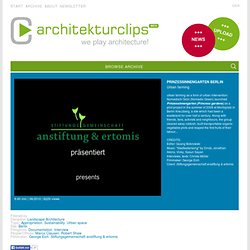 Along with friends, fans, activists and neighbours, the group cleared away rubbish, built transportable organic vegetable plots and reaped the first fruits of their labour... Credits: Editor: Quang Bobrowski Music: "Stadtsafarisong" by Drrob, Jonathan Aikins, Vicky, Sasun Sayan Interviews, texts: Christa Müller Filmmaker: George Eich Client: Stiftungsgemeinschaft anstiftung & ertomis Loaded: 0% Khjndtsj Shared by CITEQUANON. Kanarinka projects » Public space. iSkyTViSkyTV is a networked art project that detects the user's location and animates the Google Street View sky above their heads.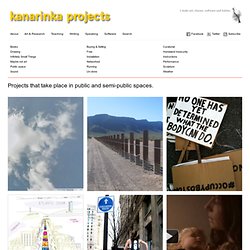 The project is a reimagining of SkyTV, Yoko Ono's famed video work from 1966.… The World's Largest Potluck EverThe World's Largest Potluck Ever would stage a mile-long potluck dinner on the Cambridge Street Corridor in Cambridge, MA, in an attempt to break the Guinness record, showcase the diversity of the businesses and residents, build community, publish a recipe … The City Formerly Known As CambridgeWhat would the city look like if we could rename all of our public spaces, right now? Urbain, trop urbain. Transit City. REP - Réussir l'Espace Public.
---