Stuff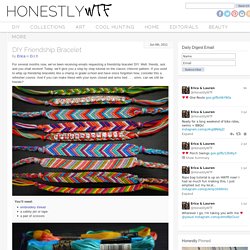 For several months now, we've been receiving emails requesting a friendship bracelet DIY. Well, friends, ask and you shall receive! Today, we'll give you a step by step tutorial on the classic chevron pattern. If you used to whip up friendship bracelets like a champ in grade school and have since forgotten how, consider this a refresher course. And if you can make these with your eyes closed and arms tied . . . umm, can we still be friends? You'll need:embroidery threada safety pin or tapea pair of scissors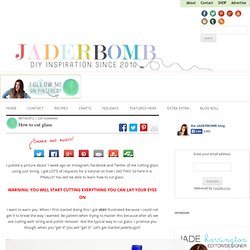 I posted a picture about 1 week ago on Instagram, Facebook and Twitter of me cutting glass using just string. I got LOT'S of requests for a tutorial on how I DID THIS! So here it is. FINALLY!
Thursday, June 14, 2012 4:30 am, Posted by Chris Groves | Internet 20 Awesome Do It Yourself Projects Topics: At Home Project Ideas , Creative DIY Home Projects , Do It Yourself Projects for 2012 , Fun How To Projects , What to Do with Extra Stuff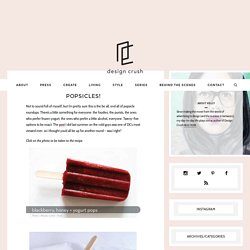 Jun29 Not to sound full of myself, but I'm pretty sure this is the be all, end all of popsicle roundups. There's a little something for everyone: the foodies, the purists, the ones who prefer frozen yogurt, the ones who prefer a little alcohol, everyone. Tweny-five options to be exact. The post I did last summer on the cold guys was one of DC's most viewed ever, so I thought you'd all be up for another round – was I right? Click on the photo to be taken to the recipe.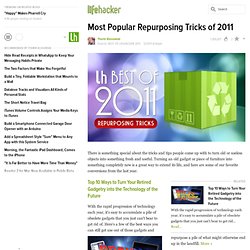 The best trick of all is repairing broken stuff. You would be amazed that in this throw away age so many things can be repaired easily. Invest your money in quality tools, and you will find the tool pays for itself in the first few repairs you make with it.
Inside-out variation: For a neater (though slightly less comfortable) variation, the lacing can be done inside-out, with only the top two horizontal sections fed under the sides of the shoes to emerge through the top and 2nd from top eyelets (where the knots will be tied). This is effectively a side-knotted version of Straight Bar Lacing. The result is much neater, particularly when the sneakers have contrasting shoelaces, which would otherwise look messy with the vertical sections visible on the outside. However, it no longer has the benefit of even pressure distribution because the straight horizontal sections are now on the outside.
Hiking / Biking Lacing