Stuff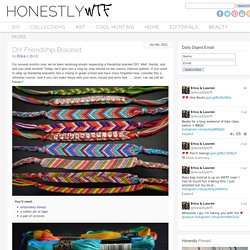 For several months now, we've been receiving emails requesting a friendship bracelet DIY. Well, friends, ask and you shall receive! Today, we'll give you a step by step tutorial on the classic chevron pattern. If you used to whip up friendship bracelets like a champ in grade school and have since forgotten how, consider this a refresher course. And if you can make these with your eyes closed and arms tied . . . umm, can we still be friends? You'll need: embroidery thread a safety pin or tape a pair of scissors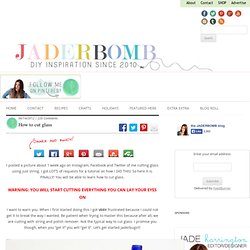 I posted a picture about 1 week ago on Instagram, Facebook and Twitter of me cutting glass using just string. I got LOT'S of requests for a tutorial on how I DID THIS! So here it is. FINALLY!
Thursday, June 14, 2012 4:30 am, Posted by Chris Groves | Internet 20 Awesome Do It Yourself Projects Topics: At Home Project Ideas , Creative DIY Home Projects , Do It Yourself Projects for 2012 , Fun How To Projects , What to Do with Extra Stuff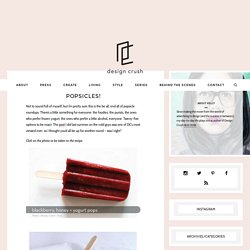 Jun 29 Not to sound full of myself, but I'm pretty sure this is the be all, end all of popsicle roundups. There's a little something for everyone: the foodies, the purists, the ones who prefer frozen yogurt, the ones who prefer a little alcohol, everyone. Tweny-five options to be exact. The post I did last summer on the cold guys was one of DC's most viewed ever, so I thought you'd all be up for another round – was I right? Click on the photo to be taken to the recipe.
Boekenhoutskloof The Wolftrap 2008: The Best Cheap Wine: MensHealth.com
This full-bodied blend of two red grapes—syrah and mourvdere—with the white grape viognier has complex notes of spice, smoke, game, and leather. "The result is stunning, particularly for the money," Youmans says. Region: Cape of Good Hope, South Africa Drink with: Grilled New York strip, venison TAKE CHARGE OF YOUR HEALTH, BODY, AND LIFE! Sign up for our FREE Daily Dose newsletter for the best fitness, health, sex, and nutrition tips delivered to your inbox daily.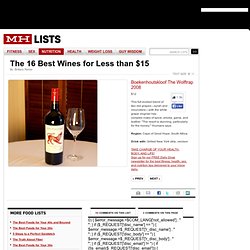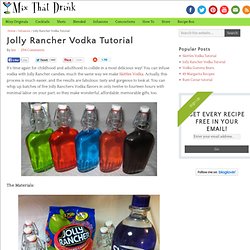 It's time again for childhood and adulthood to collide in a most delicious way! You can infuse vodka with Jolly Rancher candies, much the same way we make Skittles Vodka . Actually, this process is much easier, and the results are fabulous: tasty and gorgeous to look at.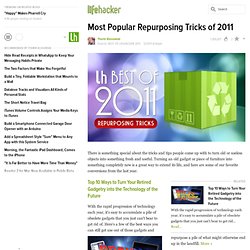 There is something special about the tricks and tips people come up with to turn old or useless objects into something fresh and useful. Turning an old gadget or piece of furniture into something completely new is a great way to extend its life, and here are some of our favorite conversions from the last year. Top 10 Ways to Turn Your Retired Gadgetry into the Technology of the Future
Hiking / Biking Lacing