Source
Activating Browser Modes with Doctype. In order to deal both with content written according to Web standards and with content written according to legacy practices that were prevalent in the late 1990s, today's Web browsers implement various engine modes.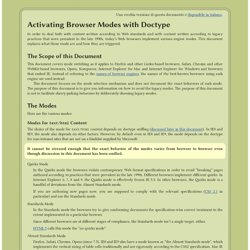 This document explains what those modes are and how they are triggered. Summary for the Impatient The main conclusion to draw from this article is that you should start all your HTML documents (i.e. anything that gets served as text/html ) with <! 15 Essential Checks Before Launching Your Website | How-To. Advertisement Your website is designed, the CMS works, content has been added and the client is happy.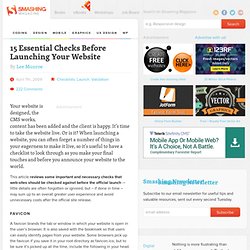 It's time to take the website live. Or is it? When launching a website, you can often forget a number of things in your eagerness to make it live, so it's useful to have a checklist to look through as you make your final touches and before you announce your website to the world. The Grid System.
Web Design References: Cascading Style Sheets. (Skip Page Index) Page Index: CSS Tutorials: General Abbreviations and Acronyms.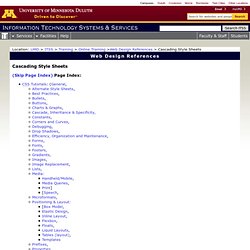 ---