Veggie side dish
Spring Rolls with Asian Chili-Lime Dipping Sauce Recipe
Cole Slaw with Pecans and Spicy Dressing Recipe : Tyler Florence : Food Network
Stir-Fry Cabbage Recipe : Ellie Krieger
Ingredients 2 teaspoons canola oil 1 small onion, sliced 1 clove garlic, minced 1 teaspoon minced ginger 1 head napa cabbage, cleaned and sliced 2 tablespoons soy sauce 1 tablespoon rice vinegar 2 teaspoons toasted sesame oil Directions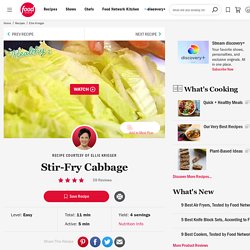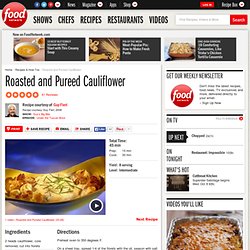 Roasted and Pureed Cauliflower Recipe : Guy Fieri
Ingredients 2 heads cauliflower, core removed, cut into florets 1 tablespoon olive oil 4 cups whole milk 1 teaspoon salt 1 tablespoon unsalted butter 1/2 bunch chives, minced for garnish Directions
Sweet and Spicy Coleslaw Recipe : Patrick and Gina Neely
Nutty Greens with Bacon and Blue Cheese Recipe : Claire Robinson
Roasted Squash Toss Recipe : Sunny Anderson
Zucchini and Yellow Squash Gratin Recipe | Cooking | How To | Martha Stewart Recipes
Stir-Fried Asian Eggplant Recipe :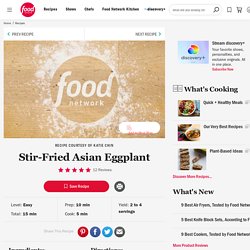 Ingredients 4 Asian eggplants 2 teaspoons salt 1 tablespoon oyster sauce 1 teaspoon sugar 1 teaspoon sesame oil 2 tablespoons vegetable oil 2 teaspoons minced garlic 2 hot red chile peppers, seeded and thinly sliced Directions Cut each eggplant in half lengthwise, then cut diagonally into 1/2-inch slices. Cover the eggplants with water, add the salt, and stir to dissolve the salt.
Kale Gratin with Pancetta Recipe : Rachael Ray
Ingredients 1 1/4 to 1 1/3 pounds kale, stems stripped and chopped, about 6 cups Salt 3 tablespoons extra-virgin olive oil 1/4 pound pancetta, chopped into 1/2-inch pieces 1 cup cream 2 cloves garlic, smashed and chopped 1/8 teaspoon grated nutmeg, eyeball it Black pepper 1/2 cup breadcrumbs 1/2 cup grated Parmigiano-Reggiano or Pecorino Romano Directions Preheat the broiler but place the oven rack on the second shelf down from the heat source.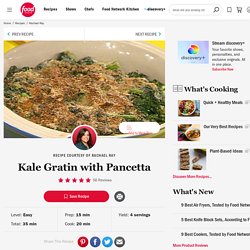 Logan Shanney's Chicken Cutlets With Spinach And Walnut Pesto - the chew
perfect oven sweet potato fries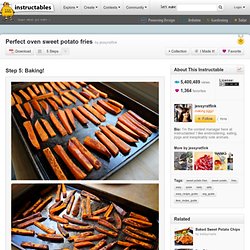 Put them in the oven for 15 minutes. Do not open the oven or fidget with them during this time. Just let 'em cook. The smell will probably be too much to bear, so perhaps this is a good time to go to another room and focus on something else. :D Then, take them out and flip them.
Roasted Carrots and Peas Recipe : Food Network Kitchens
Scalloped Potato Gratin Recipe : Tyler Florence
Green Beans With Walnut-Parsley Sauce Recipe : Food Network Kitchens
Butternut Squash with Pecans and Blue Cheese Recipe : Nigella Lawson
Honey-Butter Baked Chicken with Mashed Sweet Potatoes Recipe : Emeril Lagasse
Directions Preheat the oven to 400 degrees F. Arrange a rack inside a large roasting pan and set aside. Season the chicken both inside and out with the kosher salt and black pepper. In a small bowl, combine the honey, lemon zest and juice and butter. Place the chicken on a rack in a roasting pan breast side up and roast until lightly browned, about 15 minutes.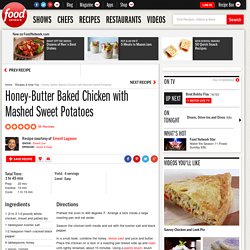 Sweet Potato-Pecan Casserole Recipe : Ellie Krieger
Fried Green Tomatoes Recipe : Patrick and Gina Neely
Eggplant Gratin Recipe : Ina Garten
Directions Preheat the oven to 400 degrees F. Heat about 1/8-inch of olive oil in a very large frying pan over medium heat. When the oil is almost smoking, add several slices of eggplant and cook, turning once, until they are evenly browned on both sides and cooked through, about 5 minutes.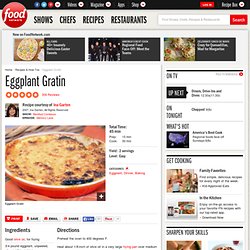 Black Bean and Corn Salad Recipe : Rachael Ray
Mexican Bean Stew (Frijoles De La Olla) Recipe : Marcela Valladolid
Roasted Cauliflower Recipe : Food Network Kitchens
Roast Ratatouille Recipe : Rachael Ray
Honey Glazed Carrots Recipe : Sunny Anderson
Chili-Garlic Roasted Broccoli Recipe : Rachael Ray
Honey Roasted Sweet Potatoes Recipe : Ellie Krieger
Pepper-Jack Chicken With Succotash Recipe : Food Network Kitchens
Swiss Chard and Golden Raisins Recipe : Rachael Ray