Museums & Galleries
Art Gallery |Plus One Gallery |London. Colección Cisneros. TATE ETC. - Europe's largest art magazine. Niklas MaakOur experience of visiting museums and galleries is traditionally characterised by the quasi-religious atmosphere: nothing is to be touched, one is rather quiet and reverent, nobody laughs, it is eerily still, nobody is allowed to talk loudly.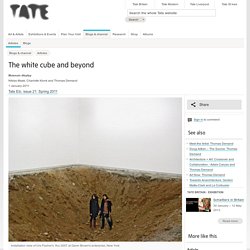 However, in one of the historic illustrations – Hermann Schlittgen's Kunst und Liebe (Art and Love) – which you, Charlotte, show in the beginning of your book, the museum is a place of intense physical experiences and overflowing desires – a romantic space of lived physicalities, lived desires. Charlotte KlonkYes. Since the end of the eighteenth century, when museums turned into widely accessible public spaces, they were apparently used not only to cultivate relations with objects, but also with subjects. Schlittgen's caricature from 1885 ridicules this.
Museu d'Art Contemporani de Barcelona. MEMORABILIA.
COLECCIONANDO SONIDOS CON.... Andy Votel. Escenas eliminadas Recuperamos fragmentos inéditos de la entrevista con Andy Votel que no pudimos incluir en su momento. MÁQUINA DE SUEÑOS Con motivo de la exposición "Justo delante de nosotros", Javier Calvo y Víctor Nubla proponen una pieza inspirada en la Dream Machine de Brion Gysin. FONS ÀUDIO #25. Centre de Cultura Contemporània de Barcelona. Ágora. Musées d'art du monde. RMN. Louisiana Museum of Modern Art - Louisiana Museum of Modern Art.
Museum De Pont: home. Sistine Chapel. Museums. Welkom - Museum Boijmans Van Beuningen. Home | Fondation Beyeler. Saatchi Gallery. Tate Channel. Swiss Institute Contemporary Art New York - EXHIBITIONS - Jean-Frédéric Schnyder - Nicolas Party - Jimmie Durham - Heart to Hand. MOCA | Museum of Contemporary Art Cleveland. Great Expectations: Dickens & Calligraphy - What's On. The Museum of Modern Art. Directorio de Museos de España.
El Directorio de Museos y Colecciones de España es una herramienta que permite conocer y acercase a los más de 1500 museos y colecciones museográficas existentes en España, siendo una viva representación del rico panorama museístico actual.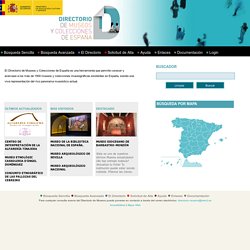 Destacado El programa Social " Taller de cine y Roma" implica la participación activa de colectivos de personas con discapacidad o en riesgo de exclusión social o marginalidad y les dota de mecanismos para una mayor integración social. Musées Japon Museums. Welcome to the British Museum. Réunion des musées nationaux Grand Palais. Home. Museumviews. In his hilarious, slightly ominous & politically incorrect fashion, Dutch artist Bas de Wit turns our Q&A upside down.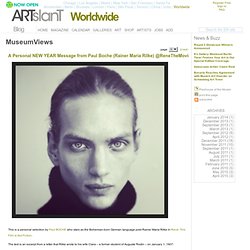 In response to who have been the "Most influential - person, character, artist, filmmaker, writer, etc -" in your life, the artist sites his "Top 100 Most Influential People's List (starting with…): Thomas Edison, Christopher Columbus, Martin Luther, Galileo Galilei, Leonardo da Vinci, Isaac Newton, Ferdinand Magellan, Louis Pasteur, Charles Darwin, Thomas Jefferson, William Shakespeare, Napoleon Bonaparte, Zheng He, Henry Ford, Sigmund Freud, Karl Marx, Nicolaus Copernicus, Orville and Wilbur Wright, Albert Einstein, Mohandas Gandhi, Kublai Khan, James Madison, Simon Bolivar, Mary Wollstonecraft, Guglielmo Marconi, Mao Zedong, Vladimir Lenin, Martin Luther King, Jr., Alexander Graham Bell, Rene Descartes, Ludwig van Beethoven, St. Thomas Aquinas, Abraham Lincoln, Michelangelo, Vasco da Gama, Suleyman the Magnificent, Samuel F.B.
Tate Britain: British Art from 1500. Home Page - Palazzo Strozzi - Firenze. Accueil. Home | Fondation Beyeler. Smithsonian.
---