Gardening & Plants
How to Grow Basil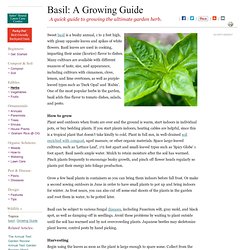 Sweet basil is a bushy annual, 1 to 2 feet high, with glossy opposite leaves and spikes of white flowers.
Le jardin, c'est tout !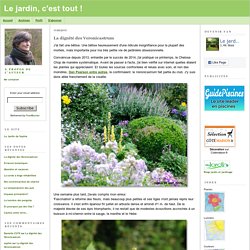 Des pâtes Wonton farcies au foie gras et plongées dans un bouillon de cèpes parfumé, c'est de la cuisine fusion: du sublime chinois façon franchouillard ou du français chic façon chintoque.
La SABLINE:Association des Amis des Plantes du Pays de Buch -
By GABRIELE MARCOTTI Getty Images Spain won its third straight major soccer tournament Sunday by beating Italy 4-0 to take the Euro 2012 crown. KIEV, Ukraine—What next? Spain became the first national team ever to win three major tournaments in a row Sunday by beating Italy 4-0 in the Euro 2012 championship. Now its place is secure not just in the record books but also in soccer lore.
Euro 2012: Spain's Three-Peat: Just The Beginning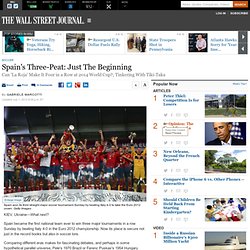 How to Start Up and Run a Gardening Business at Start A Gardening Business (UK)
Pennard Plants Agapanthus, Heritage Seeds, South African Rarities
BBC - Gardening - Gardening Guides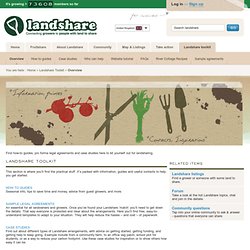 Overview | Landshare - connecting growers to people with land to share.
This section is where you'll find the practical stuff. It's packed with information, guides and useful contacts to help you get started. Seasonal info, tips to save time and money, advice from guest growers, and more.
Home Page - UC Statewide IPM Program
Clean Garden Tools | 10 Uses for Wax Paper | Photos | Money Saving Ideas
Repurpose an Old Garden Rake as a Wine Glass Holder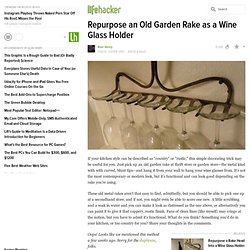 If your kitchen style can be described as "country" or "rustic," this simple decorating trick may be useful for you. Just pick up an old garden rake at thrift store or garden store—the metal kind with with curved, blunt tips—and hang it from your wall to hang your wine glasses from.
The Garden Helper's Guides to Plants and Gardening for Beginners
Native American ethnobotany - Daniel E. Moerman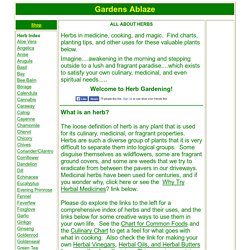 Herbs in medicine, cooking, and magic. Find charts, planting tips, and other uses for these valuable plants below.
T he single search box enables you to search on Genus, Species and Cultivar in a single box.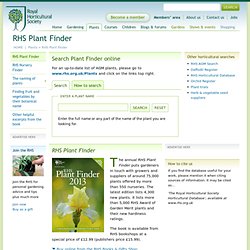 RHS Plant Finder / RHS Gardening
fotosintesis
Il y a 4 produits. Cadeaux publicitaires astucieux, ces plantes dépolluantes de bureau personnalisables avec votre logo bien visible !... Cadeaux publicitaires astucieux, ces plantes dépolluantes de bureau personnalisables avec votre logo bien visible ! En plus de décorer les bureaux et hall d'accueil, elles dépolluent l'air ambiant en absorbant certaines substances toxiques. Offrez ces objets publicitaires écologiques et votre communication sera réussie.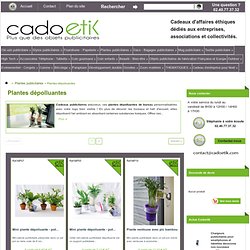 Les belles fleurs rondes du gerbera existent en différentes teintes. Il lutte efficacement contre les polluants issus de la fumée de cigarette , tel que le formaldéhyde et conviendra dans toutes les pièces de la maison. Il trouvera sa place sur le rebord de la fenêtre, où il pourra puiser suffisamment de lumière pour son épanouissement.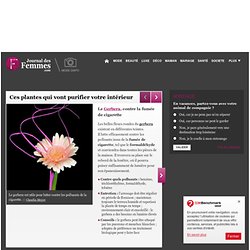 Les Plantes dans tous leurs états
Johnny's Selected Seeds – Superior Seeds & Gardening Tools
Vegetable Seeds, Flower Seeds - SWALLOWTAIL GARDEN SEEDS - Vines A-Z
Copinages de jardin - Roland Motte... Jardinier !
Masanobu Fukuoka est un des pionniers de l'agriculture "du long terme" (sustainable).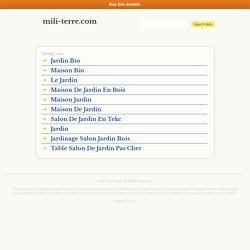 La SABLINE:Association des Amis des Plantes du Pays de Buch -
Le jardin, c'est tout !
Jardinage - Plantes - Botanic [à classer]
échanges sur la permaculture
Money, Finances Perma & Other Exchange Ways..
Social Permacuture, Governance & Politics
Environment / Agriculture...
Hydroponics Gardening - Start a Small Garden Indoors- Helpful Guide
Ick! Earwigs! - Garden Clinic
Organic Garden Magazine for A Spray Free World!
Picture Show: The Harvest -
The ongoing battle between medical marijuana advocates and law enforcement has begotten some tricky legality, which has lead to all sorts of uncertainty regarding growth and distribution, and, ultimately, prosecution (or non-prosecution ) of distributors. Meanwhile, in places like Northern California's Mendocino County, it's currently harvest season for marijuana growers. Last year at this time, the photographer Mathieu Young ventured up north to document, with neither judgment nor agenda, a mid-fall marijuana harvest. "On the one hand it seems like an illicit activity," says Young. "But on the other hand, you have a bunch of people who are living off the land, which is beautiful."What follows is a selection from Mathieu Young's " Harvest ."
If someone were to tell you that they had a technology — a weed actually — that could sequester huge amounts of carbon permanently while lifting villagers out of poverty by providing both protein-rich food and super-insulated building materials, you might start to wonder if they were, well, smoking a different weed. But it appears that one retired building contractor, Bill Loftus, has actually come upon a brilliant application of the fast-growing, carbon-sucking plant known as Kenaf.