Cars &motorbykes
1952 Ferrari 250 en lainformacion
One Sharp Black Lambo From the darkest depths of the design mind of the one called Slavche Tanevski comes THIS! The Lamborghini *Ankonian. It's black. It's sharp. It's just fabulous.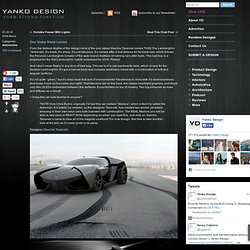 Lamborghini Madura by Slavche Tanevski
Die von Ihnen aufgerufene Seite konnte leider nicht gefunden werden. Möglicherweise haben Sie eine falsche Adresse (URL) eingegeben, das Dokument existiert nicht mehr oder der Name wurde geändert. Überprüfen Sie bitte die Adresse und achten Sie dabei bitte insbesondere auf korrekte Groß- und Kleinschreibung und Satz- bzw. Sonderzeichen.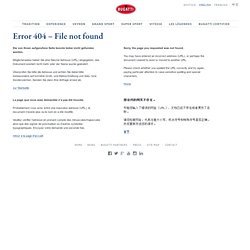 bugatti.com - Veyron 16.4 Configurator
Img0132
2006BJCCA2_1058_1_Rear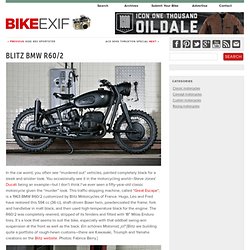 In the car world, you often see "murdered out" vehicles, painted completely black for a sleek and sinister look. You occasionally see it in the motorcycling world—Steve Jones' Ducati being an example—but I don't think I've ever seen a fifty-year-old classic motorcycle given the "murder" look. This traffic-stopping machine, called "Great Escape", is a 1963 BMW R60/2 customized by Blitz Motorcycles of France.
BMW R60/2 custom
bmw-concept-60027.jpg (JPEG Image, 1280x853 pixels) - Scaled (75%)
george-brough-ss-100-01
radical-ducati-cafe-veloce-10
noir
Mercedes-Benz-710-SSK-27-240-300-hp-Trossi-Roadster_7
Vyrus 986 M2 Live al Motor Bike Expo 2011 - 3/8
Car Manuals for Old Cars | The Old Car Manual Project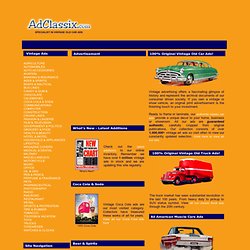 Vintage advertising offers a fascinating glimpse of history and represent the archival documents of our consumer driven society. If you own a vintage or show vehicle, an original print advertisement is the finishing touch to your investment. Ready to frame or laminate, our authentic classic car ads provide a unique decor to your home, business or showroom. All our ads are guaranteed authentic, carefully cropped from original publications. Our collection consists of over 1,000,000+ vintage art ads so visit often to view our constantly updated selection.
Classic Car Ads :: Copious Commercialism
Cars | New Car Pricing
Look for the Buy with Confidence logo. All vehicles with the logo include the following purchase and ownership benefits - at NO ADDITIONAL CHARGE! Vehicle Pre-Screening All Buy with Confidence vehicles have been pre-screened using CARFAX data to ensure they meet our high program standards. These vehicles have been screened for: No Reported Structural or Frame Damage No Reported Airbag Deployments No Reported Major Title Problems, including Salvage, Junk, Rebuilt, Fire, Flood, Hail or Lemon Titles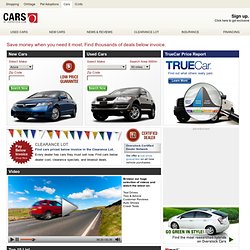 Ecomotor.es La web del motor de la red de elEconomista - Ecomotor.es
The Harley-Davidson Ridebook
Motorcycle Roads | SundayMorningRides.com
Web Magazine
Motorcycles & Street Bikes | Find Road Bike & Sport Bike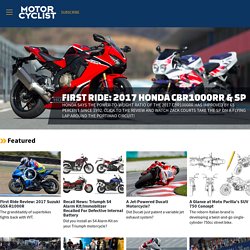 First RidesNot Your Father's Valkyrie featuresA look at pre-owned late-model Suzuki adventure bi... featuresPicking up a dropped motorcycle is more about tech...
High school fashions, 1969
Car Manuals for Old Cars | The Old Car Manual Project
This Is What Millions of Dollars Down the Tube Looks Like
Gumball 3000 Brings Out the High-End Rides
Gallery - StumbleUpon
Ferrari 612 GTO Concept - StumbleUpon
AUTO - SALON - SINGEN / virtual tour - StumbleUpon
Lamborghini-Ankonian-Concept-Design-by-Slavche-Tanevski-Rendering-9-1280x960.jpg (1280×960)
The Dark Knight will be racing through the mean streets of Gotham doing 0-60 in 2.9 seconds in a brand new 2012 Lamborghini Aventador for his next film, Batman: The Dark Knight Rises. For the third film in the series directed by Christopher Nolan, the billionaire bad boy has upgraded his previous Lamborghini LP640 Murcielago, which was used in Batman: The Dark Knight, for a new toy, the Lamborghini Aventador. Someone over at Luxury4Play.com got their greasy little hands on some flicks of the Italian Stallion while on the set of the film.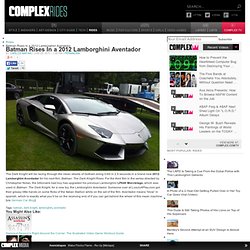 Batman Rises In a 2012 Lamborghini Aventador
Ferrari-612-GTO-Concept-Rendering-11-lg.jpg (JPEG Image, 1100x688 pixels) - Scaled (91%)
Car Manuals for Old Cars | The Old Car Manual Project
Acura NSX Concept Hybrid Sports car fanatics have been waiting for the return of the fabled Acura NSX, aka the "Japanese Ferrari." Well, it's coming back. We're not sure exactly when but sometime in the next two or three years.
Acura NSX Concept Hybrid at werd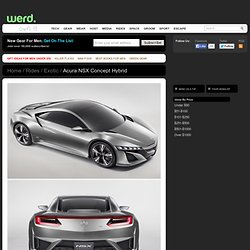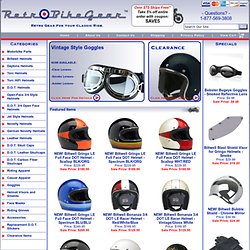 Welcome to our site and thanks for visiting! Looking for a lightweight retro-style helmet at a great price? We have dozens to choose from!
Biltwell Classic Style 3/4 Helmet - Galaxy Duo Tone - SHIPS FREE! - Open-Face 3/4 Style Helmets
Cars
Formula 1™ - The Official F1™ Website
Piaggio Scooters :: Accessories :: Helmets